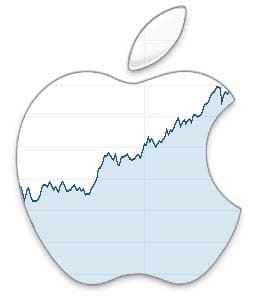 Apple reported revenues of US$45.4 billion and earnings per share (EPS) of $1.67 on Tuesday for the June quarter, the company's 3rd fiscal quarter. ($AAPL Q3 2017.) Revenues topped Wall Street consensus estimates, while earnings soared past.
Apple had offered guidance for the June quarter of revenues between $43.5 billion and $45.5 billion. Wall Street consensus estimates were $44.9 billion in revenues and and earnings per share (EPS) of $1.57.
These results compare to revenues of $42.4 billion and EPS of $1.42 in the year-ago quarter.
Apple CEO Tim Cook said in a statement that Apple's services revenue hit an all-time high during the quarter. He said, "With revenue up 7 percent year-over-year, we're happy to report our third consecutive quarter of accelerating growth and an all-time quarterly record for Services revenue."
Unit Sales
Apple sold 41 million iPhones during the quarter, plus the company reduced inventory by more than 3 million units. During Apple's quarterly conference call, CFO Luca Maestri said Apple had its lowest channel inventory in two and a half years.
The company reported sales of 11.4 million iPads, a 15% year-over-year increase. That's the first quarterly unit sales increase in years.
Guidance for Q42017
Apple provided guidance of revenues between $49 and $52 billion, with gross margins between 37.5 and 38%. Operating expenses are expected to be between $6.7 billion and $6.8 billion. Other expenses will be $500 million, and Apple expects a tax rate of 25.5%.
Shares of $AAPL ended higher at $150.05, up $1.32 (+0.89%), on strong volume of 25 million shares trading hands.
*In the interest of full disclosure, the author holds a tiny, almost insignificant share in AAPL stock that was not an influence in the creation of this article.