Apple has revamped its PR site for the first time in many years. Out is a headline-oriented list of press releases and in is a Flipboard-like "Newsroom" with cover photos and clickable tiles. The company also redesigned its executive profile sites, including new headshots for some of its execs.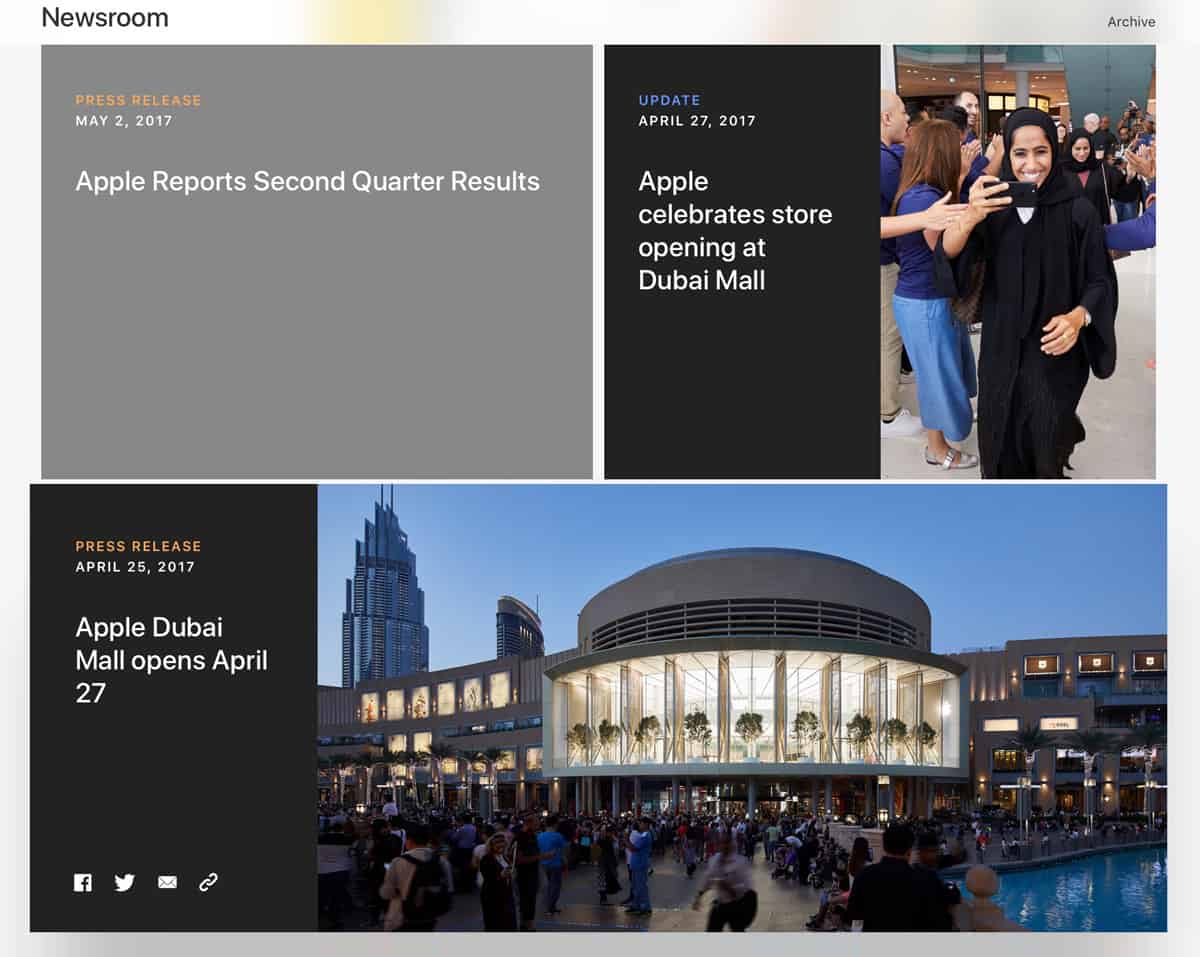 Apple Newsroom
Since shortly after Steve Jobs came back to Apple in the late 1990s, Apple's press portal was found at apple.com/pr. That URL now redirects to apple.com/newsroom.
Hovering over any given tile puts a drop shadow behind it and reveals direct links for sharing the release. Those tiles are a mix of solid colors and cover photos, as shown above.
I'm pretty meh about this change. As a journalist, a list of headlines serves me far better than giant tiles with images that distract from the text.
That said, it turns out it's not always about me. The new layout is clearly more modern than the old site, and it better matches the look and feel of the rest of Apple's online presence. It also makes Apple's Newsroom into something that might appeal to a broader audience than only journalists.
That, I suspect, is why Apple did this. Newsroom gives Apple a direct conduit of information to its customers. Journalists will find the press release they need one way or another, and catering to us was never a priority for Apple anyway.
Apple Leadership
There used to be a Leadership link at the top of Apple's old PR site for executive profiles. That link is gone. It has been replaced by an About section in the navigation footer at the bottom of the site. That section now has links for

The Leadership page itself has been redesigned, too. The landing page looks very similar to the old Leadership page with an alphabetical list of the company's top executives. The layout has been tweaked, however, and many of the executives have new headshots.
For instance, Apple CEO Tim Cook has a great new headshot. I believe Eddy Cue, Luca Maestri, Dan Riccio, and Johny Srouji all have new headshots, too.
Clicking through to a profile reveals a new layout for the individual profiles, too. Here's a look at Tim Cook's new profile page.