iFixit's https://www.ifixit.com/Teardown/iMac+Pro+Teardown/101807 of Apple's new iMac Pro is out, and it's interesting to see which components can be upgraded, and which can't. Even for those you can upgrade, it's a chore.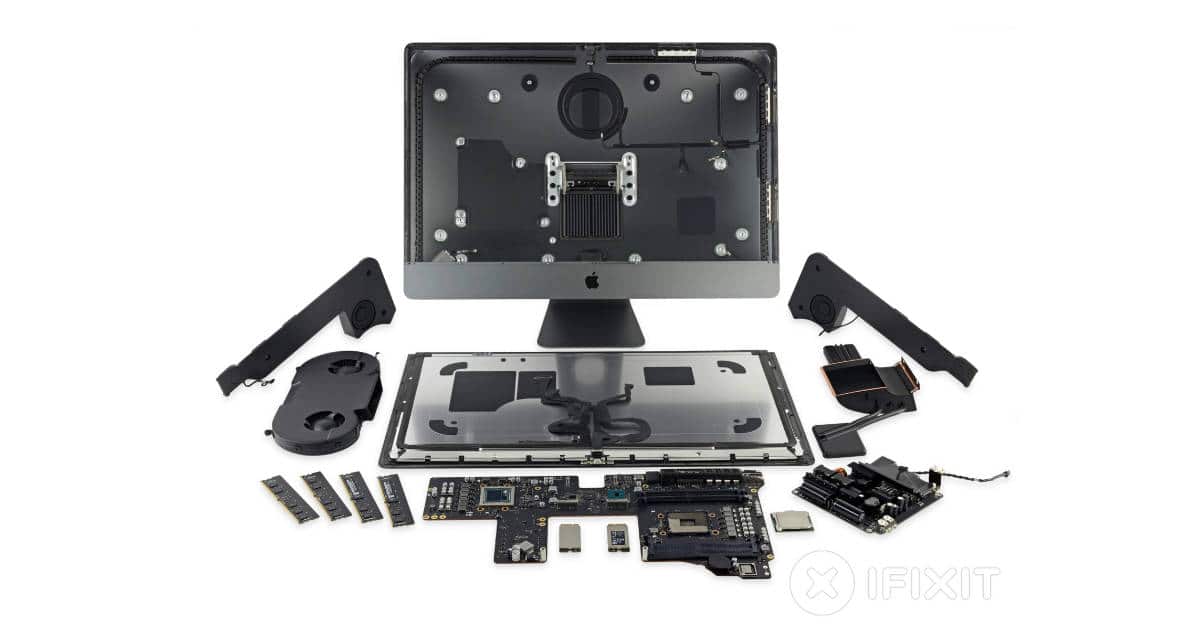 The iMac Pro is Apple's brand new pro-level desktop computer. The base model sports an 8-core Intel Xeon W processor, 32 GB RAM, 1 TB SSD, Radeon Pro Vega 56 graphics processor with 8 GB RAM, and 5K display. Pricing starts at US$4,999.
There aren't any access panels, so any upgrades will involve tools, time, and potentially warranty voiding actions. The iMac Pro's internal cooling system may be the culprit here. The fan and air channel placement blocks direct access to the RAM chips and other components.
iMac Pro: Upgradable Parts
If you're willing to crack open your iMac Pro there are only a couple elements you can upgrade. First up is RAM with standard 288-pin DDR4 ECC memory sticks. Once the display is off the iMac the RAM slots are easy to access.
Next up is the Intel Xeon W processor. The processor socketed so it should be replaceable, but iFixit says the chip may be a custom. If so, you'll need a processor from the same custom line. That means you'll likely be limited to higher core versions of the same processor.
iMac Pro: Non-upgradable Parts
That Radeon graphics processor in your new iMac Pro is definitely not upgradable. Unfortunately, it's a chip soldered directly to the circuit board. That means the video processor you choose when you buy your iMac Pro is the one you have to live with.
The dual SSDs in the iMac Pro should be user upgradable, but they aren't. Even though there's a single screw holding them in place, the SSDs are custom designs. If you want a higher capacity SSD in your computer down the road for now it looks like you have to pay Apple for the parts and the service.
The bottom line is the iMac Pro's RAM is the only component we can point to today that's user upgradable—assuming you're comfortable slicing open your computer.