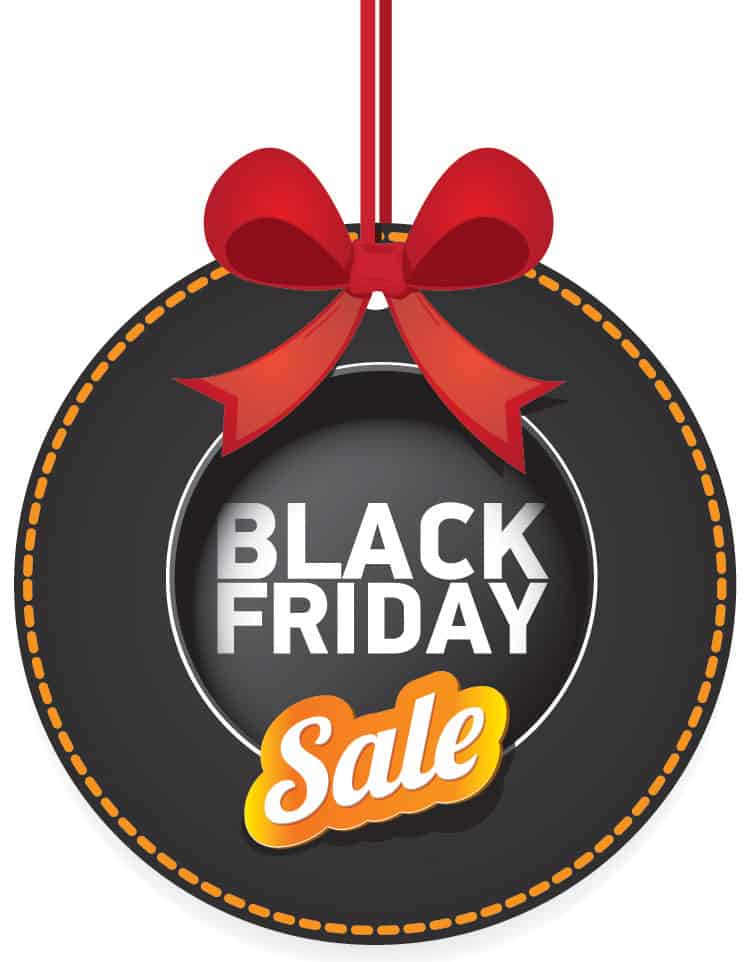 Black Friday has some of the biggest sales in retail, but you can also find a lot of software on sale. I put together a list of nine Black Friday sales that will appeal to Apple customers, sales you might have otherwise missed. I also included a reminder that Apple is doing a promo.
[Update: I added Readdle's Black Friday deal to the list, and added some information about Apple's expected sale.
Apple – Apple skipped Black Friday last year, but is back this year. As of this writing, we don't know what discounts Apple will offer, but there is a landing page on Apple's website for every country where it is holding a Black Friday promotion. I'll update this article once we know more, and the sale will be good on Friday only. [Update: Apple's Australian sale is for a free gift card with the purchase of Apple Watch, iPhone, iPad, and Mac. I expect something similar in the U.S. in a few hours.]
Speakers and Headphones
Audioengine: 20% Off – These folks make the speakers I use on my desk, the A5+, and I very much like their products. They're doing a Black Friday and Cyber Monday sale of 20% off their speakers and DACs, up to $150 off. Refurbs and the HD3 are excluded. Sale starts Thursday and ends at midnight on Monday, November 28th. Enter coupon code BFCM at checkout to get the discount.
V-MODA: 10% Off – You can get 10% three of V-MODA's excellent headphones, Crossfade Wireless, Crossfade M-100 3D Metal, and XS 3D Custom Headphones. The discounted price is available directly on the site, and the Crossfade Wireless also come with a free Boompro microphone. I reviewed the Crossfade M-100s and loved them.
Leather Cases
Vaja Cases: 30% Sitewide – Wow, this is a killer sale, 30% off sitewide at Vaja Cases. These folks make very high quality leather cases for iPhone, iPad, MacBooks, and a couple of Android products. I've owned three of their cases over the years, and they were all excellent. This stuff is hand-made from real leather, and it's priced accordingly. I've never seen them offer this kind of discount. To get the price, use coupon code BF at checkout, and it even applies to already-discounted "sale items." Plus, you can check out with ApplePay.
macOS and iOS Software
Macphun: $59 for Luminar for Mac – The folks at Macphun Software are offering Luminar for $59. That's 14.5% off, but you also get two ebooks, a pro preset pack, a video tutorial, all included for the same price. The price is available on the Luminar webpage, where you can buy it directly.
Readdle: 50% Off – Readdle is another one of those great software companies whose apps are solid, reliable, and consistently good. The company is doing 50% of five iOS apps, including: Printer Pro, PDF Expert, Scanner Pro, Calendar 5, and PDF Converter. You can also get 50% off PDF Converter for Mac.
Other Electronics
Nest: $50 Off – Nest is doing $50 off the Nest Learning Thermostat, Nest Cam Indoor, or Nest Protect when purchased with two LIFX Bulbs. The discounted price is available without a coupon code, and the sale ends on Monday, November 28th.
TiVo: Various Discounts – If you like TiVo like me and Dave Hamilton, check out the TiVo sale. There are $40, $50, and $75 discounts available on TiVo Bolt models, as well as a discount on a refurb (TiVo-renewed) Roamio OTA. It's being called the TiVo Thanksgiving Whiteout sale, and the company doesn't specify when it ends, but does say supplies are limited.
Other Retailers
Other World Computing (OWC): Multiple Discounts – OWC is throwing a real shindig for Black Friday, including a pre-sale that's live as of this writing. Lots and lots of stuff is on sale, including OWC-branded products, peripherals, and accessories, as well as third-party products. Browse to see 'em all.
Monoprice: Multiple Discounts – There are lots of products on sale at Monoprice, including $51 off a Monoprice-branded 28-inch 4K display (total price $349). Shop the site for more.
Barnes & Noble: 30% Off Any Item – Hey, if you still read printed books, check out Barnes & Noble's Black Friday sale of 30% off any item. The company is also running signed copies of books in-store only—availability will depend on your store. You can get a coupon to take into a store with you for your 30% off, or you can use coupon code BNBFRIDAY16 at checkout online. The offer starts on Friday, November 25th and ends on November 27th.