LAS VEGAS – Everything at CES 2018 seems to be smart, and Ovie Smarterware is no exception.  Ty Thompson, Co-Founder, took some time to tell us about what his company says is the world's first smart food storage system.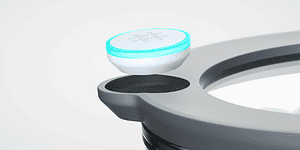 The system starts with the Ovie Smart Tag, which contains LEDs for visual notification, and Bluetooth and a battery so it can communicate with your favorite intelligent assistant such as Alexa.  When you have an item to store, press on the Smart Tag and register the item with your assistant, such as saying "Alexa, that was Grandma's Meatloaf."
Once an item is registered, a freshness countdown timer is started, say six days, which can be tuned by the type of food.  A light ring on the tag will change colors from green when it's fresh to yellow a few days before it goes bad to red when it's too old to eat safely.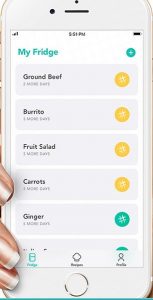 There are more smarts in the Ovie App.  It can show you what items are in the fridge, identify an item by blinking the tag, suggest recipes based the items you have, and suggest additional items you need to shop for or order to make a different recipe.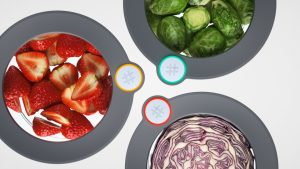 Ovie plans to begin shipping Smarterware in the fall of 2018 after a spring 2018 crowdfunding campaign. Retail sets of 3 Ovie smart tags will start at US$59.99, and three containers with tags will be US$89.99.