Rogue Amoeba, known well for the many audio tools they make to help podcasters and more, today released Farrago. Built to allow podcasters (and beyond) to quickly play sound bites, audio effects, theme music, and more during live shows or live-to-"tape" recordings, Farrago has an elegant grid-based interface to allow quick and easy access to everything.
Podcasters can use either mouse clicks or keypresses to trigger each audio clip, and clips can be individually configured to loop, play under other clips, play sequentially, and more. The interface and user experience has been tweaked to really make this feel more refined than a typical 1.0 product.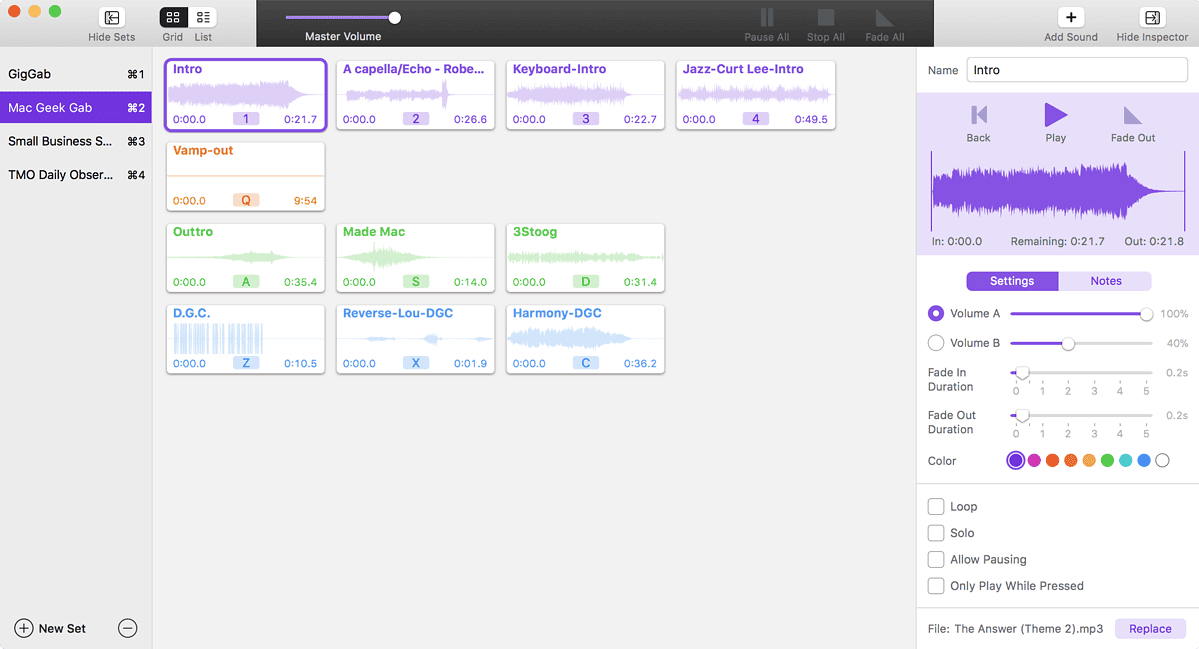 I've been beta-testing Farrago for just shy of one year, and have used it for every single episode of every podcast I've recorded in that time. For Mac Geek Gab, Small Business Show, TMO's Daily Observations, and Gig Gab we record "live to tape", which means we need to trigger our intro/outro music and sound clips in real time. Having Farrago instantly changed my workflow for the better. Instead of using QuickTime, or Evernote, or any other app that's not really built to manage sounds this way, I was instantly able to have all my audio clips in one place, easily triggered by configurable keystrokes.
Farrago allows users to set up different "Sets" of clips. As someone who produces multiple podcasts with different theme music, I set up a Set for each show, laid out exactly the same. That means no matter what show I'm recording, my muscle memory remains the same for playing the intro, outro, and vamp clips.
With Farrago for the last almost-year, life has been good for this particular podcaster, and I'm guessing it'll be good for you, too. Go check it out. And, while you're at it, check out the video Rogue Amoeba made to let Farrago "introduce itself." Fun stuff.