Microsoft announced several improvements in Office and OneDrive for iOS and Mac on Tuesday. In this piece, we'll look at the changes announced for iOS, including drag and drop support, a new List view in OneDrive, support for Apple's Files app, coauthoring improvements, and search-across-organization in Outlook.
Drag and Drop Content and Files on iOS
The biggest change for me is adding support for drag and drop in both Office and OneDrive in iOS 11. This includes both content and files, so Office 365 subscribers, "can easily drag and drop content into documents, presentations, and spreadsheets from other Office apps or OneDrive."
You can also drag and drop files from OneDrive and other apps and services that include files. Microsoft used SharePoint and iMessage as examples.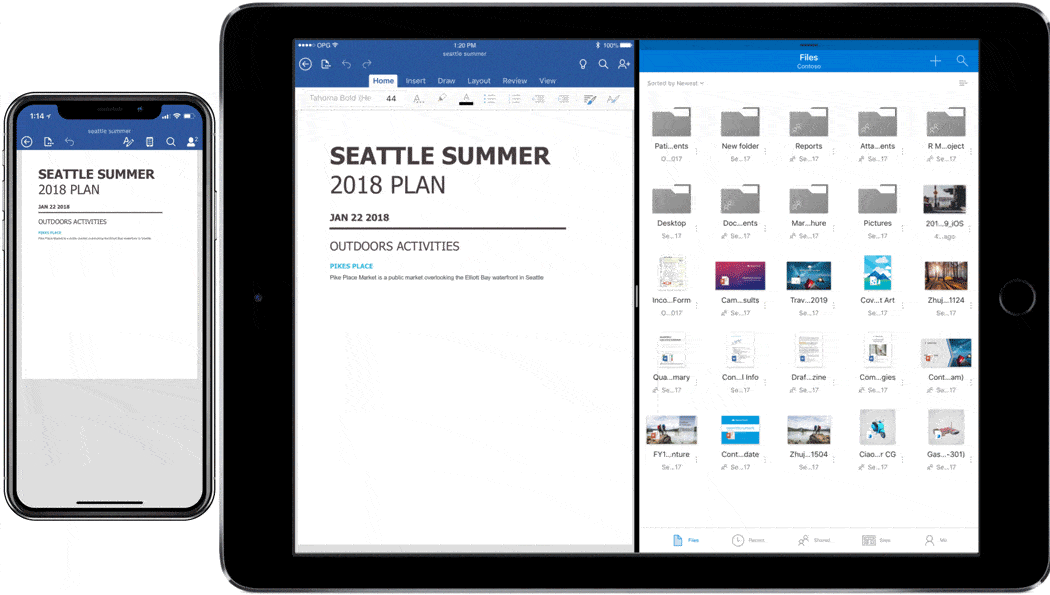 Native Support for Files App
Microsoft also announced native support for the Files app in iOS 11. Calling it a top requested feature, the company said, "This means iPhone and iPad users can upload, access, edit, and save content to OneDrive or SharePoint from any iOS app that supports File app integration."
Users will also be able to tag favorite OneDrive and SharePoint files from within the Files App.
New List View in OneDrive
Microsoft has updated the List view in OneDrive for iOS to offer users more details about the files they're browsing, including improved thumbnails, previews for 130 different file types, and more. The company said this will make it easier to sort files on their iPads and iPhones.
Coauthoring Improvements
Microsoft has added indicators in coauthored documents to allow users to see who else is working with them on a shared document. These indicators will allow users to see, "who else is working with you in a document, see where they're working, and view changes."
Search Across Your Organization with Outlook for iOS
Corporate users will be likely be interested in this new feature, the ability to search across your organization in Outlook for iOS. From Microsoft:
The new search experience in Outlook for iOS leverages the Microsoft Graph to surface results from your top contacts, upcoming travel itineraries, package deliveries, recent attachments, and more. Together with proactive search suggestions and a unified design, it now provides consistent, personalized results that enable you to discover information from across your organization faster.
Microsoft said these changes are being rolled out now, but that some may see the updates before others. I, for instance, am not currently seeing them on my iPad.