I've found my next minivan, and it's German. The Volkswagen Bus is coming back, and it's going to be better than ever. The design harkens back to the original Type 2 Microbus, but modernized and all-electric. Oh, and did I mention that it looks like the instrument cluster will be replaced by a tablet, perhaps even an iPad?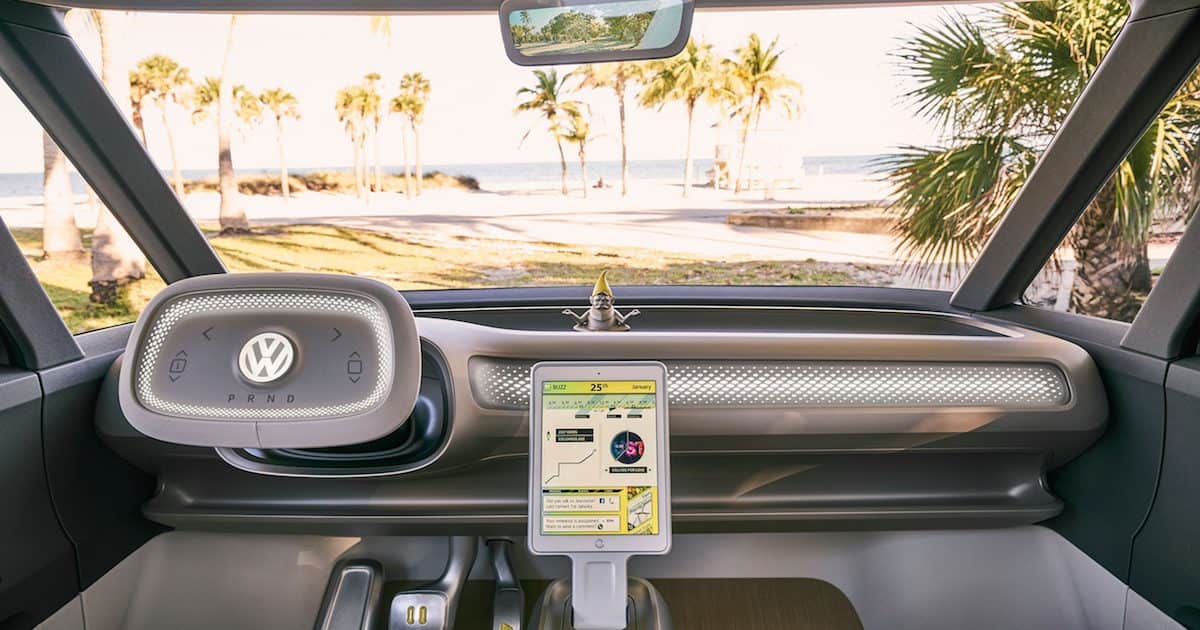 From Concept to Production, Here Comes the Next Volkswagen Bus
Said to be driven by popular demand, Volkswagen announced the new Bus on October 12. It's scheduled to enter production and become available in the United States, Europe, and China in 2022. The original concept electric vehicle, the I.D. Buzz, has been an award-winning hit since it was first revealed at the Detroit Auto Show. Volkswagen's Chairman of the Board of Management, Dr. Herbert Diess, is excited to bring the minivan to the public.
For me, the I.D. Buzz concept is the most beautiful and most exciting electric car in the world. Our goal is clear: we want to make the fully electric, fully connected car a bestseller around the world. The iconic car of the electric age must be a Volkswagen.
As of this writing, there don't appear to be any all-electric minivans in production, or even in the woks. Chrysler has announced a Pacifica Hybrid, but that minivan won't be available in an all-electric version. Volkswagen wants to make a fully connected and, more importantly, fully electric minivan a household name. From the concept photos, the new VW Bus will impress in much more than just its drivetrain.
Great Aesthetics, and an Impressive Drivetrain
Speaking of the drivetrain, it's worth noting that the first VW Bus sold in the United States in 1950 only carried 30 horsepower. By way of contrast, the next-generation Volkswagen Buss will sport a total of 369 horsepower from the electric motors on each axle, with a 111kWh battery pack located in the floor of the chassis. Driving range should be around 300 miles, and a fast-charge system can recharge the battery to 80 percent in 30 minutes, about as much time as it takes a family of four to take a break and stretch their legs.
The original two-tone paint job will be in full effect, but VW's adding a light strip surrounding the vehicle. That should give the new Bus a very distinctive visual signature at night. The LED headlights have hexagonal segments that act like "eyes" to help communicate the Bus's status while driving. Inside, you'll have plenty of space for passengers and cargo, and there's even a front trunk for more storage.
A Great Interior, With Modern Controls
While VW hasn't specifically stated this, the instrument cluster appears to have been replaced with a touchscreen interface mounted between the two front seats. That touchscreen, by the way, looks remarkably like an iPad. While we don't know what Project Titan is up to right now, it's definitely possible that at least part of that work will go into the VW Bus.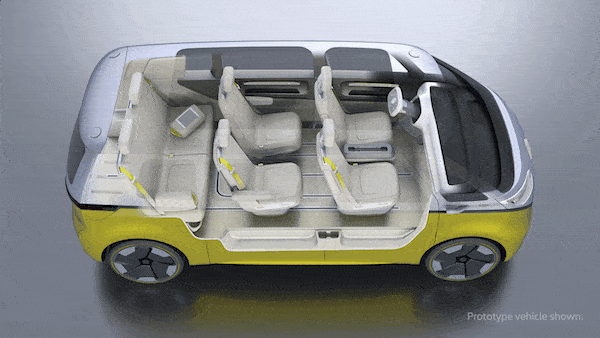 Inside, the VW Bus looks to offer plenty of room for passengers and cargo alike, with seats that move on tracks to customize how you lay out the interior for different needs. The seats fold and collapse, allowing you to create tables, move an entertainment console into place, or even generate more storage room.
The Future of the Volkswagen Bus All-Electric Minivan
We don't have price points yet for the new VW Bus, but it will hopefully be competitive with hybrids and other minivans. A model of the VW Bus projected to begin delivery in 2025 will even feature an autonomous driving mode, but we know even less about that at this point than we do the 2022 model. For now, I know that the Volkswagen Bus is coming back, and I want one.