It's a new year, and T-Mobile seems committed to keeping it's "un-carrier" approach. T-Mobile CEO John Legere announced this week at CES that the company is switching exclusively to its unlimited "T-Mobile One" plan. While current customers can opt to keep their existing plans, going forward all new consumer customers will only have one option for the carrier's service, a $70-per-month unlimited data plan.
First announced last August, the T-Mobile One plan promised truly unlimited data for a fixed monthly price. With the exclusive adoption of this plan across the company, T-Mobile is simplifying things further with what it calls "All In" pricing. This means that all taxes, fees, and other charges are included in the $70 monthly price.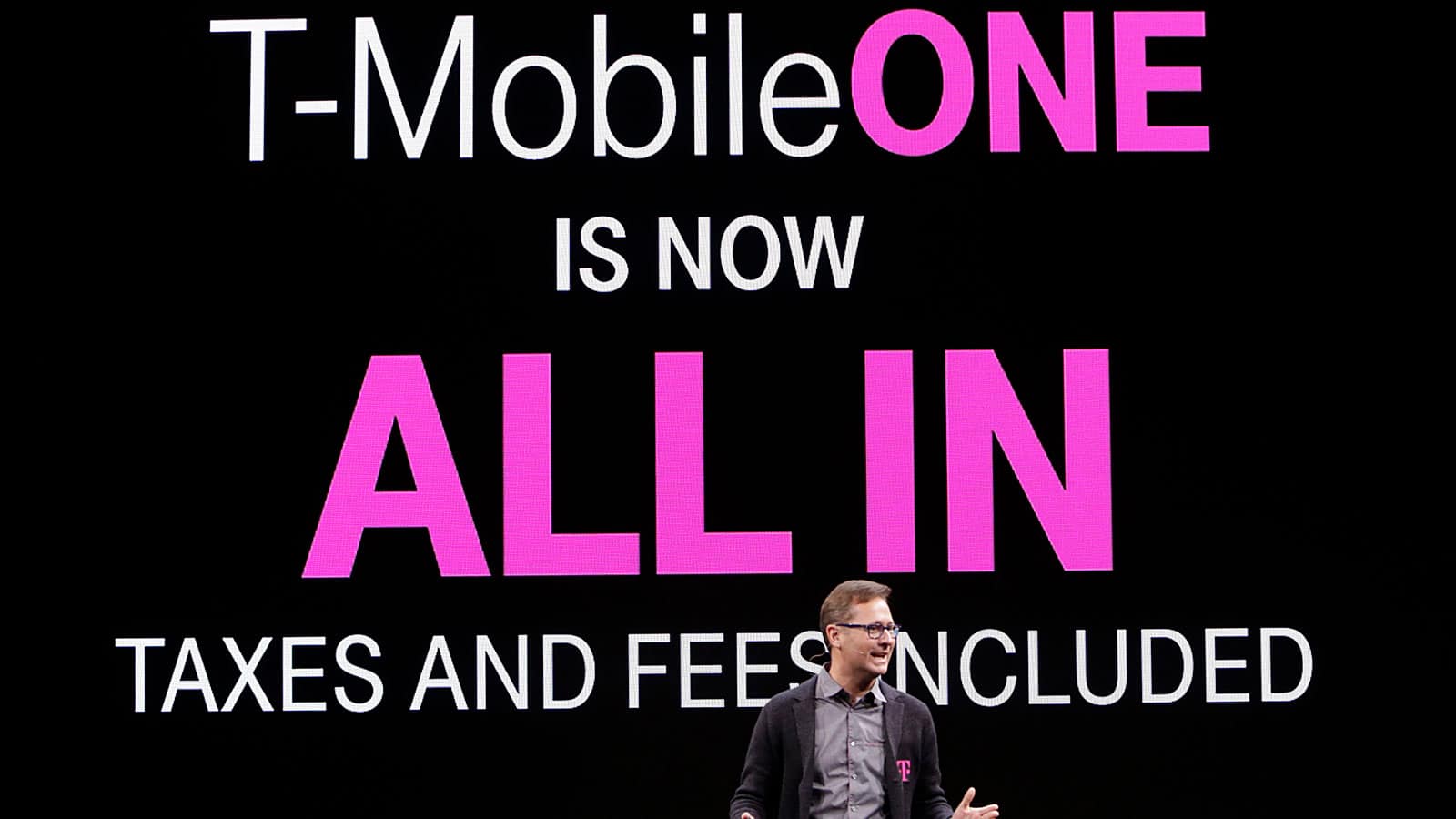 For families with multiple users, discounts will drop the price on the additional lines. For example, a family of four will pay $70 per month for the first line, $50 for the second, and $20 for the final two lines, making the total effective cost $40 per line.
But it's not all roses and sunshine; there are some caveats to the carrier's new plan. First, while there are no long-term contracts, all new customers must enroll in autopay to be eligible. You'll also only get 480p video and 3G tethering at the base price, although you can upgrade to "T-Mobile One Plus" for an extra $15 per month to unlock higher quality streaming speeds.
And while the data is truly unlimited, the speeds may not be. The carrier notes that users in the top 3 percent of data usage per month (which they claim is currently around 28GB) will see throttled speeds until their next billing cycle. If you find yourself on the opposite end of the data usage spectrum, however, you may like the carrier's "KickBack" program, which will give customers a $10 bill credit for each line that uses less than 2GB of data per month.
Mr. Legere explained that T-Mobile's new approach is based on what it calls the "New Rules for the Mobile Internet:"
What You See Should Be What You Pay
You Shouldn't Have to Pay for What You Don't Use
Only You Should Have the Power to Change What You Pay
The Mobile Internet Shouldn't Be Sold by Bits & Bytes
Customers who are enticed by T-Mobile's new approach can also take advantage of the carrier's "Tax Rebate" promotion, which will offer a $150 gift card for every line that switches from another carrier.
T-Mobile has certainly embraced its outsider status in the U.S. wireless industry — occasionally in a controversial fashion — and its new "One" plans offer a compelling choice to consumers, but only if the carrier's coverage is sufficient in your area.