Apple this week scheduled its annual shareholders meeting for Tuesday, February 28 at 9:00 a.m. PST, according to documents filed with the SEC. The meeting, which is open to all shareholders of record on a first-come basis, will take place at Apple's Infinite Loop headquarters in Cupertino.

Nine proposals will be up for shareholder vote, including the election of the company's board of directors. All eight current directors — Art Levinson, James Bell, Al Gore, Bob Iger, Andrea Jung, Ron Sugar, Susan Wagner, and Tim Cook — are expected to be re-elected to their posts.
As is typical, there are several investor-driven proposals which the company's board recommends shareholders vote down. These include a proposal that the company issue annual reports on how and why it selects recipients of its charitable giving, a previously-defeated proposal that the company officially increase diversity in its board of directors and senior management, a proposal to engage outside experts on reforming the company's executive compensation practices, and the adoption of a new policy which would require Apple executives to retain 75 percent of their net stock awards until retirement. In most cases, Apple argues that its current policies already address shareholder concerns, and that the proposed changes would be unduly burdensome on the company.
A Pay Cut for the Top Brass
Also revealed in Apple's SEC filing is the company's executive compensation for 2016. Of note, Apple's top executives all saw a pay cut due to the company's performance-based incentive program. While Apple projects record-setting revenue for Q1 2017, 2016 overall was a relatively tough year for the company, one in which it saw its first year-over-year revenue decline since 2001.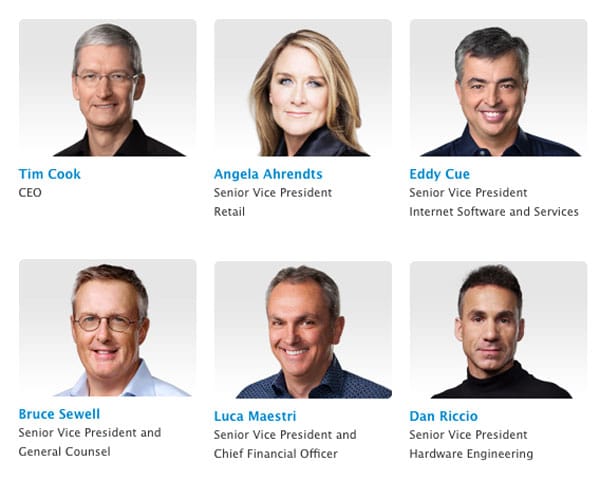 This resulted in a percentage-based reduction in compensation for Apple executives, dropping Mr. Cook's pay from $10.28 million in 2015 to $8.75 million for 2016. Apple's other senior executives — CFO Luca Maestri, retail chief Angela Ahrendts, services head Eddy Cue, hardware engineering chief Dan Riccio, and general counsel Bruce Sewell — all took home approximately $22.8 million each after earning about $25 million each last year.