Unless you rushed to pick up one of the new LG UltraFine 5K displays, you're probably going to need some adapters in order to get the most out of your 2016 MacBook Pro. And chances are that longtime Mac owners will have a mini DisplayPort-capable monitor lying around, as Apple has supported the standard since 2008. But if you want to connect your new MacBook to your mini DisplayPort monitor (including pre-2011 iMacs in Target Display Mode), you need to be aware of some compatibility limitations when it comes to Thunderbolt 3 and USB-C adapters.

As discussed on Mac Geek Gab Episode 638, Apple's Thunderbolt 3 to Thunderbolt 2 adapter, while seemingly the simplest option, isn't going to do the job. That's because even though Macs with Thunderbolt 2 ports could output mini DisplayPort video, Apple didn't include that functionality in the Thunderbolt 3 adapter. As stated in Apple Support Article HT207266:
The Thunderbolt 3 (USB-C) to Thunderbolt 2 Adapter doesn't support connections to these devices:

Apple LED Cinema Display
DisplayPort or mini DisplayPort displays
DisplayPort or mini DisplayPort adapters, such as Mini DisplayPort to HDMI or Mini DisplayPort to VGA adapters
Thunderbolt 3/USB-C to mini DisplayPort
So if Apple's adapter isn't the answer, what is? One solution would be to pick up a Thunderbolt 3 docking station that has either a mini DisplayPort or full-sized DisplayPort output, such as the OWC Thunderbolt 3 Dock.
But Thunderbolt 3 docking stations are relatively expensive, and if all you're looking for is a way to connect your 2016 MacBook Pro to your mini DisplayPort monitor, there's a cheaper solution. As discussed on the NosillaCast podcast, you'll need to turn to a third party adapter for mini DisplayPort compatibility.
One such option recommended by a listener to the NosillaCast is the All Smart Life USB-C to mini DisplayPort Adapter, currently priced at $21.99. You'll also find a range of similar adapters over at Amazon.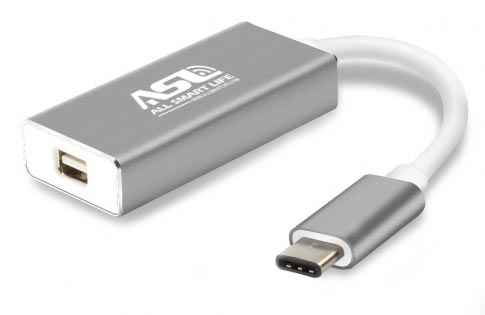 Just plug it into your 2016 MacBook Pro, connect your monitor to the adapter's mini DisplayPort connection, and you should be good to go. Apple's Thunderbolt 3 to Thunderbolt 2 adapter is still useful, of course, but only for connecting legacy Thunderbolt devices or Thunderbolt-capable displays such as the 27-inch Thunderbolt Display.