As a way to compete with the likes of Facebook and Twitter, Apple is bringing a feature called Business Chat to iOS 11. It's a way to directly contact business via iMessage, and it will be fully baked into the system. Here's what we know so far.
[Update: This article was originally published on June 6th, and updated on June 9th with additional information Apple released during WWDC. – Editor]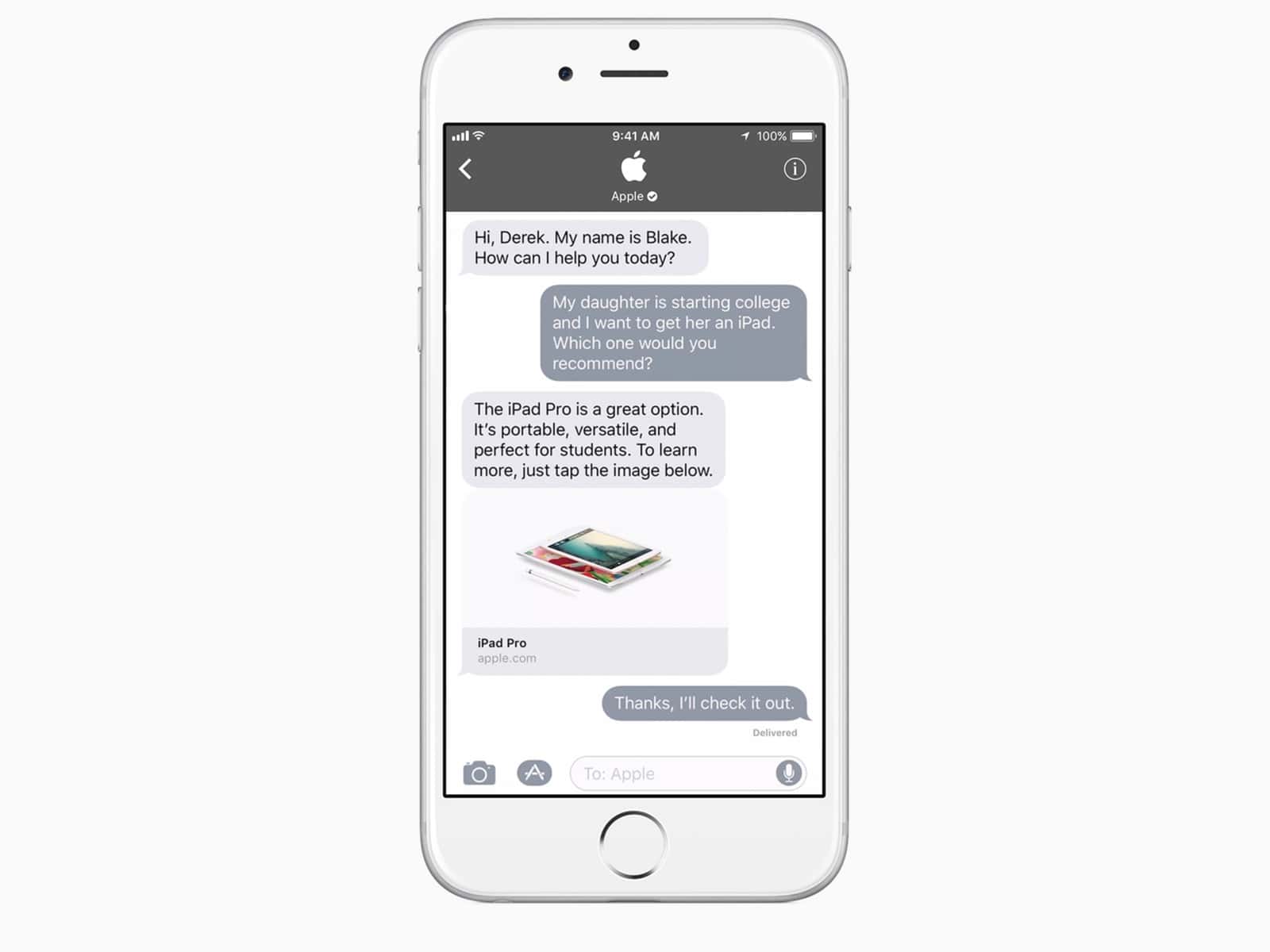 Business Chat
Business Chat will work across Apple's devices like iPhone, iPad and Apple Watch, but not the Mac. Apple customers can start a conversation with a business from Safari, Maps, Spotlight, and Siri.
Competing platforms like Facebook and Twitter are already doing something similar. Facebook rolled out Messenger bots that businesses can have, along with its new M assistant. Twitter has new customer service tools like custom profiles, quick replies and its own chat bots.
Details
Instead of looking up a business on Google and getting contact information there, Apple seems like it wants to slowly wean you off of the search giant. Business Chat will be fully integrated with Apple Pay, Calendar and iMessage. In the example Apple provided, you could ask a business for help in buying a product in iMessage, then use Apple Pay to buy it.
We'll add to this article on Friday to address anything else Apple announces.
Update
Apple updated its developer page with more information on Business Chat. iPhone customers using this will be able to connect directly with the business's existing customer support center. Chat routes messages between a customer and business through a special Business Chat Server.
This is a way to add a layer of safety and security between the two parties, by using a Customer Service Platform (CSP) to exchange customer messages to the business. Businesses only need to provide a CSP layer on top of their customer contact center to integrate with Business Chat.
However, Business Chat isn't without limitations. Apple's current bot implementation makes it impossible to add new dictionaries to its system. This may limit its use for enterprise customers. Oren Ariel, CTO and cofounder of Capriza, explained:
For instance, to be effective in a corporate environment, enterprise users need to be able to understand a different set of vocabulary based on their identity, which is defined by their role in the company and the language they speak. This language can even differ internally within organizations – a salesperson would need a bot service to understand different sales acronyms, where as a marketing exec would need it to understanding marketing terms.
Business Chat is still a brand new technology, so it's possible that Apple will update it over time to accommodate enterprise customers and their jargon. Right now the focus seems to be on consumers who can text a business for help.