Apple has waxed enthusiastic about keyboards for the iPad and now offers its own. But the design may not be for everyone. If you've been thinking about a sturdy, handsome aluminum keyboard/case for your iPad Pro, one that makes it look (and function) very much like a MacBook, then you'll want to read this review of the Brydge 12.9 model for iPad Pro.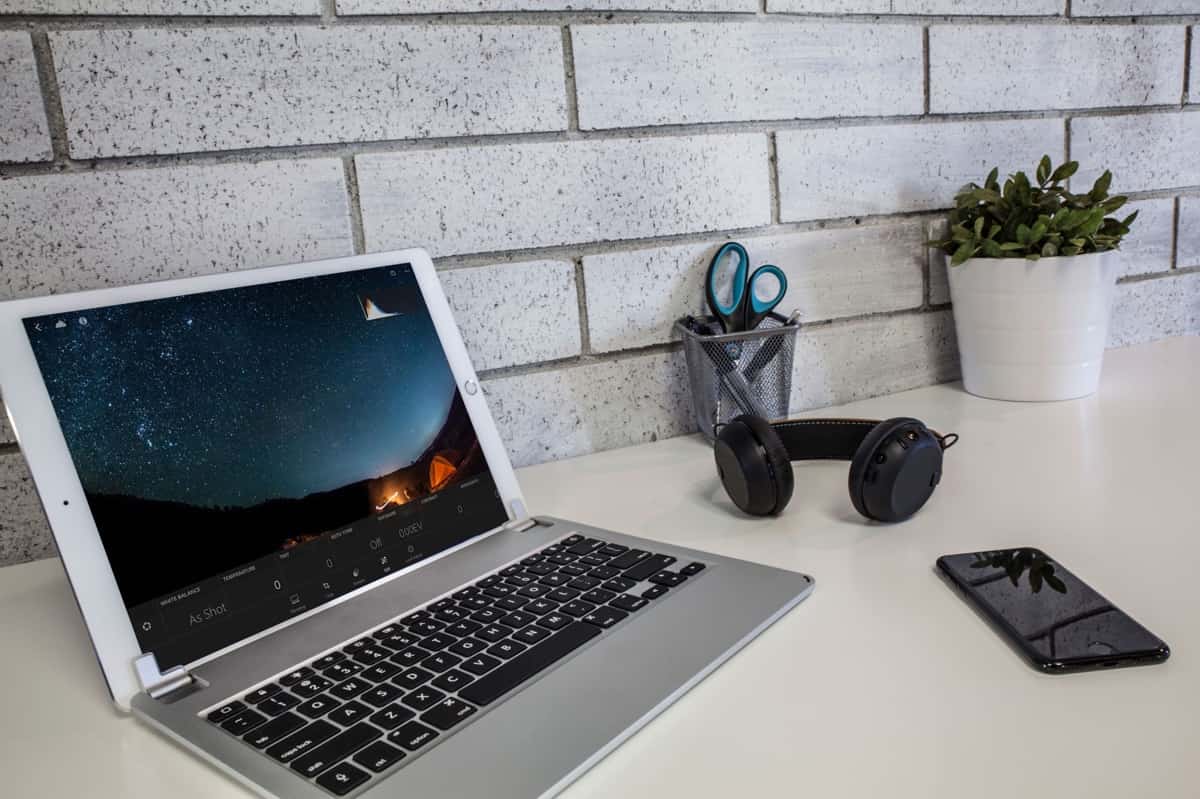 I have been reviewing the Brydge keyboards for the iPads ever since it was a Kickstarter project back in 2012. And I've always been enthusiastic about these aluminum keyboards thanks to their design. Now that new management has taken over the old company things are going nicely. Best of all, the product continues to improve.
Reviewed here is the Space Gray model for the iPad Pro 12.9-inch. There is an equivalent version for the iPad Pro 9.7-inch. Previously, I reviewed a version for the iPad Air. That review covers all of the details this product, including how the hinge system works. (That model, which also works with the iPad Air 2 is still for sale.) I won't repeat what I wrote before, but I will note that two small complaints I had about the iPad Air model have been nicely fixed.

Brydge 12.9 Features
Solid Aluminum with full-size keyboard.
Weight is about the same as the iPad Pro itself (roughly 750 grams).
Three month average battery life.
Backlit keyboard with three levels of brightness (or off).
Available in Silver, Space Gray or Gold.
180 degree hinge design.
Discussion
Keyboard. The keys are 16 mm wide on 19 mm centers. This compares to 18 mm wide and 20 mm centers for the MacBook. In practice, these two sizes and spacings are indistinguishable. The key mechanism is the standard scissor design. The key throw is a modest 1.5 mm which is at about where I like it to be. This compares to the Apple Aluminum keyboard and the MacBook Air which have throws of about 2 mm and the MacBook's roughly 1 mm, which also suits me fine. Finally, while the throw is pleasing, this keyboard is just a tad more noisy and mushy than my MacBook. But then, it doesn't use Apple's famous Butterfly mechanism either. Given that, it's still a very nice, handsome, functional keyboard. And it includes a dedicated SIri key.
The entire keyboard is backlit and can be either off or on with three levels of brightness. That's useful for those late night airline flights when the cabin lights are off.
Hinge Mechanism. My first question was: given the weight of the iPad Pro at 713 grams, would the hinge mechanism and attachment that Brydge uses be just as secure? I'm happy to say yes. You can hold the whole unit upside down by holding the keyboard, skake gently, and the iPad Pro won't fall out. However, if you shake vigorously, it will. But gradually enough that you can catch it first.
Because of the design of the classic, well-thought-out connection method at the hinges, this keyboard doesn't use the Apple Smart Connector. The advantage is that the hinges allow 180 degrees of travel. The connection, therefore, is standard Bluetooth.
Unlike previous models, there is no notch at the foot of the keyboard that allows for easier opening. I asked Brydge about that, but have not received a response. It's a nit.
Weight and Size. The Brydge keyboard matches the size of the iPad Pro 12.9 and closes without any overhang. The total thickness depends a little the production model's rubber bumper at the foot of the keyboard and averages 14.5 mm. The weight is just a bit more than the iPad at 750 grams, plus or minus, for a total weight of 1.47 kg (3.23 pounds). (By comparison, the 12-inch MacBook weighs 2.03 pounds.) The difference in size and weight is quite noticeable between these two products—if you wondered about that. See the photo below.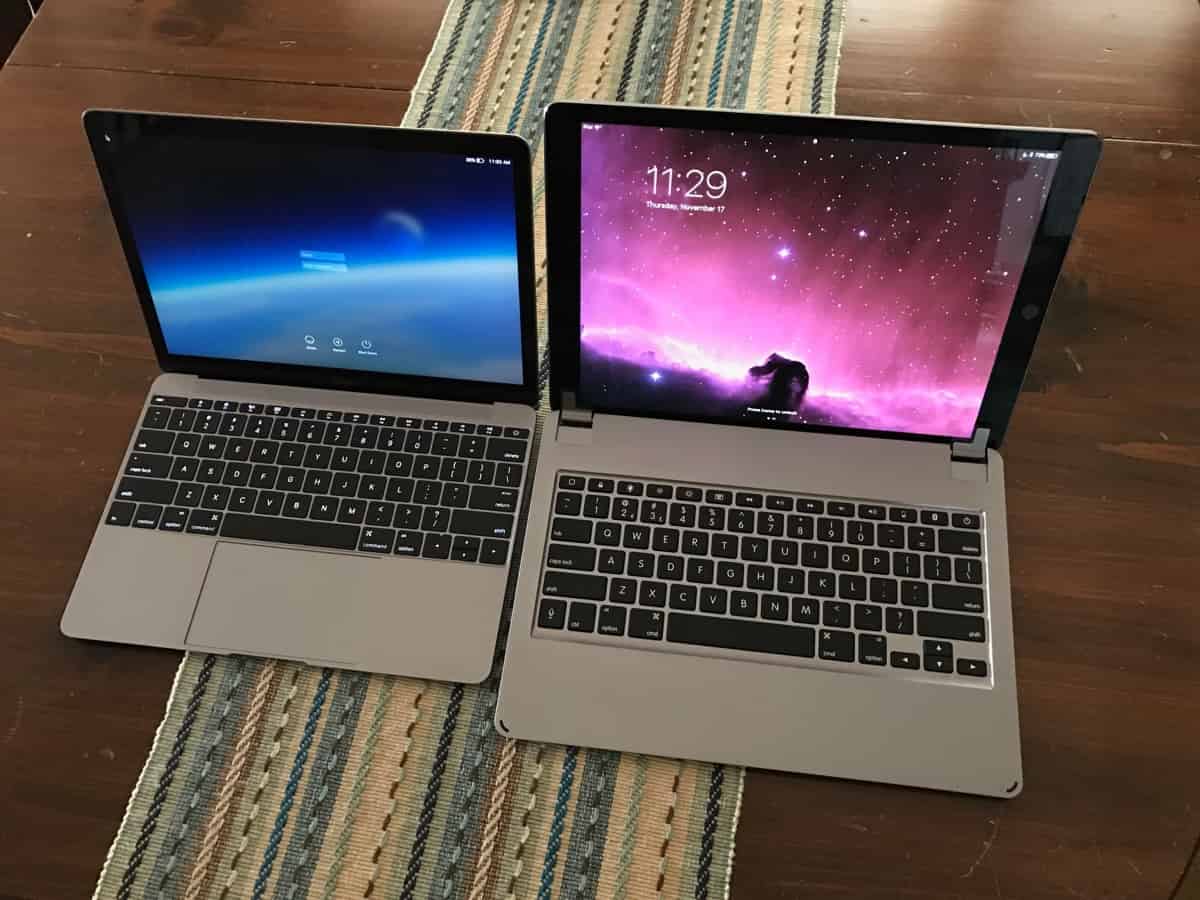 (No) Speakers. This model has no built-in speakers; it doesn't need them. The iPad Pro 12.9 (and 9.7) finally have very good stereo speakers. This allows the battery to be smaller, at 480 mAh, and still provide an average of three months use at one hour per day.
Eliminating the speakers eliminates the volume buttons and makes for a cleaner, more reliable design.
Improvements. The caps lock key is now backlit with a green LED. The red LED charge indicator is also backlit behind the battery key. These are nice changes for the better from previous models.
Apple Pencil. One case I have for the iPad Pro has an elastic loop on the side for the Apple Pencil. I playfully wondered if there would be a concession to this, but an aluminum keyboard like this really has no place for an Apple Pencil. Brydge suggested this leather carrying case, which is popular, as a good place to stash the Apple pencil when not in use. Classier, I think.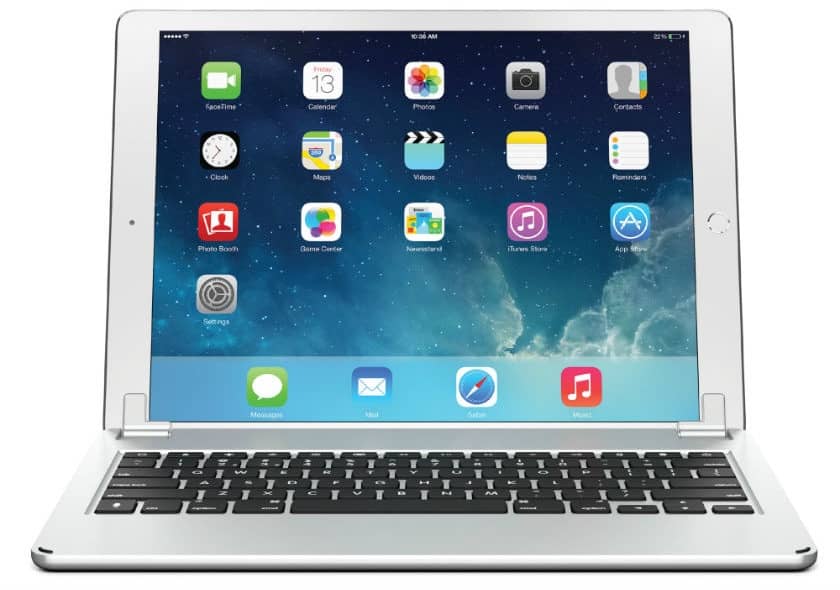 Included in the Box
The shipping box is a very heavy cardboard, coffee table book class, and will protect the keyboard well during shipping and store display. Or storage. Also included:
0.5 meter (20-inch) microUSB charging cable
A very easy to read, 2-sided instruction sheet. 1) Insert/Remove, Pair, Charge and 2) Keyboard callouts. This information is duplicated at the Brydge website.
A small card that provides contact info for support.
Final Thoughts
The warranty is 12 months, and Brydge has worked hard over the years to develop a great CRM system for repairs and warranty service. I no longer get any email pleas from customers of the former company.
You can purchase direct or from Amazon, Best Buy or Simply Mac.
This keyboard won't protect the back of your iPad like most traditional cases do. It closes to protect only the display. What you have is basically a MacBook-like system, and so that carry bag (linked above) is probably a good idea.
If you're a content creator, perhaps just a writer, who travels or just a desktop user who does a lot of typing, this is a beautiful, functional keyboard that complements the style and color of the iPad Pro. It's a lot of technology for the money, a classy and very usable product and it just keeps getting better and better over the years.
_____________________________
UPDATE: As of 12/15/2016, Brydge has reduced prices at Best Buy only as follows:
iPad mini 2 and mini 4 keyboards (BrydgeMini and Brydge 7.9) $99 (was $129)
iPad Air / Air 2 and Pro 9.7 (Brydge 9.7) to $129 (was $149)
iPad Pro 12.9 (Brydge 12.9) $149 (was $189)