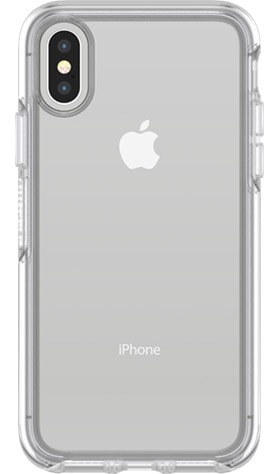 The iPhone X is a very special smartphone and deserves a very special case.
I've been using the OtterBox Symmetry Clear Case for several weeks, and it's a joy. This case is totally clear polycarbonate and synthetic rubber on the edges and around the buttons. It has a soft, warm, but solid feel that protects the iPhone X from accidental drops. (But no MILSTD is cited.)
The case is described as "scratch-resistant." I believe that because, unlike some very hard plastic cases, this one is soft to the touch. And mIne remains scratch free.
Based on my experience with dozens of iPhone cases over the years, this is one of my favorites. The OtterBox logo is printed on the side so it doesn't mar the beauty of the space gray or silver back.
This one-piece design fits very snuggly, and it does require an adult with strong fingers to remove it from the iPhone. But, as a reviewer, I admit that my need to install and remove happens much more often than the normal user. Nevertheless, I quibble with the product page that says "One-piece slips on and off in a flash."
The Good Stuff
The tight fit may be the only negative of this otherwise excellent case. The Lighting port is large enough to support slightly oversize charger plugs. The same goes for the mute button's aperture: room for a larger finger to get in there.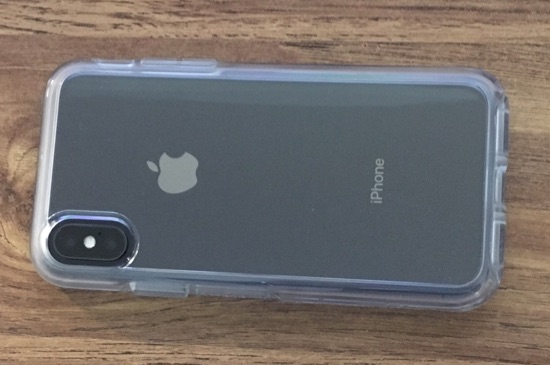 The edges wrap around safely without impacting the glorious edge-to-edge display of the iPhone X. Like any good case, it has a slightly raised edge that keeps the display from touching the surface of, say, a desk when you place the iPhone face down.
The bare, glassy iPhone X can be a bit thin and slippery. This cases adds some heft and some softness that both strengthens the iPhone X and gives it a good nonslip feel. Plus the raised side button cover helps you orient the iPhone as there's no Home button to provide a visual cue on how to orient it when picked up.
By the way, it comes into two color choices: Clear and Stardust. There's a limited, lifetime warranty. This might seem like techno-babble except that OtterBox has a great reputation for standing behind its products.
All in all, if you want the beauty of the iPhone X to shine through but need that extra little bit of peace of mind that a fumble won't destroy your investment, this is clearly, (yes I did that) a great choice for US$39.95. (Free shipping.)