Visible is a new carrier on the scene for iPhone users and recently Android users as well. It's an MVNO that leases Verizon's network to offer a US$40/month phone plan.
Update
It should be noted that my texting problem has been solved. It was some kind of issue with my phone, and not Visible's network. All I had to do was reset my network settings on my iPhone.
Visible
I first heard of Visible late last year. Someone had emailed me and asked if I could review the carrier. I said yes, but never heard back. But it sounded better than my plan, so I decided to switch on my own anyway.
Previously I had been using Net10, an MVNO owned by Tracfone. Although not the cheapest plan, Net10's standard smartphone plan is US$40/month for 4GB of high speed data. Once you burn through that, your data is throttled to 2G speeds.
Right off the bat, Visible's plan is better. You get unlimited data, texts, and calls. The speed is limited to 5Mbps, although that could get slower in times of network congestion. Streaming video is also limited to 480p quality. You can either bring your own phone and port your phone number, or buy a phone from the company, with financing available through Affirm.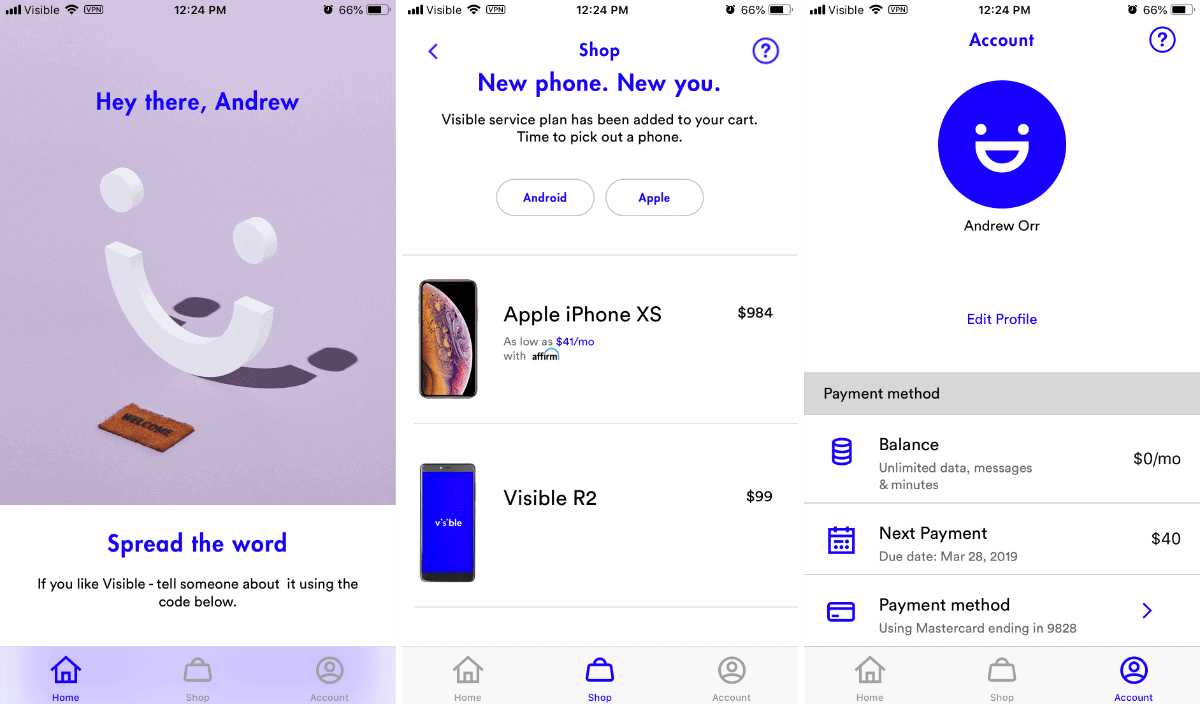 Compatible Phones
iPhone 6
iPhone 6s
iPhone SE*
iPhone 7*
iPhone 8
iPhone X
iPhone XS
iPhone XS Max
iPhone XR
Samsung Galaxy S9
Samsung Galaxy S9+
Visible's own R2 model
*The FAQ mentions that some iPhone SE and iPhone 7 models can be tricky, so use the compatibility checker.
If you're on a postpaid contract with one of the big carriers, Visible's service is probably worse than what you have. But if you're like me and you're coming from a prepaid plan, Visible might be a better deal for you. Additionally, Visible lets you use your phone as a hotspot, and you get iOS's Visual Voicemail feature. On Net10 I couldn't use either of those features.
More features may come in the future. There is a section in the app that lists the aforementioned features like mobile hotspot, and other placeholders say "Coming Soon." Through feedback I suggested that adding devices like the Apple Watch to your plan would be a great feature.
Next Page: Problems With SMS, Conclusion