Satechi has introduced the "60W 6-Port Multi-Port USB Desktop Charging Station." It's a pure charging hub that intelligently partitions up to 60 watts of power to four USB-A ports and two USB-C ports. Notable features include a great exterior design, a power LED and an on/off switch.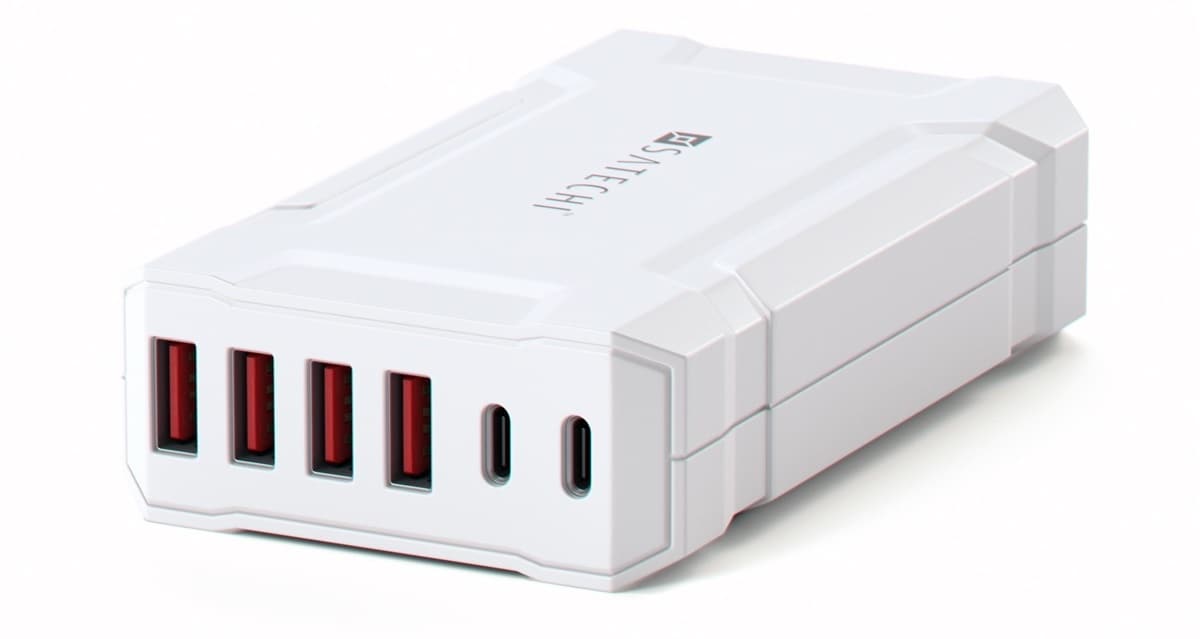 Every once in awhile, a product comes along that has that magical combination of great looks, intelligent design and exception functionality. This one one of those. The Satechi "6-Port Multi-Port USB Desktop Charging Station" can provide a total of up to 60 watts on six ports, comes in black or white, and has been a joy to use for the last few weeks.
Here's what Satechi says:
With multiple ports, we want to ensure that each of your devices is getting its maximum charge, which is why the Satechi Multi-Port USB Charging Station features smart auto-detect technology. This technology delivers the best possible charge to each device, while ensuring each device is safely being charged.
Specifications
4 USB-A ports.
2 USB-C ports.
Dimensions: 4.5 x 2.75 x 1.13 inches. (11.5 x 7 x 2.7 cm).
Weight: 7.8 ounces, 220 grams).
Maximum total power 60 watts (5 volts, 12 amps).
Colors: black or white.
Testing
This is a pure charging hub and doesn't function as a data hub when, say, a MacBook is connected.
One of the features I liked, and appreciated, is the power switch and green LED power indicator. The power switch felt solid and durable. Often, it's just not convenient or desirable to pull the plug on a device like this when there's a need to stop the power output.
I was curious about the "Smart Auto-Detect" technology and had some additional questions for Satechi.
Q: Is there a limit to the power any one port can deliver?
A: Each USB-A Port provides 5 volts, up to 2.4 amps of power and each USB-C Port provides 5 volts, 3 amps of power
Q: As devices are disconnected, does the available power rise to the other ports for, say, iPad Pro's needs?
A: Power does not divert to other ports if devices are disconnected.
I liked the build quality. It felt solid, and the USB connectors were well spaced and well made. While I can't say anything about the electrical internals, it certainly feels hefty and large enough to manage 60 watts of output.
I connected a (2015) MacBook, shown above, and a 12.9-inch iPad Pro simultaneously, pulling about 27 watts total. It went from cool to the touch to only the vaguest sensation of warmth, barely noticeable. There are handsome slots that allow air to flow underneath, and so its it's elevated by a few millimeters. There are no padded feet. They hardly seemed necessary in light of the design.
Included is the AC power cord (2-prong) and a small four-panel pamphlet. Most of it is regulatory and contact information. It's really a plug-and-play device that's obvious how to use. It has the customary Satechi one year warranty.
Final Words
With every product I review, I usually find some minor thing that annoys me. I this case, I found nothing. The "Satechi 60W 6-Port Multi-Port USB Desktop Charging Station" is intelligently and simply designed, looks good, comes in black or white, has plenty of power for all kinds of USB devices, includes an LED power indicator and on/off switch, and is very reasonably priced. I've given it our highest rating.