In today's digital age, video editing has become increasingly accessible, and Mac users are seeking intuitive and feature-rich software to bring their creative visions to life. Enter Movavi Video Editor for Mac, a powerful and user-friendly editing tool that aims to empower both beginners and seasoned editors alike.
Movavi Video Editor comes with an impressive array of features and a sleek interface It promises to be the go-to solution for transforming raw footage into captivating visual stories.
Let's delve into the capabilities and highlights of Movavi Video Editor for Mac to see if it delivers on that promise.
A Feature-Rich Video Editor to Up Your Videography Game
Movavi Video Editor for Mac is a powerful and user-friendly video editing software that enables users to create professional-looking videos with ease. It offers a wide range of features and capabilities designed to meet the needs of both beginners and more advanced users.
One of the key features of Movavi Video Editor for Mac is its intuitive and user-friendly interface. It provides a simple drag-and-drop functionality, making it easy to import media files, arrange them on the timeline, and apply various edits and effects.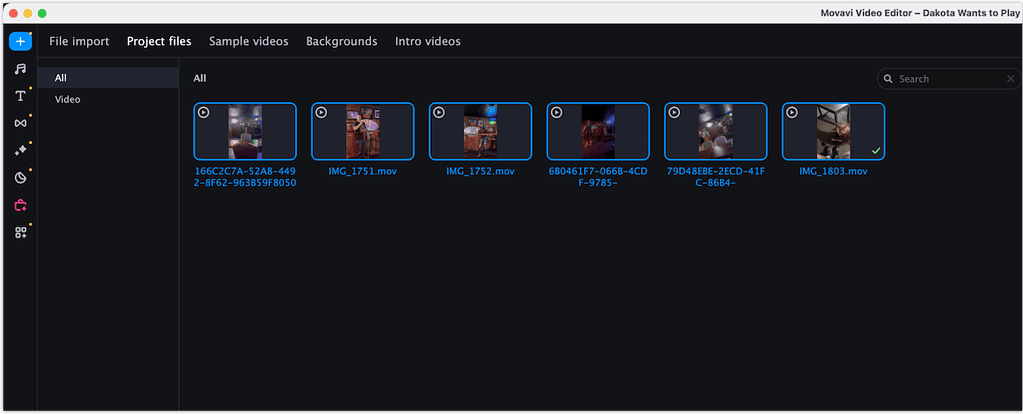 You'll find it easy to trim and cut video clips, merge multiple clips into a single video, and apply transitions between scenes seamlessly.
Video Editing Features to Make Your Project Stand Out
The software offers a vast array of filters, visual effects, and transitions to enhance the visual appeal of videos. You can choose from a wide range of filters to give your videos a unique look and feel. Additionally, you can add titles, captions, and callouts to provide context and information to your audience.
For your titles, perhaps my favorite tool is the motion settings. You can set a quick tracking method, to pin your title to an object even as your video moves around. You can also use the precise tracking for dynamic objects. What's really cool, though, is the AI motion tracking. It allows your title to move smoothly as the tracked object does.

Furthermore, Movavi Video Editor for Mac offers a variety of advanced features such as chroma keying (for use with green screens and eliminating other backgrounds), picture-in-picture support, and slow-motion effects. These features help create more engaging and professional videos.
One truly amazing tool, available in the newest version of the software, is the AI Background Removal tool. This is a popular feature in photo editing software like Adobe Photoshop. It provides a simpler alternative to traditional green screen shooting. With just a few clicks, you can remove the background from your video clips, transforming the way scenes are composed.
Feature Omissions Might Hinder Professionals, but Not by Much
Movavi Video Editor does lack some of the features you might find in more professional packages. For example, slip, slide, and roll are notably absent from the feature set. These techniques provide editors with flexibility and precision when arranging clips in the editing timeline.
Slip, slide, and roll empower editors to refine the content, timing, and placement of clips, ensuring seamless transitions and enhancing the overall flow and storytelling of the video. The lack of this support might be a dealbreaker for professionals, but hobbyists shouldn't be bothered by the deficit. Trimming clips works just fine, and is honestly what most amateur and semiprofessional video editors make the most use of.
Sound Is Important, Too
Movavi Video Editor also supports a range of audio editing features. You can import audio files, trim them, adjust volume levels, and apply various effects to create a captivating audio experience. The software allows you to add background music, record voiceovers, and synchronize audio with video seamlessly.
Some of the audio editing tools available for perfecting your project include:
An equalizer
Support for volume normalization.
Beat detection for synchronizing video and audio speed.
Noise cancellation support.
Various audio distortion effects.
Ability to record a voiceover straight from within the app.
Movavi
Edit your videos with the most intuitive tools from the Movavi app.
Getting Ready to Share and Publish Your Video
Of course, eventually you want to share your video with others. Once you finish the editing process you'll be able to export your video in various formats, including popular options like MP4, MOV, and AVI. You can also save just audio, but only to AAC, FLAC, MP3, OGG, WAV, and WMA formats.
The software also provides easy sharing options, allowing users to upload their videos directly to social media platforms like TikTok, Vimeo, and YouTube. You can also save your video for playback on mobile devices.

Movavi Video Editor doesn't give you the most control over the technical details of your export. However, you can specify the bitrate for both video and audio, along with the frame rate and resolution. Movavi also supports two-pass encoding for even better quality.
During the export, Movavi Video Editor can use graphics hardware acceleration for faster rendering. While the product details don't specifically note support for the Apple M1 GPU, the speed of rendering indicates it certainly was taking advantage of the hardware.
Getting Movavi Video Editor
This software is available for both Windows and Mac. It installs quickly and easily, including a 7-day free trial that places a watermark on your output videos. You should have at least 2GB of RAM and 600MB of disk space.
If you're looking for a video editor that goes beyond what iMovie can offer, but isn't full-on professional software like Final Cut Pro, Movavi Video Editor is an excellent option.