If you take a lot of photos using your iPhone, chances are you have encountered that during post-processing, there were many unwanted objects in the background. And how you wish you could retake the photo to make sure that the objects are gone. Well, if you can't retake the photo, then you might as well use an iPhone editing app that can do that. Here, I've rounded up the five best iPhone photo editing apps for iPhones to remove unwanted objects and retouch or enhance your photos.
Importance of Photo Retouching
In case you're not aware, most if not all photographers just don't publish their work as soon as they've taken them. They spent countless hours enhancing those photos before publishing. Even those who take photos with their iPhones or other mobile devices for social media purposes also spend time editing their photos before posting them to Facebook, Instagram, and other social media platform. Even those platforms have built-in photo editing features to help us, users enhance our photos.
Why is photo retouching so important to many of us? Well, for professional photographers and non-professional ones, every photo that they release into the wild becomes part of their portfolio. Those photos speak of their photography skills. So, every photographer needs to make sure that they only release the best photos. Even more so with professional photographers who sell their works.
How about people who take photos using their iPhones and post them on their social media accounts? Well, they need to retouch their photos before posting to social media for various reasons, including self-vanity among other personal reasons.
How to Retouch a Photo on iPhone
Now, photo retouching or editing is an essential part of a photographer's workflow. It's embedded into their system. However, the same can't be said about folks who take photos using their iPhones. Not all of them find the time to retouch or edit photos before posting.
If you're one of those who do, then you can either use the default photo editing features of your social media platform or post-process your photos using an iPhone editing app. Thankfully, there are a plethora of these apps on the App Store. Some of these iPhone photo editors work online so that you can quickly share your photos while others work offline.
Take note that since you'll be using your iPhone to retouch, edit or remove unwanted objects on the photos, it may take some time before you can master the skill to do so. Based on my experience, using the touch gesture of the iPhone to edit photos could be annoying at some point. But with practice, you'll get used to it.
What to Look for in an iPhone Photo Retouching App
If you're planning to get an iPhone photo editing app, there are several things that you should consider before choosing the one that's best for your needs. The first thing of course is whether the iPhone photo editing app is free. The thing here is that even the most expensive iPhone editing app can be offered on the App Store for free. However, after editing a photo or two, you'd soon be asked to upgrade to a premium version to enjoy so and so features via in-app purchases.
Also, take a closer look at what the apps can do in terms of editing or retouching photos. Can the app remove unwanted objects in the background flawlessly? Or can the app retouch or beautify the subjects? This is important especially if your doing portrait photography using your iPhone.
You may also consider finding out how the app works. Is it powered by Artificial Intelligence technologies and algorithms that automatically detect and remove selected objects? If it's not, then ease-of-use and user interface would be the second thing that you should examine. Removing objects from the background or retouching the photos manually is a meticulous process. It also requires skill and a lot of practice to perfectly retouch photos or remove objects especially since you'll be working with the small screen of your iPhone.
So, are you getting an iPhone editing app now? Take a look at five of the best of these apps then.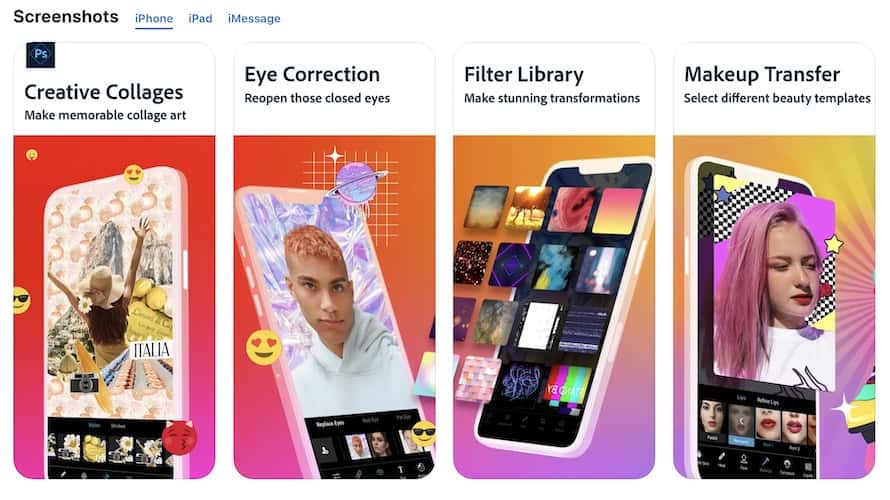 In case you're wondering why I did not include Adobe Photoshop Express in the list above, that's because while it may be one of, if not the most, popular iPhone photo editor apps, it does lack the ability to remove unwanted objects. Don't get me wrong here, Adobe Photoshop Express is a great beginner iPhone photo editor app for enhancing and retouching iPhone photos, there's no doubt about that. Photoshop Express is a good stepping stone if you are seriously considering getting deeper into Photoshop and other related photo editing apps later on.
So yes, Adobe Photoshop Express deserves special mention in any list of the best iPhone photo editing apps. Photoshop Express has enough basic features that it can let you enhance your iPhone photos. Some of the features of Adobe Photoshop Express include photo adjustment tools such as exposure, highlights, color temperature, tint, and saturation. However, many features that the app used to support, such as editing RAW files, have been removed.
Other features of Adobe Photoshop Express include collages, filters, and layers. It's a good way of getting acquainted with these tools since you'll be using more of them if you upgrade to the full, premium version of Adobe Photoshop Express for your desktop in case you've used enough of the mobile version.
Availability: Free, Offers In-App Purchases.
Pros
Photoshop Express has good social meme tools.
Has a clear and easy-to-use interface.
Features lots of photo editing and embellishment features.
Cons
Many advanced features require a Creative Cloud subscription.
Photoshop Express has weak retouching options.
PhotoRoom AI has got to be one of the best iPhone editing apps that lets you retouch your iPhone photos. It even does more by letting you modify the backgrounds of your photos. You can apply classic background effects such as blur, motion, and color splash. You can also use other backgrounds from the app's wide variety of instant backgrounds.
What's good about PhotoRoom AI is that it is so easy to use. You can quickly upload a photo and then the app will immediately isolate the subject from the background. From there you can choose what to do with the background. And with just a tap, the app will quickly apply your choice and display the output. Now, if you look closely at your enhanced photo, you wouldn't even notice that it was rendered by an AI algorithm.
As for its other features, Photo AI lets you work on a batch of photos and save them as a video file that you can quickly share on your social media account as a reel. In addition, after subscribing to the app, you'll get to enjoy some premium features including the ability to batch edit photos as well as use advanced preset filters.
Availability: Free, Offers In-App Purchases.
Pros
Easy to use, does not require photo editing skills.
The instant background features are useful for creating marketing materials.
The classic background editing option is flawless.
Offers various adjustment options for your photos.
Cons
No option to use advanced features such as manual manipulation of layers.
The premium version may be a bit expensive for casual users.
The trial version is limited to three days only.
➡️ Get PhotoRoom AI Photo Editor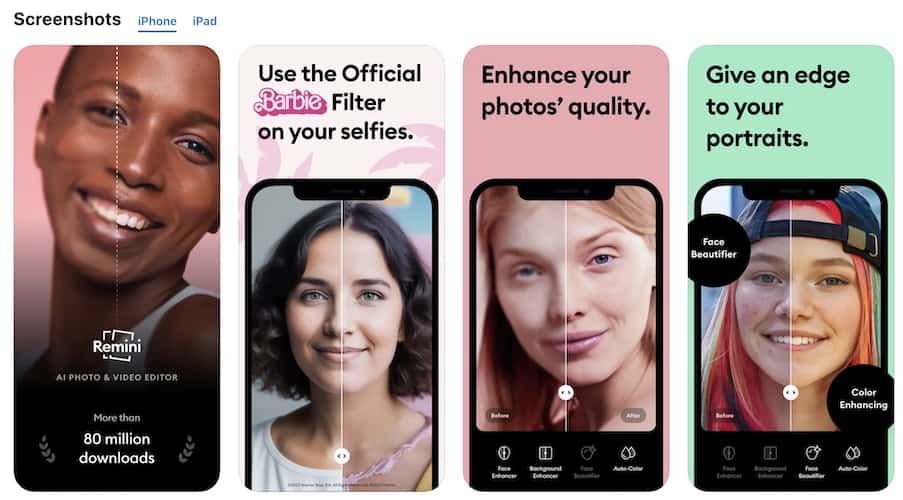 Remini is another iPhone editing app that I've used often. It is very effective for retouching blurred photos with out-of-focus subjects. When processing photos, Remini adds more pixels to those with low saturation. When retouching or editing your photos, Remini gives you three options. These include enhancing the colors, and background and beautifying the subject of your photos. Once processing is done, your photos would look as if you've taken a good shot.
The Remini trial version runs for a week. After that, you will have to subscribe to the premium version to continue using it. If you subscribe to the premium version you'll get to use the app's iPhone photo editor online on your Mac as well as other advanced features. You will also be able to batch edit your photos unlike in the mobile version where you can only retouch photos one by one.
Availability: Free, Offers In-App Purchases.
Pros
Great for retouching the out-of-focus subject in portrait photos.
The skin smoothing feature and blemish removal work well.
Simple and fast workflow.
Cons
Maximum export file size may not be enough for serious photographers.
➡️ Get Remini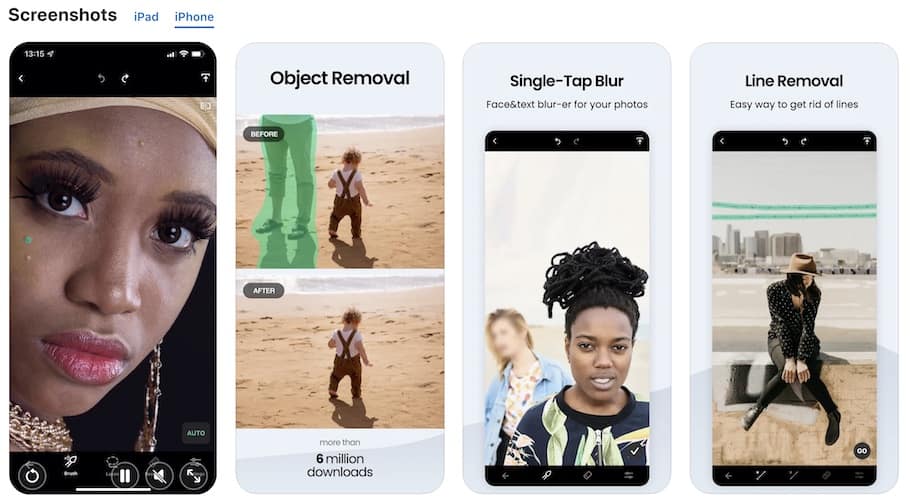 TouchRetouch is another great iPhone photo-retouching app. Aside from its main function which is to serve as an object removal tool, TouchRetouch also lets you use other advanced editing tools quickly repair your photo, remove lines, and use clone stamp.
To remove objects or other people in a photo, TouchRetouch gives you two options. You could either use the lasso or brush tool. You can also set the app to remove objects or people you selected automatically or you can do it on your own.
Another feature of TouchReTouch is line removal. This lets you erase power lines, ropes, and other lines in a photo. The Mesh removal tool on the other hand lets you erase an entire mesh and not just a line. Lastly, TouchRetouch also lets you use a clone stamp tool which is the reverse of object removal. You can use this tool to overlay an area in the photo with the selected area. This is useful for stamping the area where you remove an object or person.
Availability: Free, Offers In-App Purchases.
Pros
Supports a wide range of photo formats
Easy to use interface.
Provides in-app tutorial guides to help you use the app.
Cons
May not work seamlessly for photos with complicated backgrounds.
Does not have an image adjustment feature.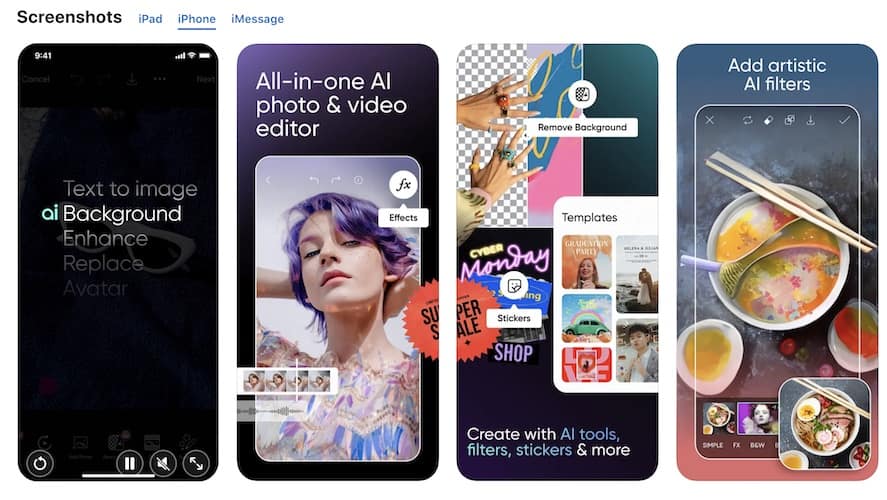 Picsart is a popular image editing and photo social networking app with a massive user base. The app features an easy-to-use interface that will get you quickly started with your photo editing/retouching tasks. It features a wide range of advanced editing tools such as curves, masks, clone stamps, cropping, borders, brushes, text, and lens flare.
One notable feature of the app is Magic Flare, an AI-powered filtering option that lets you turn your photo into works of art using preset filters. Magic Flare even allows you to apply the effect to a particular area in portrait photos while the remaining part remains unchanged. You can also use the healing brush tool to retouch your photos.
For retouching portrait photos, you can use various tools such as red-eye correction, tooth whitening, stamp-and-clone, and even removal tools for blemishes.
Overall, Picsart is a powerful iPhone photo editing app worth your consideration.
Availability: Free, Offers In-App Purchases.
Pros
Features tons of photo editing, enhancing, and drawing tools.
Its social networking platform is useful for getting photo editing tips.
Features filter options that you can easily adjust to your liking.
Cons
This may lead to photo embellishment due to over-application of enhancements.
➡️ Get Picsart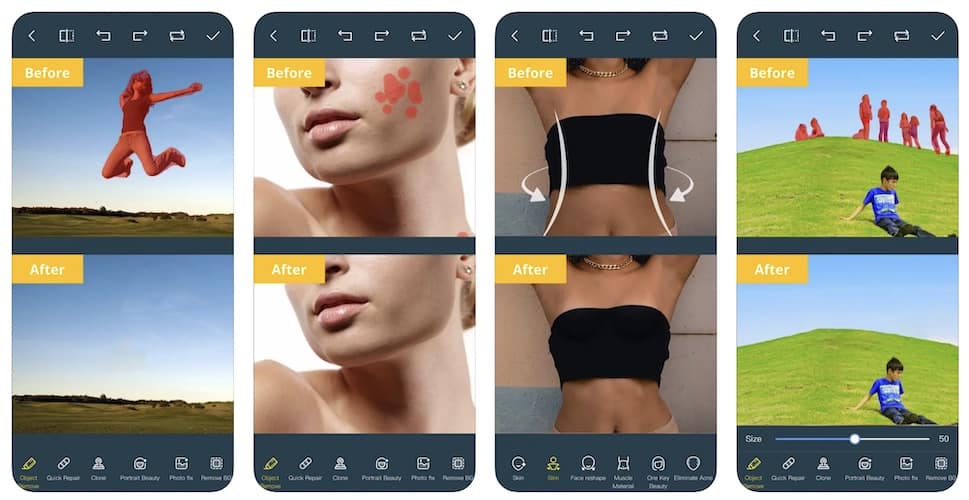 Photo Retouch is another popular photo editing app to use for removing unwanted objects on your iPhone photos. Aside from its main feature, Photo Retouch is also capable of doing a lot more when it comes to beautifying and enhancing your photos. It also features a wide variety of advanced editing tools that you can use to enhance or retouch your photos aside from removing unwanted objects.
The interface is easy to use and will get you quickly started editing your photos as soon as you've installed the app on your iPhone. Aside from the object removal tool, Photo Retouch also features various options for beautifying your subject such as eye, face, nose, skin, and other options. And yes, Photo Retouch can also remove unwanted objects from your iPhone videos.
Availability: Free, Offers In-App Purchases.
Pros
Intuitive interface with no learning curve.
Lets you edit the video as well.
Cons
Make the photos blurry when editing.
The blur tool also doesn't perform well.
➡️ Get Photo Retouch – Object Removal
Final Words
There you have it folks. Five of the currently best iPhone photo editing app that you can consider using to enhance or retouch photos you've taken using your mobile device. There is still a wide range of these apps available on the App Store. Some of these apps are available free while most are offered with premium versions available via in-app purchases.
Times have changed when it comes to photo editing. A couple of years ago, most professional photographers or even non-professionals or hobbyists like yours truly took a lot of time during the post-processing of photos. But today, it's simply a matter of looking for apps that can do the job either with the help of AI algorithms or manually through a clean, easy-to-use interface. Hopefully, you'll find one from this list. For further reading, check out our complete guide on how to use the Measure app on iPhone.