There are a plethora of photo editors that cater to those who are beginners when it comes to photo manipulation and improvement. Some of them are free, while others you can only fully maximize if you pay a premium price. The key to choosing the right editing tool for you is knowing what you want to do with your photos. You may either want to quickly enhance your photos with the use of a software's powerful AI and share it with your social media circle right away. Or you may want to apply more improvements and effects. Whatever your reason is, you can find the best Mac photo editor for beginners from the list we've curated below.
Best Free and Paid Mac Photo Editors for Beginners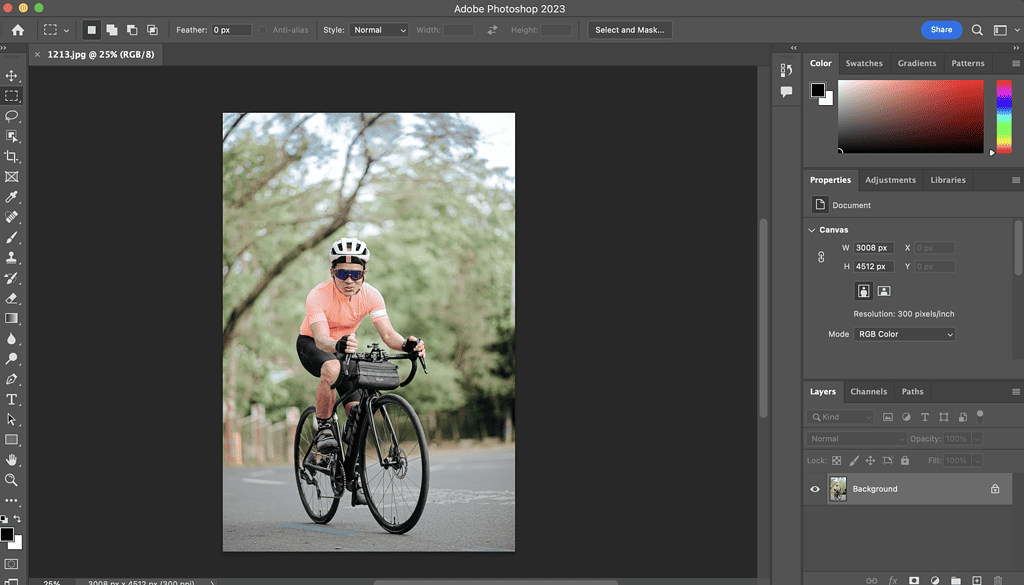 The king of photo editors is still my top choice when it comes to editing photos on Mac, and that is none other than Adobe Photoshop. If you're a beginner ready to tackle more complex workflows and processes for editing photos, you might as well start your foray into photo editing with Photoshop. Yes, it is geared toward professionals and users serious about photo editing and manipulation, but no one is stopping you from using it even if you're a newbie.
This is the first photo editor I used and I did so for a very long time. When it comes to features, Photoshop probably has everything that you need. Layering, masking, text and shape tools, gradients, and filters. You name it, Photoshop has it. What's even better is the fact that Adobe continuously improves this software.
One of its latest features is AI-powered neural filters. This is a new workflow that lets you use non-destructive, generative filters that greatly improve your photos and even manipulate them in ways unimaginable.
Availability: $20.99/mo or $239.88/year
Pros
Slick user-interface.
A vast collection of drawing and typography tools.
Libraries and Cloud documents syncing.
Cons
No option for one-time payment for a perpetual license.
Premium features are relatively expensive.
The interface is complex but learnable.
Fotor — Best for RAW Image Conversion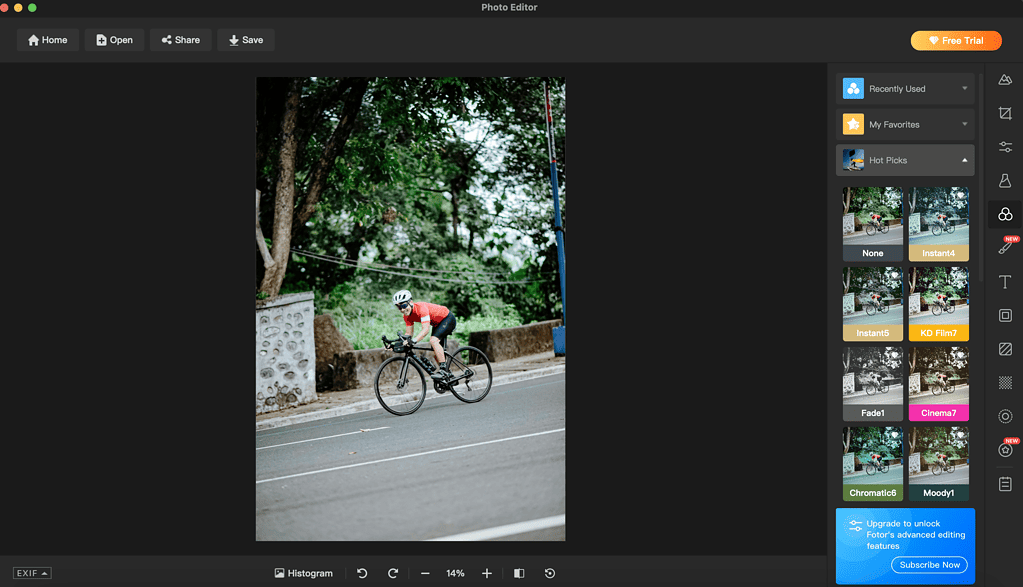 Fotor also has a user-friendly interface that you can easily pick up upon installation on your Mac. If you're familiar with adding effects to photos before posting them to your social media accounts, Fotor's interface is very similar. This is especially true when adjusting the intensity of the effects using a slider. One thing worth noting about this photo editor is that when you select an effect, a window pops up explaining what it does. Thus, it's very user-friendly indeed, especially for beginners. Aside from its photo editing features, Fotor also offers RAW image convertion. So, if you use the RAW format for photos you take using your DSLR cameras, then this photo editor suits you best. Plus, you can also use it to view EXIF data images.
(Availability: Free, with in-app purchases for Pro version and additional features)
Pros
User-friendly interface.
Offers many fun effects and filters best for social media posts.
Cons
The layering tool is a bit difficult to use.
The paid version is a bit pricey.
➡️ Get Fotor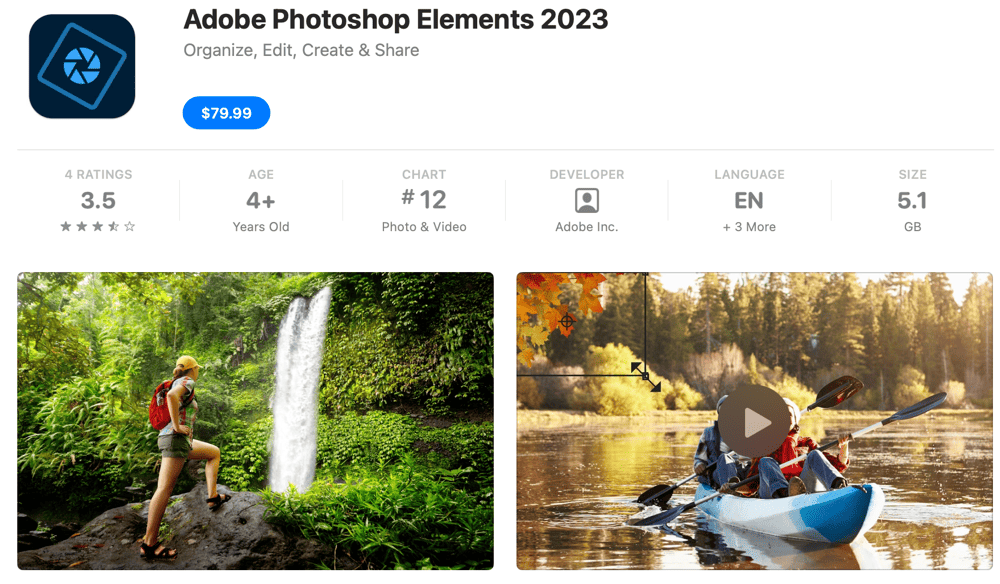 Finally, our last Mac photo editor best for beginners, Adobe Photoshop Elements is aptly described by Adobe as best for "memory keepers." This means Photoshop Elements is perfect for those who want to keep and store photos of family events. But before storing photos, these users must apply some beautification to the photos first. And that's what Photoshop Elements allows you to do with its photo editing features that are almost similar to the features of its sibling, Photoshop. If you're wondering what differentiates the two, Adobe Photoshop Elements is being offered for a one-time purchase fee that is relatively reasonable.
Availability: $79.99
Pros
Powerful photo manipulation tools.
Impressive face-tagging and geotagging features.
Various photo output options.
Provides helpful guides when using advanced features.
Cons
Absence of chromatic aberration correction tools.
Limited social sharing options.
Lack of local help system.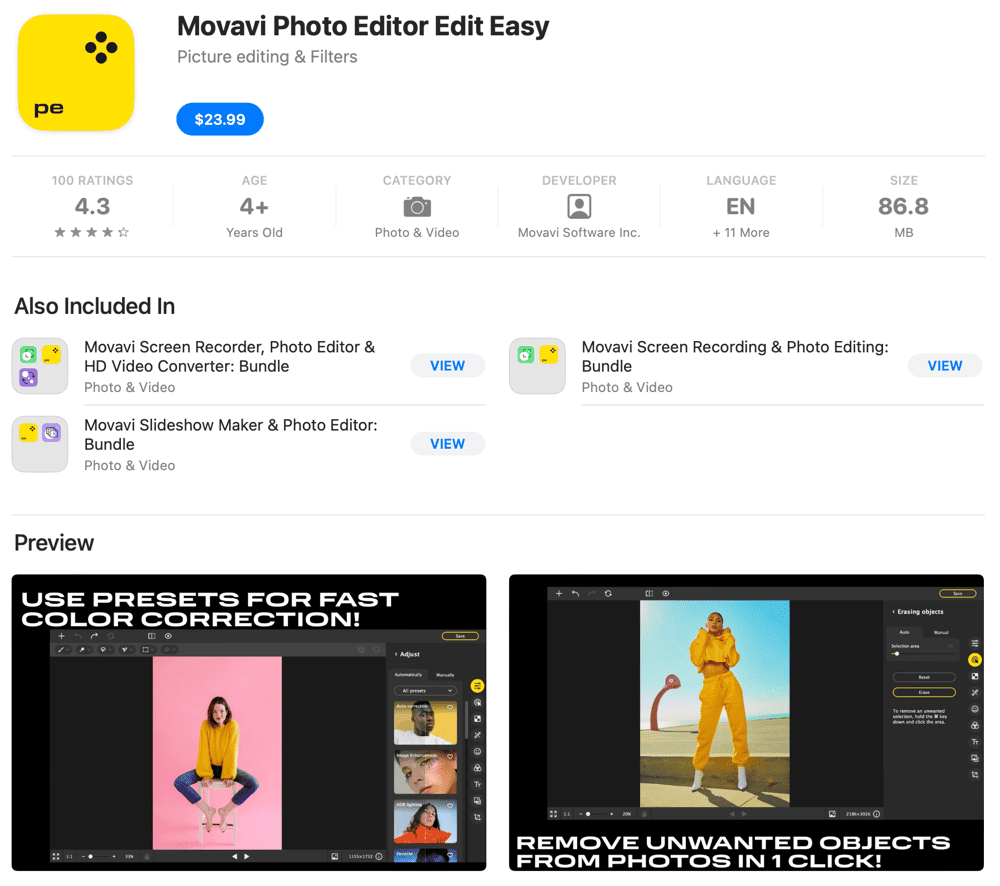 Although there is a free version of this photo editor, you won't appreciate the photo editing capabilities of Movavi if you don't get its premium version. Powered by AI technology, Movavic Photo Editor provides a set of one-click tools that will greatly enhance your photos even if you don't have any prior experience with photo editing. What makes Movavi stand out is the fact that you can use it for restoring old damaged photos. It lets you effectively remove noise and blur, add color to old black-and-white photos that you scanned, retouch, and remove blemishes, and yes, it will even whiten your teeth.
Availability: Free, with in-app purchase
Pros
Very easy to use.
Great for photo restoration.
Relatively low pricing.
Excellent erasing tools for removing watermarks, date stamps, and unwanted objects.
Cons
Tends to freeze when performing repetitive actions.
Unable to adjust workflow interface.
➡️ Get Movavi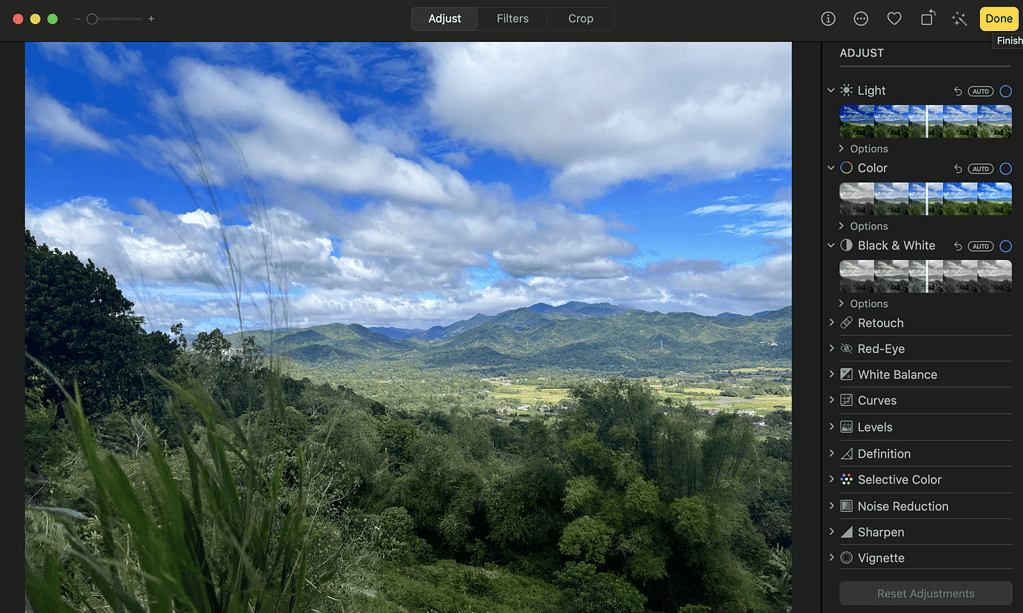 In case you're not aware, the Photos app that comes with your Mac is a powerful photo editor. Although it's best suited for editing photos you've taken using your iPhone, the app can also handle pictures taken using DSLR cameras. As a photo editor for Mac, the Photos app offers basic photo editing features such as crop, rotate, filters, and auto-enhance. But aside from its photo editing features, the app is also great for organizing and storing your photos. Add to that the fact that it syncs photos from your iPhone to your Mac, you can quickly check your pictures and apply basic editing without the hassle of downloading them manually to your Mac.
Availability: Free for Mac users
Pros
Automatically stores, tags, and sorts iPhone photos.
Built-in to macOS, and yes, it's free.
Cons
Offers few editing features.
Photoscape X — Batch Photo Editor for Mac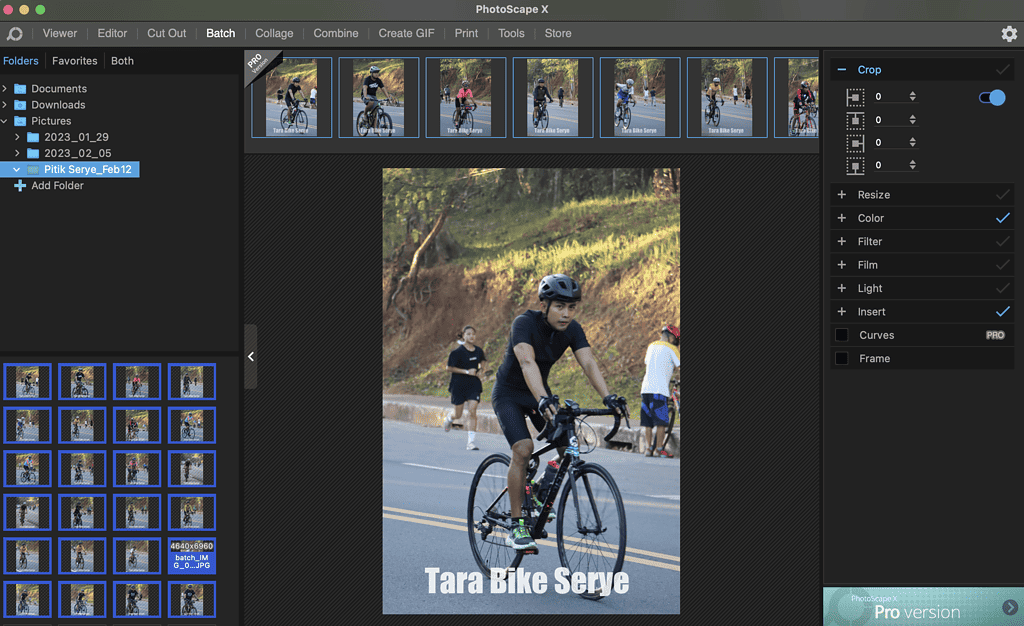 If you take many photos and need to edit them as quickly as possible, you need to use a Mac photo editor that can handle batch processing. Photoscape X is one of those editors able to handle such a task. You don't need to upgrade to the premium version to use the batch editing feature, because the free version allows you to do so. With its batch processing feature, Photoscape X allows you to crop and resize multiple photos. It also lets you add color and light adjustments, filters and film effects. You can even insert text fields. This is perfect for those who need to add a watermark to their photo collection. If you're not processing photos by batch, Photoscape X has many features you can use when editing individual images. These include merging, cropping, combining, resizing, adding stickers and filters and more.
Availability: Free, Pro Version: $39.99
Pros
Beginner-friendly software well-suited for those who haven't used other Mac photo editors before.
An abundance of editing tools even with the free version.
Cons
Not-so-friendly user interface.
Photo quality decreases when saving files (this may not be the case with the Premium version).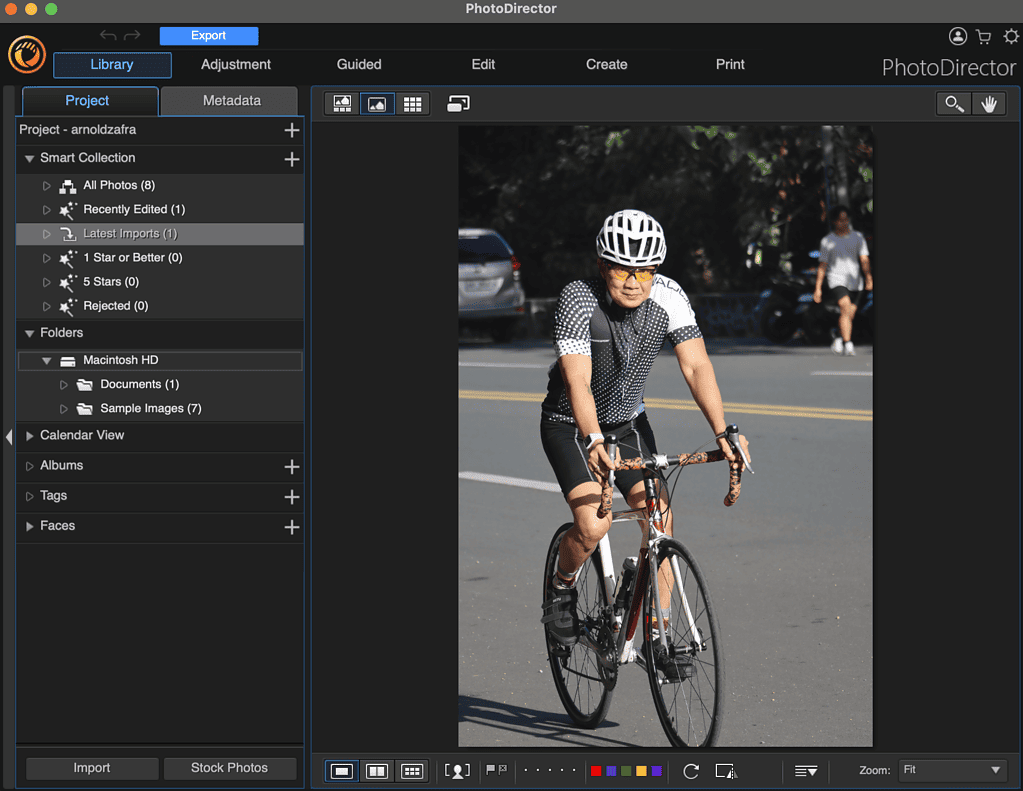 Although this Mac photo editor is also suitable for professional use, its very user-friendly interface makes it perfect for beginners. The software lets you quickly jump in and edit your photos as soon as you download and install it on your Mac. If you're looking for an easy way to spruce up your photos, PhotoDirector Essential offers photo animation tools and glitch art, layer editing tools, advanced color replacement, merging panorama photos, and more. It also features photo management and efficient workflow.
Availability: Free with in-app purchases
Pros
Regular updates.
User-friendly interface.
Tons of advanced features.
Cons
Other advanced features require a premium subscription (but hey, there are others available in the free version too).
➡️ Get PhotoDirector Essential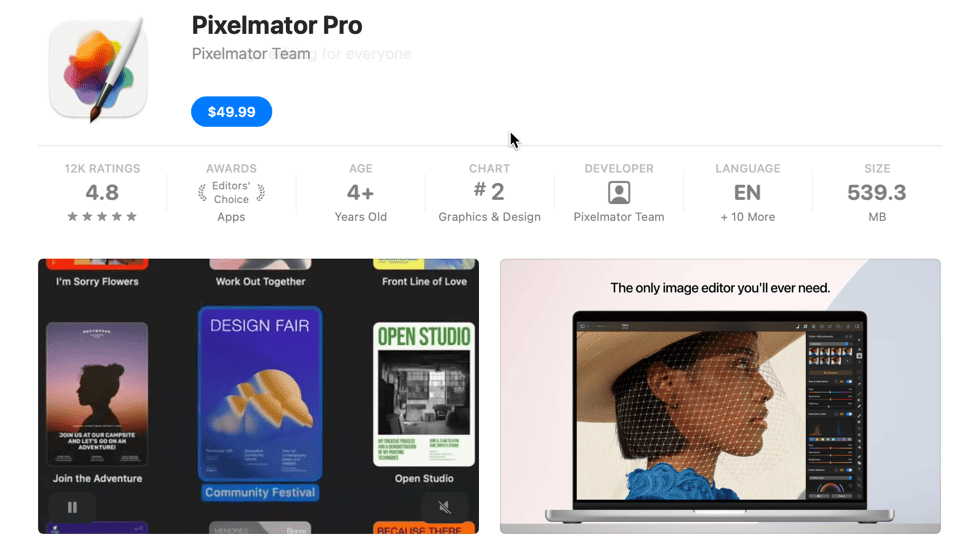 When I switched from Windows to Mac, one of the first things I did was look for a photo editor that could match Adobe Photoshop for Windows. The Mac version of Photoshop was not an option for me because it was too expensive. So, I found Pixelmator, which was available at a relatively cheaper price. Pixelmator Pro was originally developed for iOS and later became available for macOS. It's a robust Mac photo editor with all the bells and whistles of professional photo editing software.
Despite its advanced features, users who belong to the beginner to the intermediate category will have no difficulty in mastering its use. But what you may most appreciate about Pixelmator is the fact that it integrates well with the Apple ecosystem, specifically with macOS. As such, you can easily get photos from various Apple apps including Mail, AirDrop, Messages, Notes, and of course Photos. With its intuitive interface, it won't take long before you can master using some of its outstanding features such as layering, vector, and AI tools.
Availability: $49.99
Pros
User-friendly interface.
Beginner-friendly workflow.
Cons
Only offers a 7-day free trial.
Editing photos can sometimes be destructive, so be careful and make sure you keep an original copy of the photo before applying changes.
Final Words: How to Choose the Best Mac Photo Editor for You
When choosing the best Mac photo editor, the first and most important thing you need to consider is what you need to do. If you just want a quick way to edit and share photos you've taken, simple photo editors such as Apple's Photos app will be good enough to provide your needs. But if you will be doing more complex editing with your photos, and by photos I mean, lots of them and you'll be doing it often, then you need to choose a photo editor that not only offers advanced features but simple workflows as well. For the unfamiliar, when photo editing, workflows comprise the whole process of importing, organizing, correcting, and enhancing your photos.
All that being said, the one final factor that could help you determine the best Mac photo editor is still the price. The paid photo editors in the list above have various pricing schemes that could affect your choice. To take your photo editing game on the go, you may want to also explore some of the top iPhone photo editing apps available.