Composite images, also known as a photomontage, is a combination of photos to create a new photo. You can use professional software like Photoshop for this, or use any of these apps for iOS. We've rounded up 5 composite image apps to create these artworks.
Juxtaposer
With Juxtaposer you can mix and match photos to create surreal artworks. The image adjustment tools lets you match each images' color and lighting. You can save cutout images for later use using the Stamp Manager. There are 20 blend modes as well, to create unique effects. Composites are exported at the full resolution of the background image, even if it's 40MP+. Juxtaposer is US$2.99.
Pixelmator
We've previously written about Pixelmator, but that's because it's such a well-rounded app. Pixelmator is an alternative to Photoshop that lets you do different things. It features layer-based editing, so it can work as one of the composite image apps. Copy and paste images on top of each other, then use blend modes and the erase brush to shape your creation. Pixelmator is US$4.99.
Enlight Photofox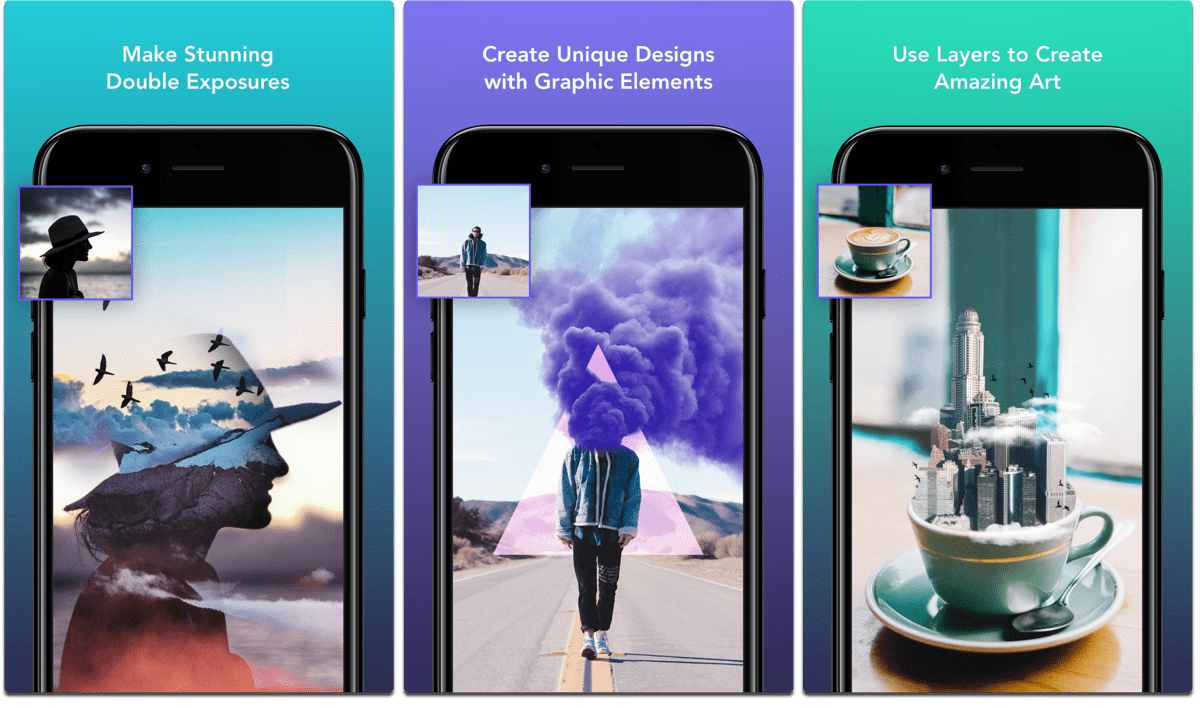 Enlight Photofox is version 2 of the old Enlight app. Whereas Enlight focused on photography, Enlight Photofox seems more focused on graphic design. With great editing tools like masks, double exposures, and copy/paste elements of photos into one another, this app makes a fine addition to the composite image apps. Enlight Photofox is Free, with in-app purchases.
Union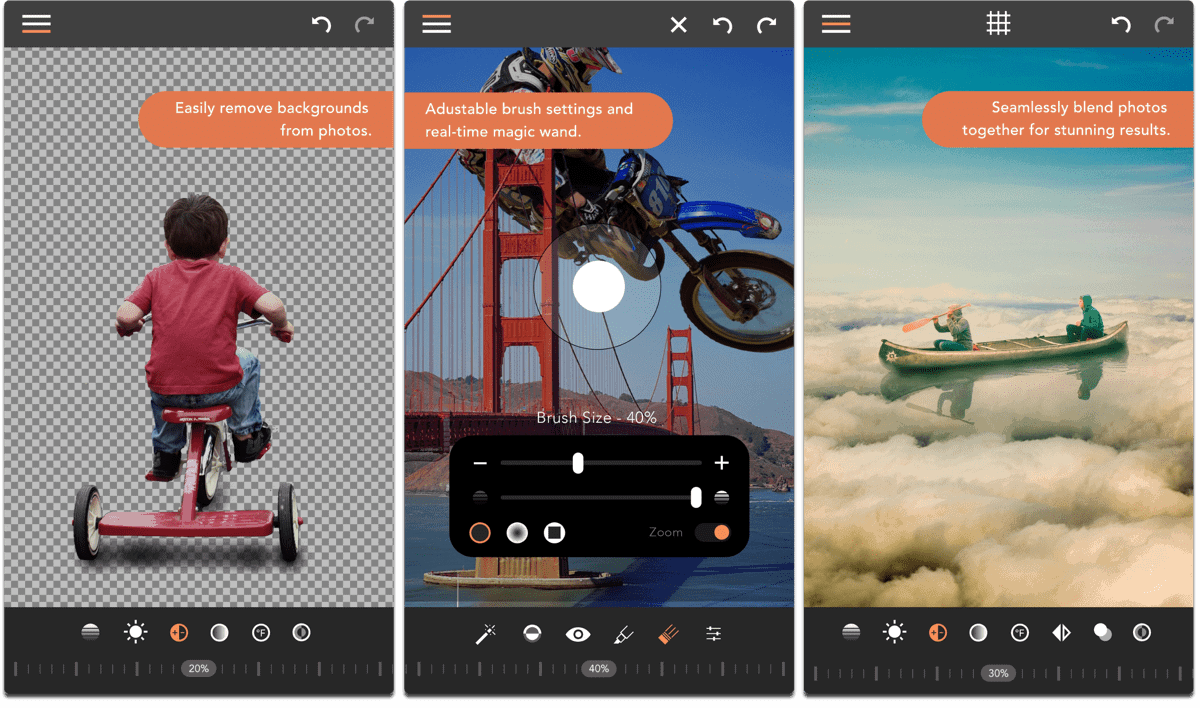 Union joins the composite image apps to let you create superimposed, silhouetted, and double-exposed photos. First you load a background image, solid color, or transparent layer. Then add on foreground images, solid colors, or shapes. You can easily erase different areas of the foreground images. Adjust the size and position of each image to make it look realistic. Finally, make color adjustments to match the colors of the foreground images to the background image. Included with the app is Pixite Source, which is a free resource for professional images, textures, and overlays. Union is US$1.99, and probably the best app here.
Superimpose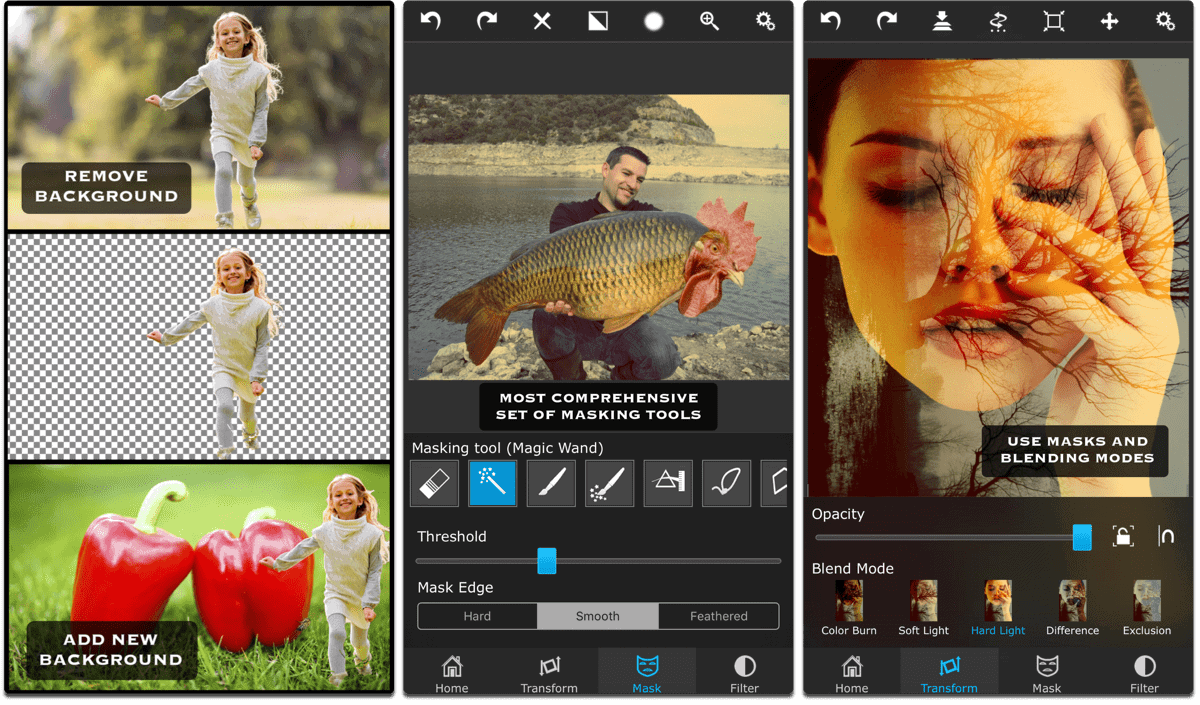 Like Union, Superimpose is focused solely on composite image editing. Where Superimpose stands out from the rest is its masking. You just tap  on one area of a photo, and the app will automatically mask all of the areas with similar colors. For manual masking, use tools like brush, lasso, polygon, global color similarity, rectangle, ellipse, linear, bi-linear, radial gradient, mask from image, mask from text, magic mask, and hair refine tools. Superimpose is US$1.99.