If you own multiple Apple devices, or your friends and family also use Apple devices, you might have encountered either the iCloud Shared Albums not showing up or Shared Albums not working on iPhone issues. A lot of users worldwide have faced issues with the Shared Album feature.
We will take a look at why these issues keep happening to the Shared Album feature of iCloud Photo. Then, we will go through a handful of DIY solutions to resolve these issues.
The Shared Album Feature of iCloud Photos
The Shared Album feature lets you share photos and videos with selected contacts. This feature works both with and without iCloud. You can share photos and videos through Shared Albums with someone by just adding the iMessage phone number, email address, or contact number.
You can follow our easy guide if you want to learn how to create a Shared Album on iPhone. This guide will show you how to create, manage, and delete a Shared Album.
Why Is iPhone Shared Album Not Working
The Shared Album not working issue has been reported by a lot of iPhone users all over the world. The main problems faced by users are of two types.
The Shared Album invitation was not delivered
Shared Albums not showing up on the iPhone
There are several reasons why these issues show up. Faulty network settings, pending system updates, issues with the internet connection, etc. can all cause a Shared Album to not work on an iPhone. Sometimes Apple services might also be down causing problems on an iCloud Photo Shared Album.
To use the Shared Album feature, you need to activate it. In the next section, we will learn how to do so.
Requirements for Using the Shared Albums Feature
To use the Shared Albums feature seamlessly, you must activate it from a couple of places. Let us have a look at the steps to do it.
Turn On Shared Albums in iCloud
Go to iCloud and turn on the toggle beside Shared Albums to activate the feature.
Time needed: 2 minutes.
Steps to turn on the Shared Albums feature through iCloud on your iPhone settings.
Open the Settings app on your iPhone.

Tap on your Apple ID section at the top of the screen.

Now, select iCloud.

Scroll down to the Apps Using iCloud section and tap on Photos.

Now turn on the toggle beside the Shared Albums option.
Turn On Shared Albums Through Photos in Settings
Once you have turned on the feature on iCloud, you will need to enable it again from Photos Settings menu. Here is how to do so.
1. Open Settings and scroll down to Photos. Then tap to open it.
2. Scroll to the Albums section and turn on the toggle beside Shared Albums.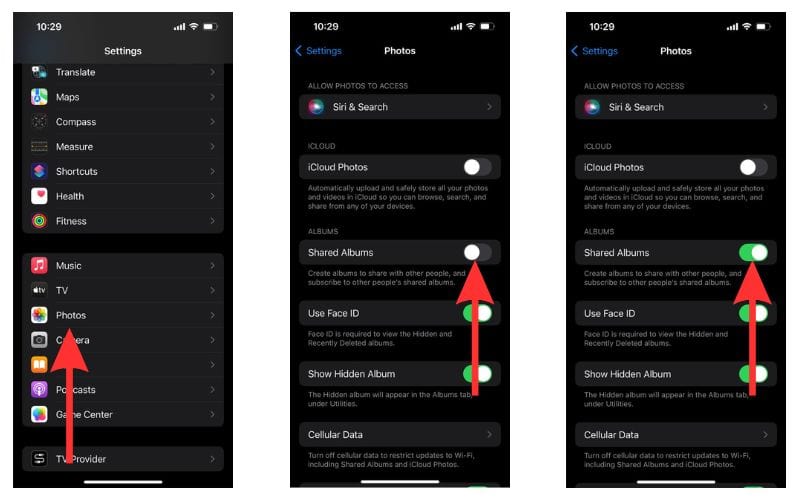 And you are good to go. You can now use the iCloud Photos Shared Album feature on your iPhone.
Fixes for Shared Album Invitation Not Delivered Errors
If you see that the invitation for your Shared Album is not being delivered, do not worry. Here is the list of solutions that you can try to make sure the album invite for the Shared iCloud Photo album reaches the desired recipient.
Turn on the Feature in the Receiver's iPhone
Sometimes, the recipient may not have turned on the iCloud Shared Album feature on their iPhone.. If that is the case, ask them to follow the steps given in the previous sections to turn on the toggle for Shared Albums.
Check Apple System Status
Sometimes, the issue might be caused due to the Apple service being down. In such cases, all you can do is wait for Apple to fix the issue. Here are the steps to check Apple's System Status.
1. Open a browser on your mobile device.
2. Now, go to Apple System Status.
3. Then check if the Shared Albums service is down. If you can find it on the list, sit tight for Apple to fix it.
If you see that Photos or iCloud services are all working properly, move on to the next solution.
Check the Network Connection on Your Device
An unstable network connection can cause photo link from the iCloud Photo Library to not be delivered. You should check your WiFi Network from the Control Center. Poor Wi-Fi connection can cause the sharing link to not work. If you are using a data connection, check with your carrier service provider if you have a connectivity issue.
Reset Network Settings To Fix iCloud Shared Albums Issues
Sometimes issues in your device's Network Settings can cause the Shared Album feature to malfunction. Resetting Network Settings can solve your issue in such cases. Here is how to do so.
1. Open the Settings app.
2. Now select General.
3. Scroll down and select Transfer or Reset iPhone.
4. Select Reset on the next screen and then tap Reset Network Settings.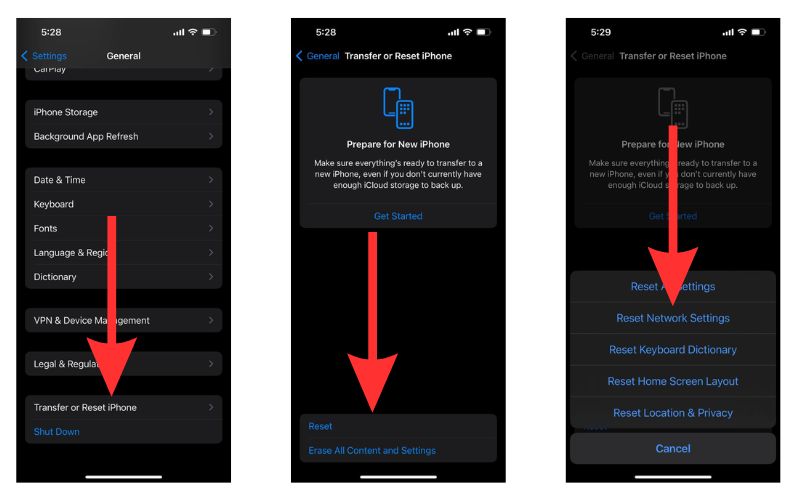 Restart iPhone
If the problem persists, turn your iPhone off and on again.
1. Press and hold the Volume down key and the Power button till the slide to power off screen appears.
2. Then slide the slider off.
3. Wait for a few minutes and turn your iPhone on by pressing the power button.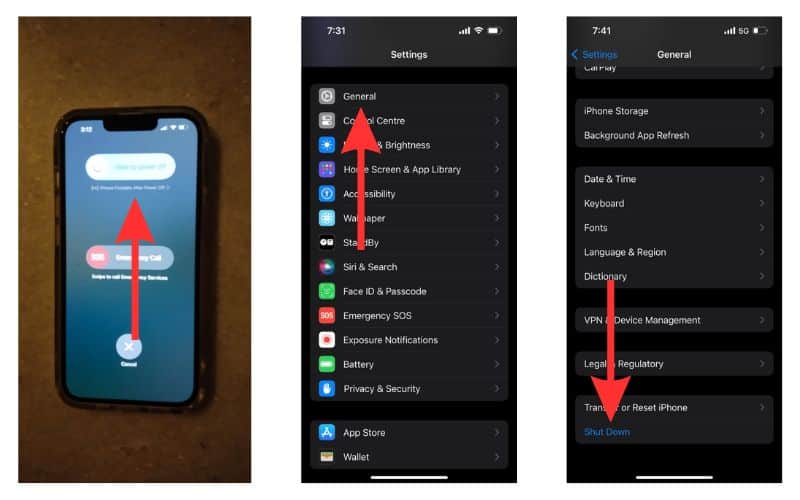 Alternatively, you can go to Settings > General > Shut Down to turn off your iPhone.
iCloud Shared Albums Not Showing Up Issue: Here's How To Fix
Sometimes, the Shared Albums are not showing up in the iCloud Photo gallery. There are easy fixes to this issue. Follow the solutions in the order that they appear.
Check for Software Updates
If you have any pending software updates, you should download and install them. Sometimes software glitches can cause this issue. Updating your iOS will solve the issue in such cases.
1. Open the Settings app and go to General.
2. Now click on Software Update.
3. If you see any pending updates, follow the on-screen instructions to download and install them.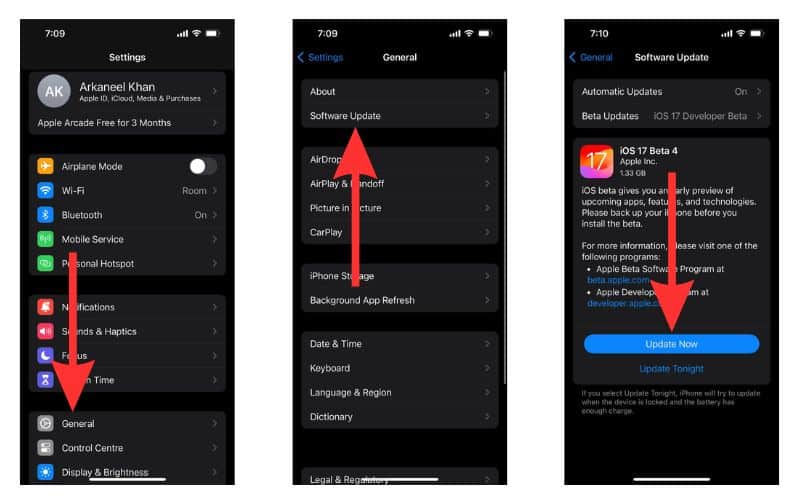 Expired Photo Link Can Cause Shared Album Not Showing Up Issue
The shared photo links expire automatically after 30 days. So, if you received a Shared Album link quite some time ago and it doesn't work, then chances are it has expired. In such cases, you must ask the person to reshare Shared Album invite link.
Turn Shared Albums On and Off
Turning the Shared Albums feature on and off can solve minor glitches and fix any issue regarding your Shared Albums.
1. Go to Settings and then select your Apple ID
2. Tap on iCloud.
3. Select Photos and then turn off the toggle for Shared Albums.
4. Wait a bit and then turn on the toggle again.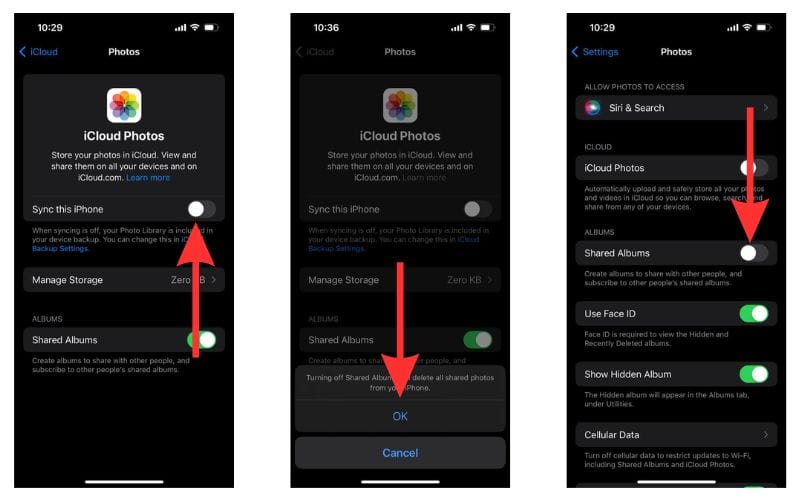 This can sometimes solve minor issues and bugs.
Note: Turning Shared Albums off and on will delete existing Shared Albums. So make sure you back up your Shared Albums before proceeding.
Turn off Low Power Mode
If your iPhone is in the Low Power Mode, then there is a good chance that the iCloud Photos Shared Album feature will not work properly. You will need to turn off the Low Power Mode to fix the issue.
1. Open Settings.
2. Scroll down and select Battery.
3. If Low Power Mode is on, you will see the toggle beside Low Power Mode turned on. Turn it off.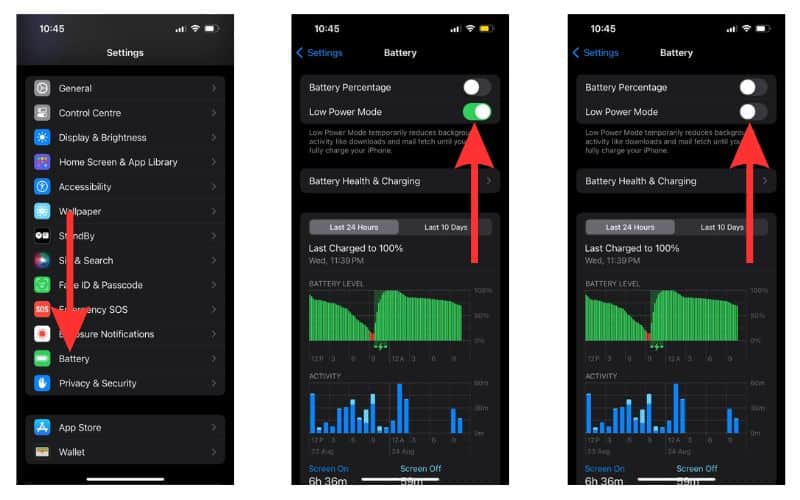 Use the Shared Albums Feature to Seamlessly Share Photos and Videos
You can now share photos and videos with selected contacts through the Shared Album feature. After every trip or vacation, you no longer have to collect photos and videos. Just create a Shared Album and everybody can upload all the photos and videos there.
If you face any issues regarding the Shared Albums feature, do let us know in the comments and we will help you out. If you have any more questions regarding Apple products, please contact us.
FAQs
Do I need iCloud storage for Shared Album?
Shared Album can work with iCloud storage but you do not need it for Shared Albums to function. You can use the feature even without iCloud storage.
Do shared albums take up storage?
Shared Albums will take up storage if you download the contents of the album. If you are creating the shared album then your storage is already being used by the files you share via the Shared Album. If someone else is sharing something with you, then as long as you do not download anything from the Shared Album, you will not consume any storage.
Does turning off shared albums delete them?
Yes. When you try and turn off Shared Albums, you will see a prompt warning you about deleting all Shared Albums. If you choose OK, it will delete all Shared Albums and then turn off the feature.