iPhone comes preloaded with plenty of ringtones. However, if you're a long-time user you might have gotten bored of them. Or, if you've just moved to iOS, you might not like the idea of buying ringtones. To help you out, we've curated a list of the best free ringtone apps for iPhone that let you set custom ringtones for free. You don't need to spend a dime to avail their vast libraries with ringtones from all genres of music.
Best Ringtone Apps for iPhone
1. RingTune: Ringtones for iPhone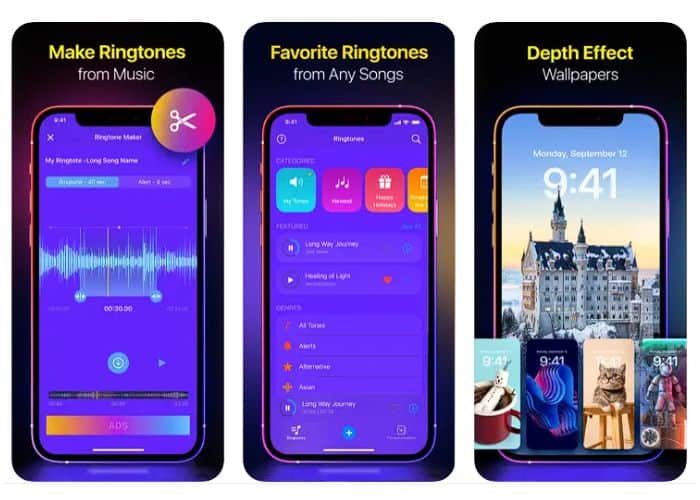 The RingTune app is one of the best free ringtone apps for iPhone, packed with plenty of useful features. It has an extensive library of thousands of ringtones from several genres of music. You can even create your ringtones by using songs in your library. To take it up a notch, the app also allows you to use the microphone to record ringtones. 
The RingTune app is not just a ringtone app as it also features several wallpapers. You can download these wallpapers for free and use them as iPhone Home or Lock Screen wallpapers. And if that wasn't enough, you can use the live wallpaper maker feature to transform your videos into live wallpapers. 
Download Now: RingTune
2. Ringtones Maker – the ring app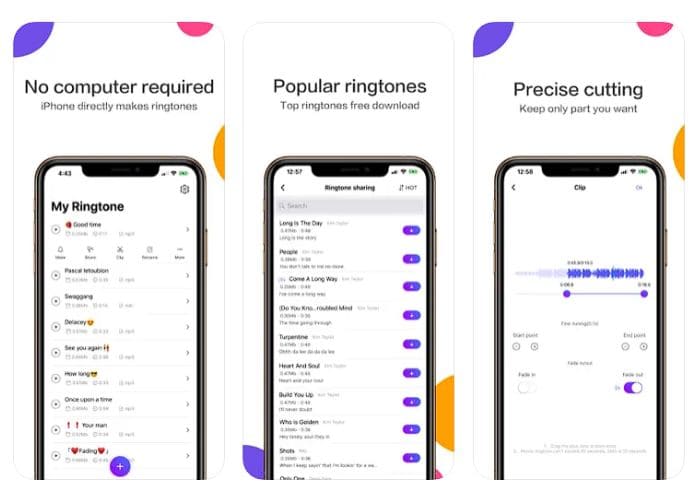 The Ringtones Maker app offers a wide range of ringtones. It includes tunes from different genres such as Latin, Instrumental, Blues, Folk music, etc. You can favorite ringtones to use later. Additionally, you can also create your ringtones from your iTunes files or even extract audio from videos to make ringtones. Moreover, the ringtones are frequently updated so that you always have the trendy ringtones. 
Just like other apps in this list, the Ringtones Maker app does not miss out on the "record audio to create ringtones" feature. But what differentiates the Ringtone Maker app from the rest is its fade-in and fade-out features when trimming ringtones. Lastly, the app also features a huge range of wallpapers. 
Download Now: Ringtones Maker
3. Tuunes: Make & Jam Ringtones!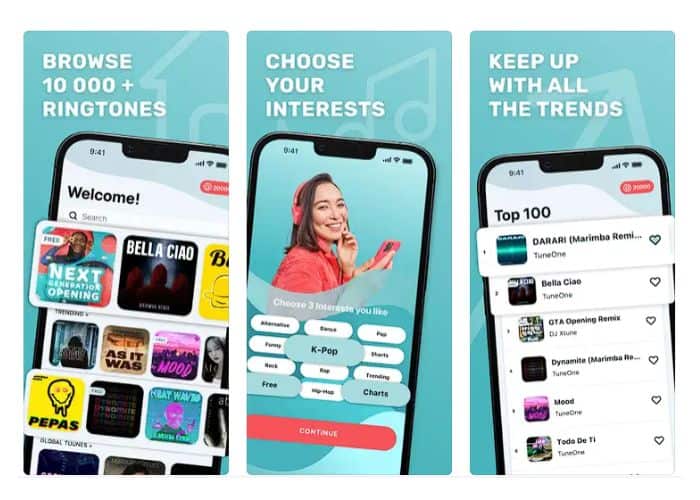 If you never want to run out of options when selecting ringtones, the Tuunes app is the perfect choice for you. It is one of the oldest apps and features more than 10,000 ringtones. Tuunes assures you that all the content on the app is legal and safe. The company also collaborates with creative individuals to deliver exclusive content. 
The Tuunes user interface is very easy to navigate and enhances the overall user experience. And if you have difficulty navigating through the app, there are simple tutorials to help you out. Moreover, you can participate in challenges and unlock rewards. Apart from popular ringtones, you also get seasonal ringtones. 
Download Now: Tuunes
4. Best Ringtones 2023 for iPhone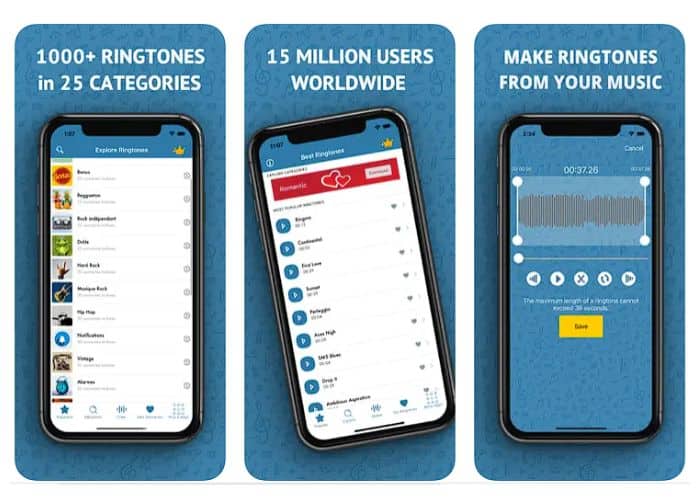 The Best Ringtones app is updated for 2023 and features several new songs. It has over 1000 ringtones in 25 categories and boasts 15 million worldwide users. These categories range from Anime, Classical, Vintage, Rock, Halloween, Nature, Indie Rock, and a lot more. Also, all the sounds and ringtones in this app are credited to the creator and are legal to use. 
The Best Ringtones 2023 for iPhone app promptly updates its library during the holiday season. And, if you can't find a good ringtone, you can go ahead and create one using the Best Ringtones app. It even has funny audio that you can use as a ringtone for incoming calls, alerts, or alarms. If you come across something you like, just save it to My Tones library and use it later. 
Download Now: Best Ringtones 2023
5. Ringtones for iPhone: Infinity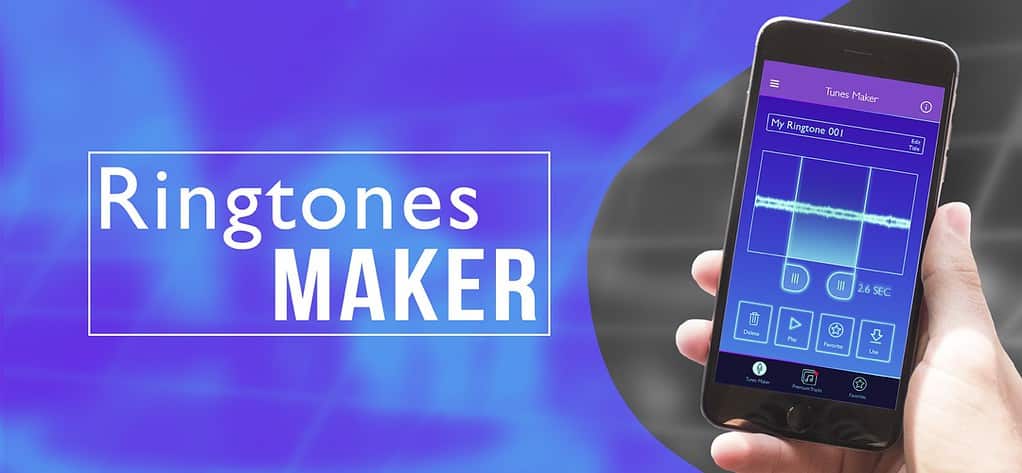 The Ringtones for iPhone app is very unique as it has an AI Music generator. Many companies are implementing AI into their apps and services and this is arguably one of the best implementations. The app has eight AI bots that represent different genres of music. All you have to do is set the speed, and creativity and select the instrument and the AI will generate a tune that you can use as your ringtone.
For example, DJ Portly creates Electronic Music and the instrument selection contains Synth Bass, Halo Pad, Synthesizer, and Poly Pad. Then we have Amadeus for Classic Music and it features the Strings Trio, Violin, Brass, and Strings Ensemble. There are several other AI bots capable of creating some amazing tunes. 
The Ringtones for iPhone app has a Tunes Maker that you can use to create ringtones. And it also features a wallpapers section that features several live wallpapers. With that said, the AI bots are the best feature of this app.
Download Now: Ringtones for iPhone: Infinity
6. Ringtones: Ringtone Maker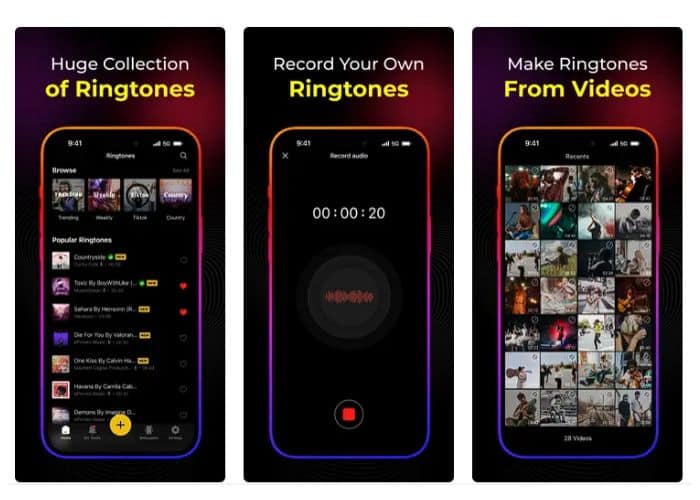 The Ringtones app is a great ringtone production software. The app size is just 20MB which makes the download quick. Also, the features it offers in comparison to its size are unmatched. You can create a ringtone within a few seconds using the Ringtones app.
If you're someone who usually has a hard time navigating through apps, several tutorials — preloaded with the app — come to the rescue. In terms of features, you can extract audio from videos, import audio, apply the fade-in and fade-out settings, apply audio as a charging tone a lot more. Moreover, if you run into a problem while using the Ringtones app, you can directly contact customer support which offers one on one help free of charge.
Download Now: Ringtones: Ringtone Maker
7. Ringtones for iPhone! (music)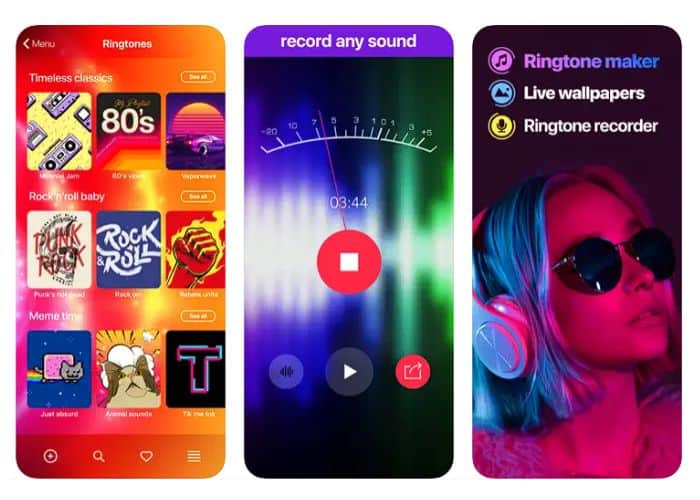 If all you care about is making custom ringtones, the Ringtones for iPhone! app is the best bet. It offers a plethora of tools to create ringtones. You can easily adjust the start and end markers, add fade-in and fade-out to the tone, adjust the pitch and the volume, and finally trim and cut these tones as per your needs. 
The Ringtones for iPhone app also has a lot of ringtones in the Premium Tones section and even offers Live wallpapers. However, these can only be accessed if you pay for the premium version. I'm not a big fan of hiding basic features behind a paywall. But if all you care about is editing tones, and want a simple user interface, the Ringtones for iPhone app does the job. 
Download Now: Ringtones for iPhone
Create Custom iPhone Ringtones Without iTunes
The apps mentioned above let you create or download free ringtones on your iPhone. Now, to set these ringtones you will need to use GarageBand. For the uninitiated, GarageBand is an app that lets you create and export custom audio files as ringtones on the iPhone. We have a detailed guide that will help you make ringtones on your iPhone using GarageBand. 
We hope that this article helped you find the best free ringtone apps for iPhone. If you have any questions regarding any of the above-listed apps, do let us know in the comments below.