Predictive text on an iPhone is sometimes a hit-and-miss. This is especially true when you get a new iPhone. In due course, the keyboard adapts to your typing patterns. Furthermore, all the words you have used so far are saved. It also includes corrected words. From a privacy standpoint, it is always better to regularly clear the iPhone's keyboard history.
This article will demonstrate how you can clear your iPhone keyboard history. As a bonus, we have added a clever hack that prevents iPhones from learning new words. Read on to know more.
How To Delete iPhone Keyboard History
Before proceeding, know that there is no way to undo or recover deleted keyboard history. Do this only if you are sure of deleting keyboard history.
Time needed: 1 minute
Once deleted, you won't be able to access custom words. Here's how you can delete your iPhone keyboard history- 
Open iPhone Settings. 
Select General from the options

Tap Transfer or Reset iPhone. 

Select Reset. 

A pop-up menu will appear. Tap Reset Keyboard Dictionary.

Enter the passcode if required. 

Confirm the action by selecting Reset Dictionary. Changed your mind? Tap cancel to go back. 

Voila! Your iPhone keyboard history is now deleted. That said, the keyboard will continue saving new words and corrections via predictive text. But what if you don't want your iPhone to store history? Well, in this case, you will have to change some settings.
Step-by-Step Guide to Disable Auto-Correction and Keyboard History
For complete privacy, you need to disable both Auto-Correction and Keyboard History. Follow the steps below to do so
1. Open iPhone Settings.
2. Tap General.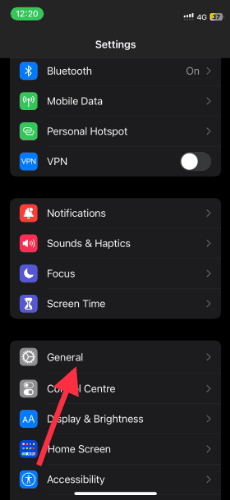 3. Open Keyboard.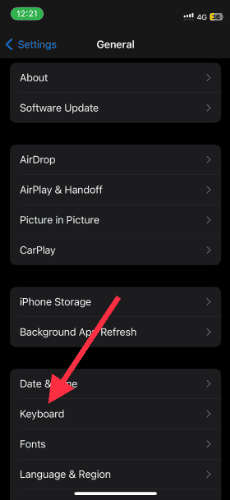 4. You will see many keyboard options, including an auto-correction toggle. Now disable auto-correction.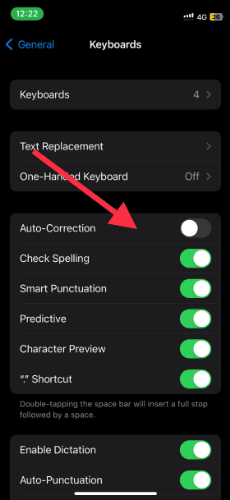 You can go a step further and disable predictive text. However, I wouldn't do that. Auto-correct feature steps in and overrides incorrect words. It can be annoying, especially if you are using colloquial words or not a native English speaker. That said, predictive text in itself is fairly helpful. You can select the words before typing. And over time, the keyboard learns your preferences. The predictive text with auto-correct works best for me.
Do you find iPhone's autocorrect and predictive text feature useful? Let us know in the comments below.
How Can I Access iPhone Keyboard History?
Unlike browsers, you cannot access iPhone keyboard history. You cannot even check the predictive text or auto-corrected words. If you are annoyed by incorrect suggestions, follow the steps above to disable the same. 
FAQ
How do I clear my keyboard cache?
Follow the steps detailed above to clear the keyboard cache. It is same as clearing keyboard history.
How do I check my keyboard history?
As mentioned, iOS doesn't let you check your keyboard history.
Can I add/delete specific words to predictive text on iPhone?
Unfortunately no. You cannot remove or add individual words. 
How to clear keyboard suggestions?
Keyboard suggestion is powered by predictive text. In this article, we have shown how you can turn it off.