As ChatGPT continues to grace the headlines, more developers have joined the bandwagon and integrated it into their existing apps or developed new ones. Newly-developed apps harnessing OpenAI's GPT-3.5 and GPT-4 quickly became available on the App Store. Some of these apps are pretty useful, while some are simply forgettable. So, we've rounded up the top seven ChatGPT Apps for iPhone and iPad to help you choose which ones to install and download on your devices.
Chat AI: Ask Chatbot AI Assistant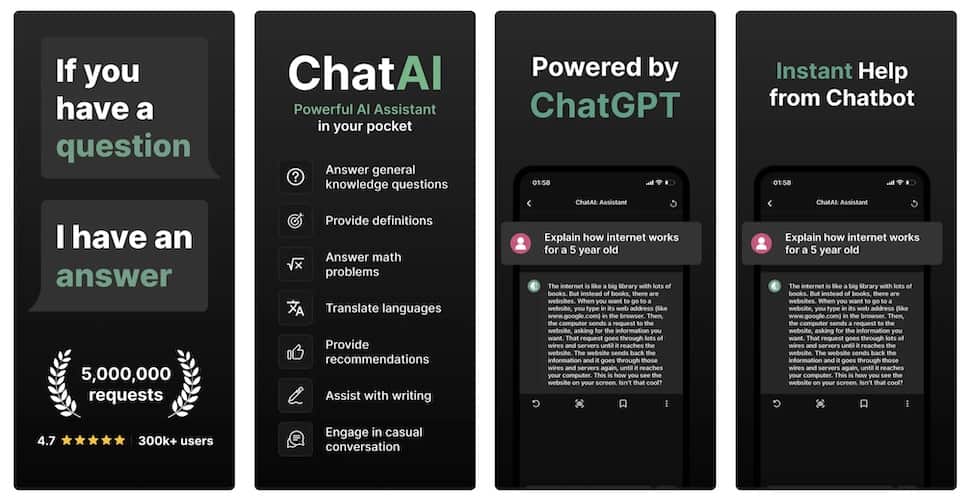 This AI Chatbot app has received high ratings from those who have used it. That's because it pretty much answers anything you ask with a high level of accuracy. It can organize your daily activities, helping you fulfill your daily tasks and duties with ease.
Chat AI can also help you with your writing chores, helping you in writing songs, poems, or even stories. Having been created only in December 2022, the app has had several updates, with the latest one released on April 10, 2023. It means that the developers have been active in fixing bugs and making improvements to the app.
Availability: Free, Offers In-App Purchases.
AI Chatbot and Writing Assistant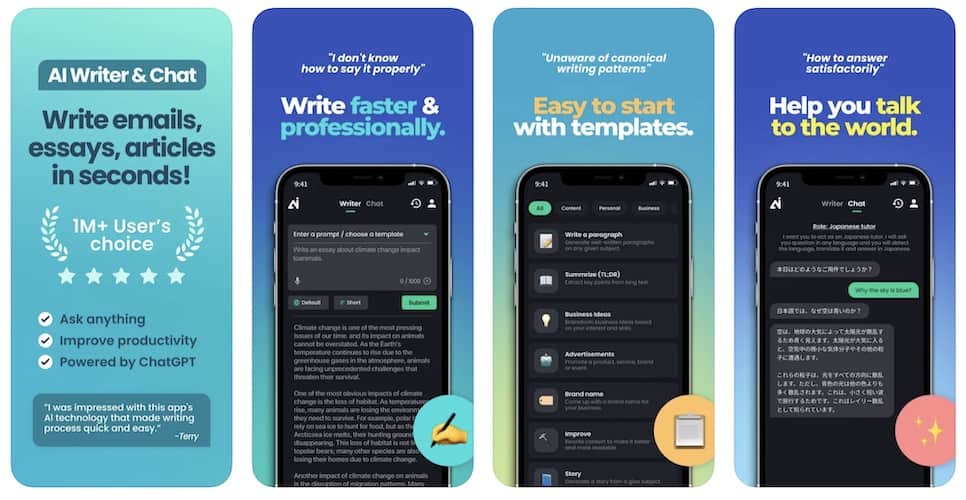 This ChatGPT app was primarily developed for iPhone. But you can also use it on your iPad while waiting for the native iPad app to come out. There's also a version of the app specifically for Mac. As its name suggests, this is a ChatGPT app for writers. As such, the app allows you to write anything in seconds.
For those wrestling with, AI Writer could come in very handy. But then of course, make sure to proofread its final output before you use it. The app features ready-to-use templates, use cases, multilingual support, and a smart Q&A to find answers to your questions about the app.
Availability: Free, Offers In-App Purchases.
Nova AI Chatbot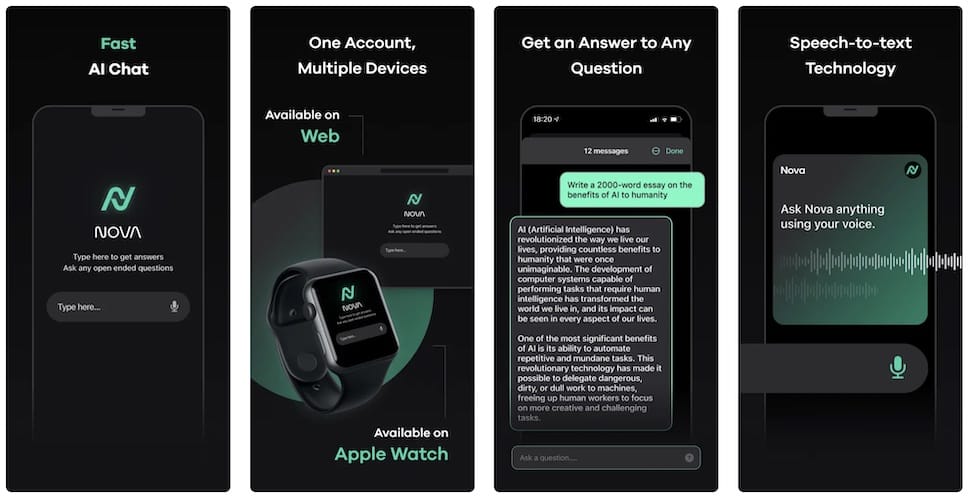 Powered by ChatGPT 3.5 Turbo, Nova AI Chatbot was specifically developed for the iPad. The developers claim that it can provide answers to your questions just like a human brain does. This ChatGPT app can also recommend books to read or movies to watch. The app also has a multilingual feature, allowing you to ask questions in your native language.
Nova also remembers all your whole conversations. Other features of Nova AI Chatbot include its ability to assist you with writing essays, compositions, and even social media posts. One notable feature of this app is the fact you can use it across your Apple devices, including iPhone, iPad, Mac, and Apple Watch.
Availability: Free, Offers In-App Purchases.
Robocco – AI Chatbot Assistant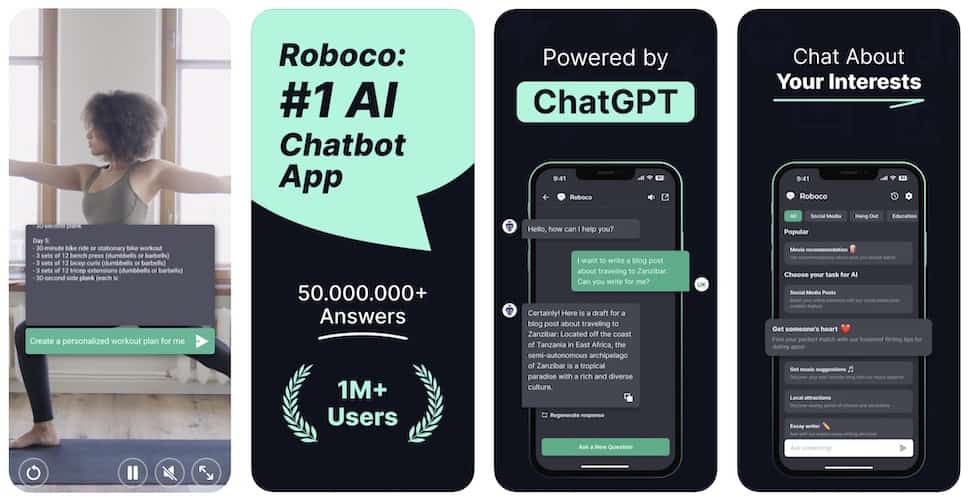 Powered by GPT-4 and GPT-3.5 Turbo API, Robocco can assist with your various tasks. These include writing, coding, translation, answering emails, crafting poems, and creating lyrics. With its advanced capabilities, Robocco can help you write A+ essays, engage in exciting conversations with the chatbot, and even give you personalized advice about matters of the heart.
One notable feature of Robocco is the fact that it lets you add it as a widget on your iPhone or iPad, allowing you to get its help quickly and easily.
Availability: Free, Offers In-App Purchases.
Chat AI – Chatbot Essay Writer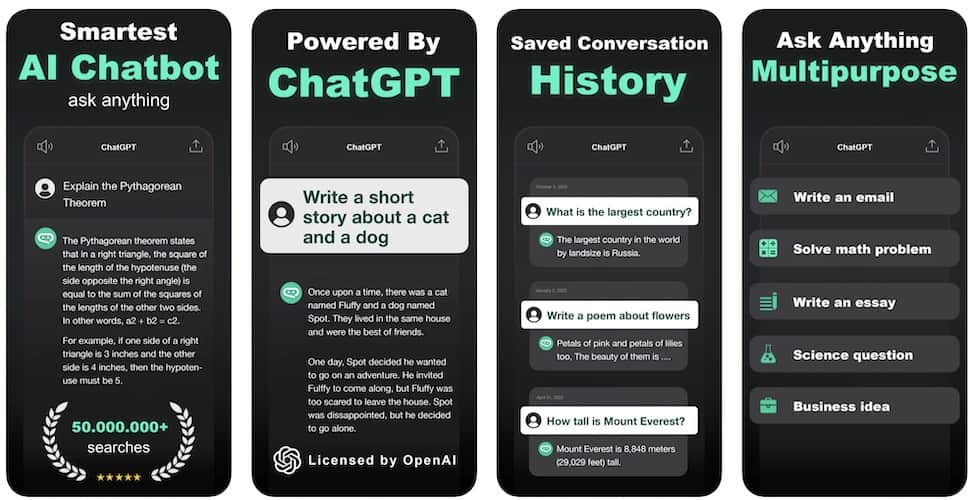 One thing that caught my attention while looking at the description of this chatbot app is the fact that it can help you generate healthy and customized recipes based on your diet or food preferences. That's in addition to its major function, which is to answer all your general questions.
Another cool feature is that it can help you compose Instagram or Twitter posts. For coders, Chat AI can help in coding anything based on a natural language description.
Availability: Free, Offers In-App Purchases.
Petey AI Assistant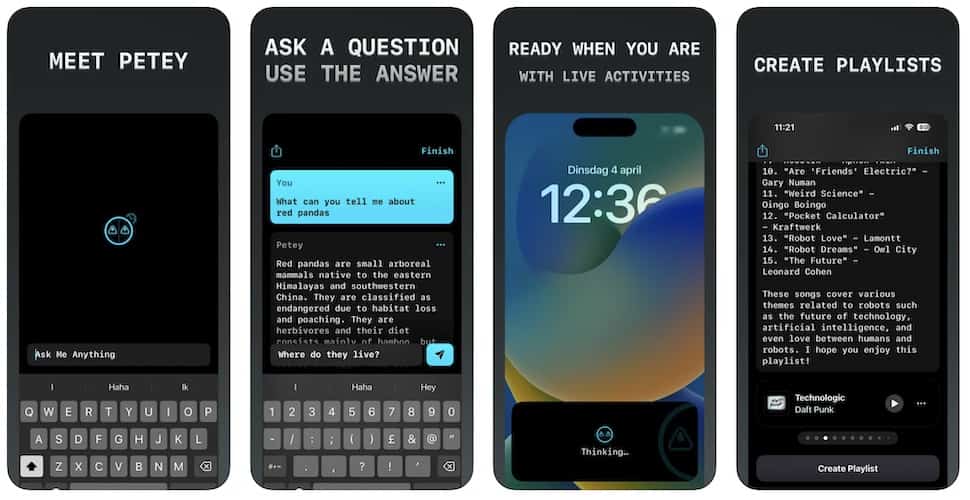 First released in March 2023 as a ChatGPT app for Apple Watch, Petey AI for iPhone is now available on the App Store. Compared with the Apple Watch version of the app, this one for iPhone gives you answers faster. One cool feature of this app is the fact that it creates a Live Activity when you are talking to Petey. This allows you to do other things while waiting for the app to respond to your queries.
The app also lets you send chat conversations as a text to any apps that accept it. The Live Activities can be added to your iPhone's Home and Lock Screen as a widget. And yes, there's also a Siri shortcut that allows you to the Petey AI Assistant hands-free. And of course, Petey also includes Apple Music integration to help you generate playlists.
Microsoft Edge: Web Browser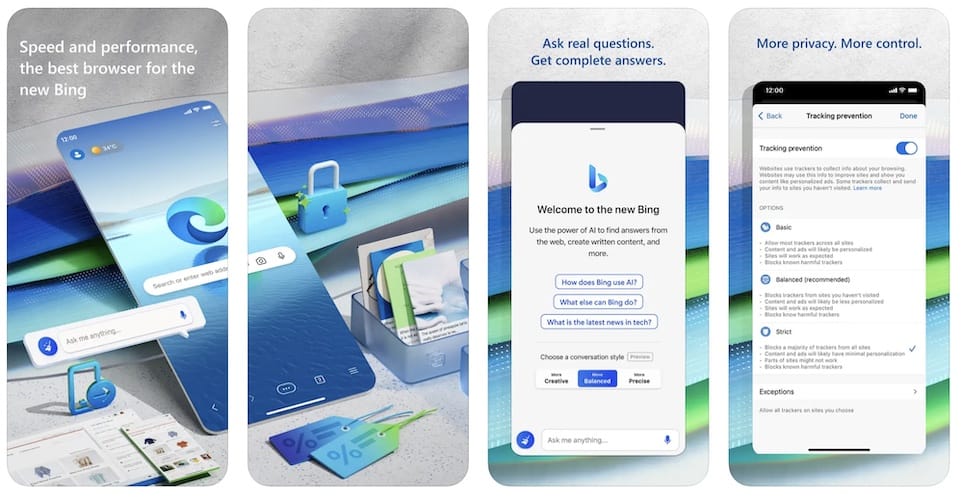 There's one reason why I included the Microsoft Edge web browser in this list. That's because it supports the newly revamped and relaunched Bing search engine, which is now powered by ChatGPT. With the new Bing, you can now ask questions and Bing will scour the web and provide you with the most accurate answers.
Bing's AI implementation also cites the sources of information it provides. The assistant can also help you write poems and stories, and help you create a brand new image. It's also worth noting that during the chat sessions, you can ask follow-up questions to make Bing's answer more accurate and precise.
Other Apps Worth Mentioning for Integrating ChatGPT
Taskheat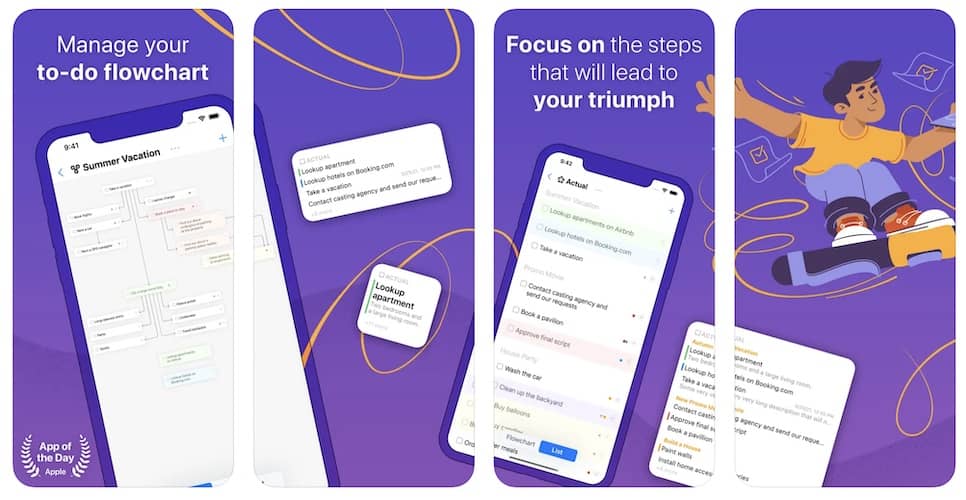 Recently updated its app to bring in an AI Assistant. With Taskheat AI Assistant, which serves as a virtual companion that can suggest new steps or fill gaps when splitting big tasks into manageable pieces. Currently in beta, Taskheat AI assistant helps in generating enabling, dependent and intermediate tasks.
Availability: Free, Offers In-App Purchases.
Shopify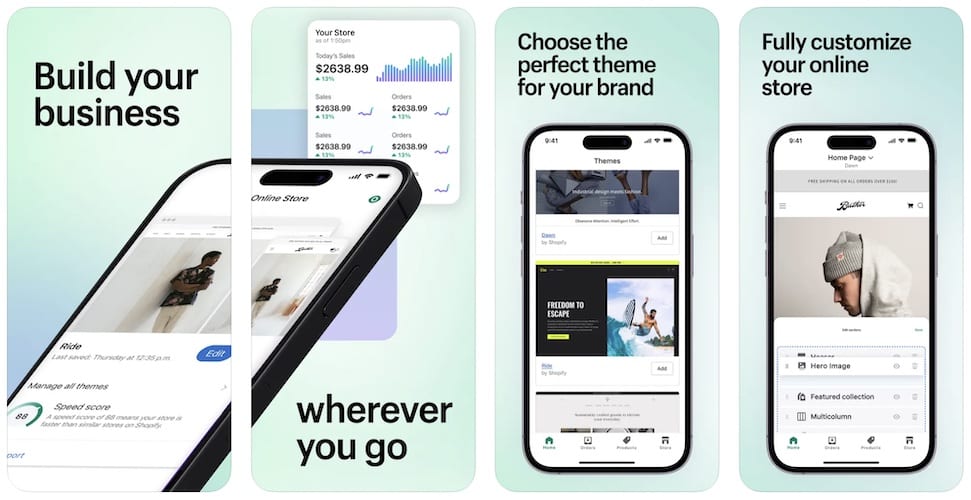 For those who are unaware, Shopify is an e-commerce platform that has been around for quite some time now. Shopify recently harnessed the power of ChatGPT and brought it into its mobile app. The AI was designed to assist users in selecting products. The AI will converse with the users before it suggests different products from Shopify's stores.
Final Words: This is Just the Start, More ChatGPT Apps Will Surely Come Soon
This round-up of ChatGPT apps for iPhone and iPad pretty much tells you the direction that this new technology is going to take. With both writing and coding already covered by ChatGPT, it would be interesting to know what else can developers come up with by using OpenAI's ChatGPT technology.
Good as the apps on this list are, there's still the lingering question as to how far ChatGPT would go. Exciting as it may seem, let's not forget that this technology is still in its infancy stage. It would take some more time before developers can fully harness its full potential and in the process improve its accuracy and AI-like answers to make them sound more human-like.