ChatGPT's popularity continues to make big waves as its user base grows day by day. As of last estimates, the chatbot has more than 100 million subscribers as of January 2023. That's just two months after it was launched. Wonder how long it took TikTok to gain 100 million users? Nine months. If you haven't used ChatGPT yet for whatever reason, it's probably the right time to try it now. And guess what? One of the easiest and most convenient ways of using it is through your iPhone. That's simply because your iPhone is always with you. So, in this quick guide, I'll teach you how to use ChatGPT on your iPhone.
What is ChatGPT and What Do You Need to Use It?
In case you're not in the loop yet, ChatGPT is a powerful chatbot powered by artificial intelligence technology. ChatGPT was developed by OpenAI to provide a natural language processing tool able to answer possibly anything you could ask. Simply put, it's like your traditional search engine. The only difference is the fact its answers are more human-like and it would make you think you're talking to a friend. ChatGPT can help you compose emails and essays, and even write programming code.
Before you can use ChatGPT on your iPhone, you need to create an OpenAI account. You can do so by simply visiting its web page. For more detailed instructions on how to create an OpenAI account, please check our previous article about ChatGPT.
How to Use ChatGPT In Your iPhone's Browser
Once you've created your account, you can quickly access ChatGPT on a browser on your iPhone.
Time needed: 1 minute
Follow these steps to use ChatGPT through your iPhone's web browser.
Go to chat.openai.com and log in to your OpenAI account (or sign up).

Once logged in, type your query in the "send a message" box, then tap the send icon.

Wait for a couple of seconds, then ChatGPT will output its answer to your query.
While you're here, you can tap the menu icon (three lines) to pull out the sidebar menu. From the sidebar menu, you can view your past ChatBot conversations or clear the conversation history. You will also find other options such as upgrading to ChatGPT Plus, get help, and log out.
How to Use ChatGPT on Your iPhone Through a Shortcut
Aside from using ChatGPT directly on a browser on your iPhone, you can also create a shortcut for it. Follow the steps below to create a ChatGPT shortcut on your iPhone.
Log in to your OpenAI account.
Click on your profile icon (top right of your iPhone screen.
Tap View API keys > create a new secret key.
Copy the secret key and paste it into a new Note.
Now to create the ChatGPT shortcut on your iPhone, you can either do so directly through the Shortcuts app, or you can simply download the shortcut from this link. Either way, you still need the API key to make the shortcut work.
How to Integrate ChatGPT with Siri on iPhone
Another way by which you can use ChatGPT on your iPhone is to integrate it with Siri. We've outlined the procedures for doing so in our previous article. Again, you'll need the API key to make ChatGPT integrate with Siri on your iPhone.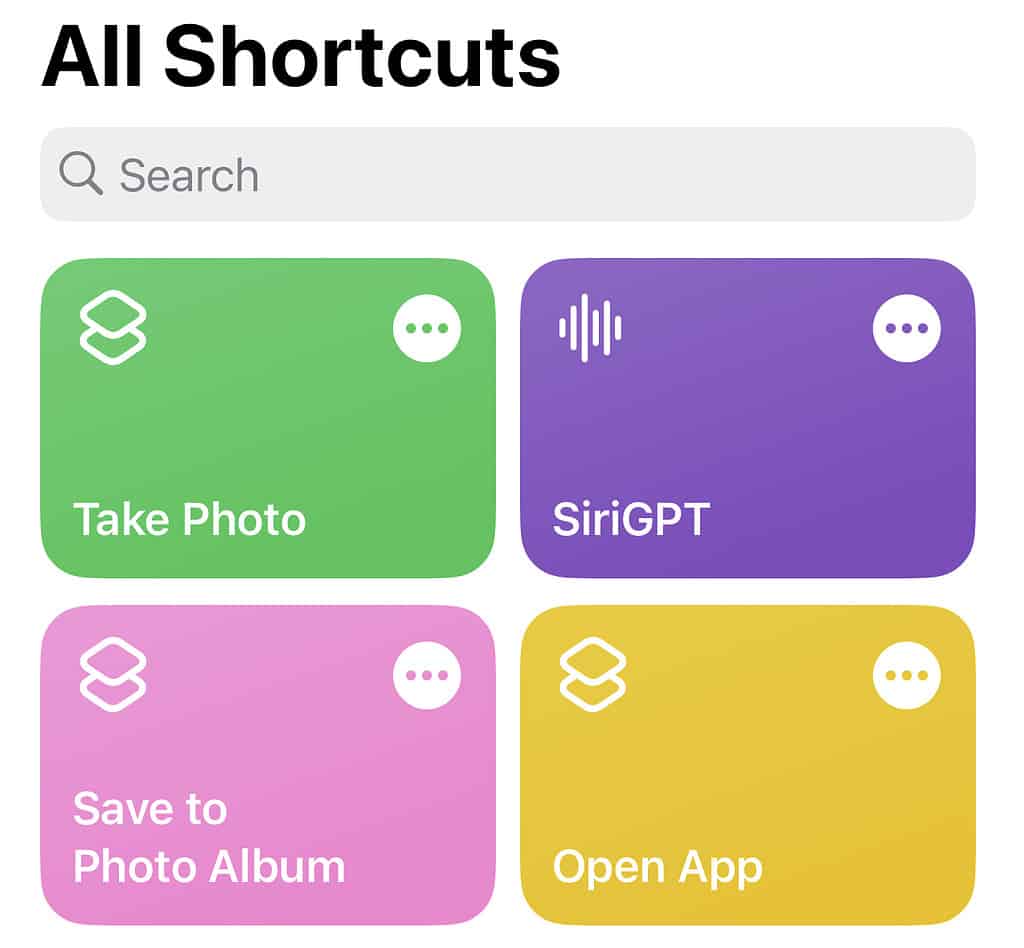 Using ChatGPT Through Various iOS Apps
As of this writing, there are three iOS apps that I know of using OpenAI's ChatGPT technology. Microsoft's recently updated Bing search app for iOS is one of them. It uses the next-generation ChatGPT technology to give reliable, up-to-date results and complete cited answers to your queries. The updated Bing iOS app is available now for download from the App Store.
Another app is Perplexity AI ,which is powered by OpenAI's ChatGPT and internet searches to give you the information you need with cited sources. Perplexity also allows you to use your voice to ask questions.
You can also check out Chat AI iOS app. The app is also powered by Open AI GPT-4.
Petey, well known already for its Apple Watch ChatGPT capabilities, should arrive soon to the iPhone; at least one TMO staff member is currently testing the beta.
Final Words: Other Ways By Which You Can Use ChatGPT on Your Apple Devices
When it comes to using ChatGPT on your other Apple devices, there are various ways that you can do so. For instance, there's a new Apple Watch app called Petey ChatGPT app. It is available now from the App Store and you can download it using your Apple Watch or iPhone. Its developer recently announced that an iOS version of the app is already in the works and might be released in the coming weeks. In the meantime, you can sign up for email updates to be in line to test the beta once it becomes available.
On your Mac, you can use ChatGPT in the Opera browser in case you're using it. We have previously published a tutorial on how to use ChatGPT in the Opera browser. Feel free to check it out.
Finally, you can also install ChatGPT on your Mac's menu bar. You can do this by using MacGPT, a new app that is currently in beta. Follow the steps by step procedures for getting MacGPT from our previous article.