Ever since its launch, ChatGPT has been hogging the limelight. Many are worried that their jobs will be replaced by ChatGPT, while others are starstruck with it. Keeping viewpoints aside, Open AI's conversational chatbot has set new benchmarks. Be it the human-like ability to hold a conversation or the accuracy with which it can get things done.
There are multiple ways to use ChatGPT on your Mac. The newest one is to install the tool on your Mac's menu bar. MacGPT is a nifty tool that lets you access ChatGPT on the menu bar. Yes, you heard it right! No more firing up your browser and signing in to use ChatGPT.
Add ChatGPT to Mac Menubar
MacGPT is currently in beta. Yet it is very promising. The developer, Jodi Bruin, has done an exceptional job of packaging all the features of ChatGPT in a small application. Jordi Bruin created macGPT, and the app is currently free. Follow the steps below to get ChatGPT on Mac menubar-
Head over to the macGPT website. Enter the amount you would like to pay the creator. Type $0 to download macGPT for free. If possible, donate a nominal amount to appreciate developers' work. After entering the amount, click "I want this!" button on the top right corner. Furthermore, you can see screenshots, system requirements, and versions on the listing page. 

A checkout page will appear. Add a Credit card or PayPal details only if you are donating. If not, simply add your email address and select Get. Kudos! You have successfully purchased macGPT. You will get a welcome email and an option to generate an invoice for paid and free transactions. 

After downloading the file, unzip the folder. Double-tap on the file to launch macGPT. A prompt warns you about opening a file from the internet. Select Open. 

Installation only takes a couple of seconds. Once a new macGPT icon appears on your menubar. Click it to open ChatGPT.
How To Use ChatGPT on Mac
macGPT is finally installed on your Mac. Now let us learn how to use it.
1. You need to log in when using it for the first time. Use your ChatGPT credentials to log in. Don't have one? Signup on OpenAI. It is super easy and quick.Getting "ChatGPT is at capacity right now" error? Dont worry, toggle native mode (top-right corner) and you should be good to go.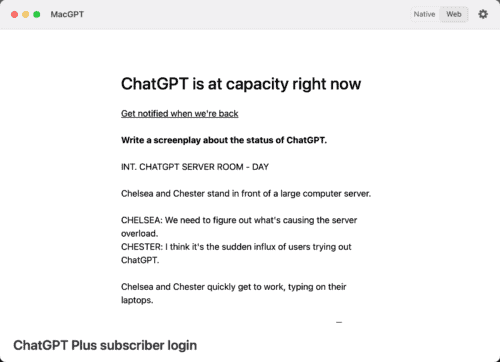 2. Type your query and hit enter. macGPT displays results instantly. Like ChatGPT you can converse and follow up with another question.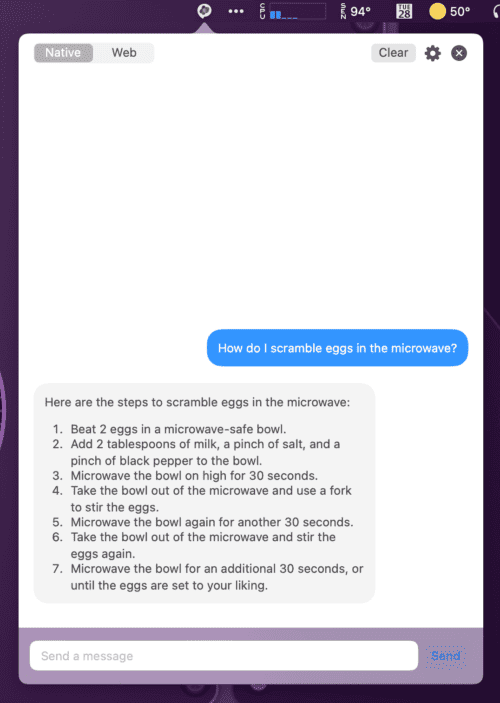 The app lets you access all the ChatGPT features with the click of a button. Initially, I was skeptical about whether the macGPT is as capable as ChatGPT. Thankfully, it is. The macGPT is a web wrapper and thus supports all the features available on ChatGPT. The app works flawlessly even when you bombard it with lengthier complex queries. 
Wrapping up
I love using ChatGPT to write emails. It works like a charm for official emails. The conversational AI has a lot of potential as a content aggregator. Want to access ChatGPT on the go? Install it on Apple Watch or, even better, integrate ChatGPT with Siri on iPhone or iPad.