Apple Music is a fantastic way to stream music, and here's how to download and access it with Windows 11. While there are plenty of reasons a Windows user may enjoy and support Apple Music, there is unfortunately no native app for the operating system. Those that want to use the streaming service will need to find another means of accessing it, and I'll show you some of the best alternatives.
With over 100 million songs, 30,000 playlists, as well as live radio and podcasts, there's a lot of reasons why a Windows 11 user may be a fan of Apple Music. Of course, one of the newest features to arrive is Apple Music Sing, which displays lyrics in real-time to give listeners an at-home karaoke experience.
However, while there are plenty of great features within Apple Music, there is currently no dedicated app for the streaming service available for Windows. For those looking for Apple Music on Windows 11, here are some options.
Using iTunes with Windows 11
Those that want to use Apple Music with Windows 11, one of the most obvious choices would be to use iTunes. While for Mac users, iTunes has already seen full integration with Apple Music, Windows users are still left waiting.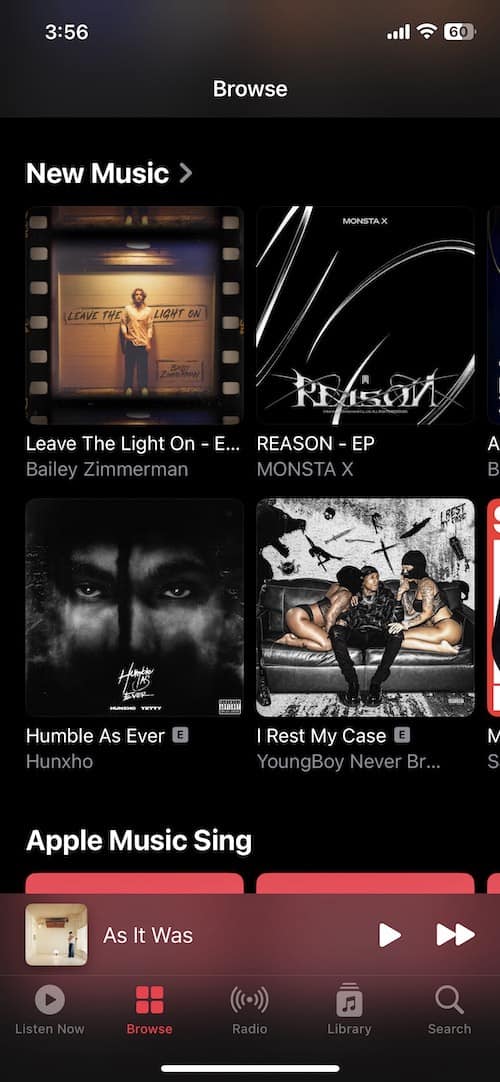 While some users may not find using iTunes to be an ideal situation, it may be worth using until Apple Music properly arrives to Windows 11. You can find the official 32 and 64 bit versions of iTunes on Apple's official support page.
Access Apple Music from a Web Browser
For those that may not want to install iTunes for whatever reason, you can also access Apple Music directly from a web browser. Considering this option, it would be in a user's best interest to ensure that the browser they are using is up to date. I would also personally recommend using Google Chrome if you are going to use Apple Music within a web browser.
To access Apple Music from a web browser, follow these steps:
Go to music.apple.com
Click the Sign In button in the top-right corner.

Log in to Apple Music using your Apple ID.
If you are happy using the web browser, you are also able to create a shortcut icon in order to access Apple Music directly from your desktop. Again, while this may not be the ideal solution for some users, having this as an option may still be a better alternative for some.
To easily accomplish this, I would continue to recommend using Google Chrome. To create the shortcut, simply click on the three vertical dots located at the top right corner. Click on these, then select More Tools > Create Shortcut. This will give you a nice shortcut so that you can immediately go to Apple Music from your desktop.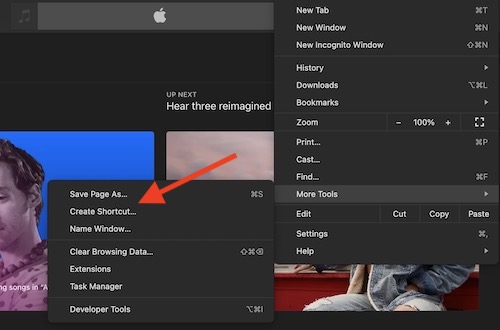 Install the Android Version of Apple Music
While using iTunes or a web browser are decent alternatives, there is also another solution for users. With the update to Windows 11, one of the most interesting features is the Windows Subsystem for Android. Thanks to this new feature, Windows 11 users are now able to install and run Android apps directly within their OS.
Using the Windows Subsystem for Android, users are able to load the Android version of Apple Music onto their machine. While not as ideal as having a copy of Apple Music that is especially built for Windows, users may appreciate having the full Android Apple Music experience on their device.
To get the Android version of Apple Music on your Windows 11 device, follow these steps.
Time needed: 2 minutes.
Download the Android version of Apple Music on Widows 11
Obtain the proper APK from APKMirror.

Make sure you are downloading the latest version of the APK, which, at the time of this writing, is the 4.1.0 nodpi version. You can access the APKs here.


Right-click on the APK file, and select 'Copy as path'.

This will copy the file location to your clipboard.

Open a Command prompt window that is at the root of your ADB installation.

This can be done by typing cmd in the address bar within File Explorer.

From the CMD window, copy and paste this command

adb install <app_path.apk>

After a few seconds, you will receive a confirmation that the app is successfully installed.
Benefits of Android and Downloading Music Offline
You will then find the Apple Music app within your Start Menu, underneath the Recommended section. If for whatever reason you have the Recommended section hidden, you can type 'Apple Music' into your search bar. From here, you are able to log into Apple Music using your Apple ID.
Remember that this is the Android version of Apple Music, so it may not be specifically tailored to Windows 11 in anyway. However, users will still have complete access to Apple Music features, such as Radio, Library, Browse, Search and Listen Now features.
Additionally, one benefit of using the Android app over the web browser for Apple Music is that users are able to download tracks to listen offline using the Android App.
Users simply need to right-click on any track and select 'Download'. Then, anything that they download will appear within the Downloaded section in their Library.
Conclusion
Considering the massive library found on Apple Music, it's no surprise that some users simply prefer using it no matter what operating system they're running. Along with a variety of other features, there's plenty of reasons why some users may want to use and explore Apple Music.
While Windows 11 users will have to wait for a proper version of Apple Music, using any one of these alternatives may be a good holdover until a release arrives. Be sure to give any one of these a try, and see which one best suits your needs.