So you bought an in-app subscription, whether it was to unlock app functionality or to support a developer. But now you want to cancel your iOS app subscriptions. Where do you go?
App Store
The iOS App Store has an area where you can manage certain aspects of your account, such as:
View/change payment information
View/change your country/region
View your history of apps you gift to others
See your app ratings and reviews
See your purchase history
Manage iOS app subscriptions
There are a couple of different ways to get to your iOS app subscriptions. One is the manual way, and the other is a redirect link that leads you directly to the subscription page (via Lifehacker).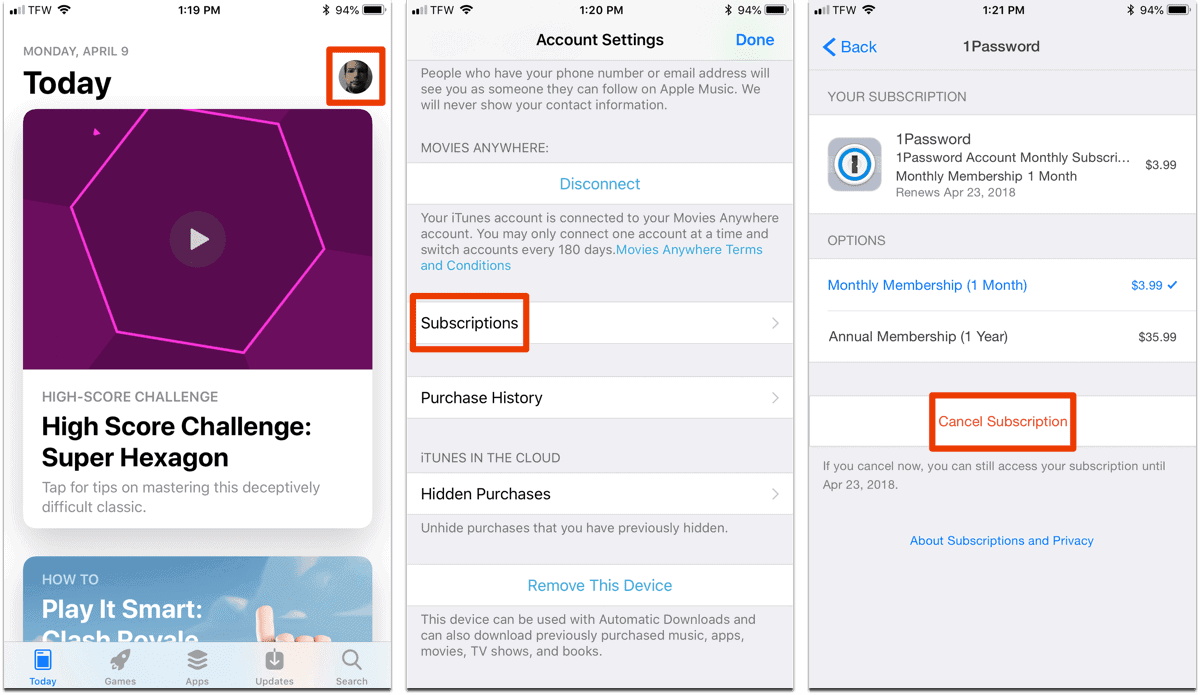 Manual
Open the

App Store

.
Tap on your

profile picture

in the

upper-right

corner of the screen.
Tap on your

name and email

.

Authenticate

with Touch ID, Face ID, or your password.

Scroll down

the page until you see

Subscriptions

.
You can also tap on this URL which will open Safari, prompt you to open iTunes, and take you to your iOS app subscriptions. The full URL looks like this: https://buy.itunes.apple.com/WebObjects/MZFinance.woa/wa/DirectAction/manageSubscriptions.
Once you're on the subscription page, tap on the app you want to cancel. Here you'll see options that the app offers, like a monthly or yearly subscription. In red text, there is also a Cancel Subscription button. Tap on that and your subscription will be cancelled.