Is your App Store missing on your iPhone, and you need to get it back? While there are certain reasons a user may not be able to view the App Store, bringing it back can be rather easy if you have the right information. There are a couple of different ways to bring back a missing App Store, so continue reading to find out more.
While losing out on the App Store can make using a device a bit more difficult than it needs to be, following these steps to get it back on your iPhone isn't that difficult. However, there may be some unavoidable roadblocks, were you not the one to set certain restrictions.
Can You Delete the App Store?
It's easy to believe you may have deleted the App Store from your phone, but worry not, as this is actually impossible. Apple simply does not allow users to delete essential apps from their phone, the App Store included. With the app being so essential to the functionality of the device, being able to delete it would be an issue for a large population of users.
However, while deleting or uninstalling the App Store is impossible, it is potentially rather easy to restrict the App Store to the point that it is nearly impossible to use or find. Parent or Guardian settings can disable the App Store to such an extent that finding it in your App Library, Spotlight Search or Home Screen is nigh impossible. The restrictions can even go so far as to disable Siri from accessing the App Store.
While these restrictions can be rather intense, it may just be something as simple as not being able to access the App Store directly from your Home Screen. If you are missing the App Store, for whatever reason, here's several different ways you can gain access to it again on your iPhone, iPad or iPod touch.
Bring Back the App Store with Spotlight Search
For most users, this may be the easiest way to get the App Store back on your Home Screen. Typically, searching for the App Store before completing additional steps is often the easiest way to ensure that the App Store is still accessible.
From your Home Screen, open Spotlight Search by swiping down.

Type App Store in the Search Bar, should the App Store not already be at the top of Siri Suggestions.
If the App Store appears, open it to tap it.
You can also long press the App Store icon to drag it back down to your Home Screen.
Find the App Store Through App Library
Aside from Spotlight Search, checking the App Library is also another easy way to find your App Store, should you need to access it.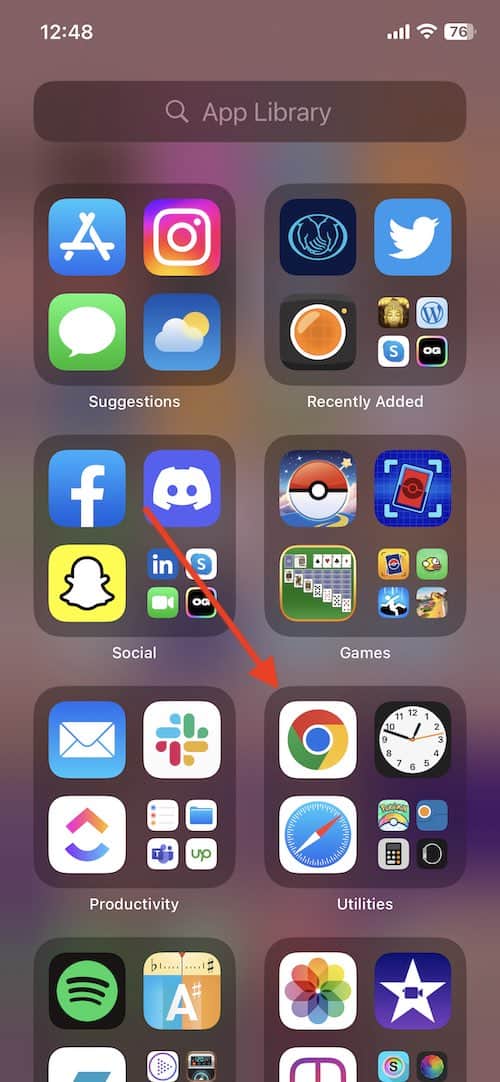 To access the App Library page, simply swipe left on the last page of your Home Screen. The App Store will be in the Utilities library. There will also be a search bar at the top. Alternatively, you can also swipe down on this screen to view apps in alphabetical order.
Changing App Store Restrictions through Settings
One Apple feature not to overlook is Screen Time, which allows the restriction of apps or even block the installation of new apps. Restrictions can even depend on age-appropriateness. What's also important to know is that if you or someone with access to your device blocks new apps from downloading, the App Store will automatically see removal across the device. Users will not be able to see the App Store until they turn this setting off.
Time needed: 2 minutes
Change App Store restrictions with Screen Time
Open Settings, and select Screen Time.

Note: if you get a message saying "Turn on Screen Time", it means this is not the reason your App Store is missing. Continue to another tip.


Go to Content & Privacy Restrictions.

Select iTunes & App Store Purchases.

You may be asked to enter a Screen Time passcode. This is a passcode that is set up separately from a Lock Screen passcode, so it may not be the same.


Under the Installing Apps section, make sure it is set to 'Allow'.
If You Have a Time Limit or Hour Glass
While Screen Time allows a user to entirely restrict access to the App Store, there is also ways to set a time limit for the usage of an App. Typically, a guardian may use this feature to disable media apps, such as social media or video streaming services. It is also possible to set a time limit for all apps in general, meaning the App Store would see restrictions as well.
You can tell if there is a time limit on your App by an hourglass icon next to the app on your Home Screen. Opening the app will give you a Time Limit message stating that you have reached your time limit for this app. Seeing this icon means that restrictions will last until midnight. However, if you know the passcode, you can bypass this screen by selecting Ask for More Time.
If you are looking to get rid of the time limit for apps, follow these steps:
Go to Settings > Screen Time > App Limits.

Turn off App Limits.
Alternatively, you can also swipe left on the limit for the App Store and select Delete > Delete Limit.
Last Resort Options
In rare situations, if you are still unable to view or find your App Store after following the above steps, you may also want to consider the following.
Restart your device.
Restarting your device may bring back the App Store, especially if you recently disabled content restrictions or the installation of apps.
You may need to perform a software update.
Simply go to Settings > General > Software Update to see if your device is in need of one. It is generally a good idea to ensure that your device is always up to date.
If you are missing your App Store, there are solutions that can help you find it. Going through these steps, users should be able to regain access to the App Store. For further reading, you might also be interested in how to cancel app subscriptions on iPhone.