At the unveiling of the iPhone 15, Apple underscored its ongoing commitment to environmental sustainability, concurrently launching an innovative feature designed to optimize the use of clean energy sources in the home for better eco-friendliness. Let's take a look at how to use Grid Forecast to help you use cleaner energy sources. We'll learn about scheduling your energy consumption to use renewable energy from your iPhone, iPad, Mac, or Apple Watch.
How To Check the Grid Forecast
Debuting in iOS 17, Grid Forecast is integrated into Apple's Home application. The feature is also available in macOS 14 Sonoma and as an Apple Watch face complication. It furnishes information on real-time energy usage. This can help reduce the environmental impact of your local power grid. It helps you know when renewable energy or low-emission electricity is abundant.
You can access Grid Forecast easily in iOS and iPadOS 17 or later, as well as macOS 14 Sonoma. You do need to have the Home app set up, but don't necessarily need any smart home devices. If you have an Apple TV or HomePod, the Home app may already be set up.
Time needed: 1 minute
Here's how to access Grid Forecast on your iPhone, iPad, or Mac.
Whether you're using your iPhone, iPad, or Mac to check for clean energy times, start by opening the Home app.
In iOS and iPadOS, you should see Grid Forecast near the top right corner, just below the options button. On your Mac, there will be a button labeled Energy with a green lightning bolt.

Tap the icon. The first time through, you'll see introductory screens describing the feature.
Looking at the Grid Forecast timeline, assuming your electricity grid provides the data, you'll see when cleaner energy sources are used.

By tapping the Bell icon, you can turn on notifications for when clean electricity is once again available.
Why Should I Use Grid Forecast to Look for Cleaner Energy Options
Harnessing more eco-friendly power sources — such as wind, solar, or low-emission electricity — reduces your ecological footprint. This is especially true when you're using electrical appliances in your home. This can help reduce power plant emissions, helping make your home more carbon neutral.
Apple's Grid Forecast feature comes as an extension of functionality baked into iOS 16.1 in October 2022. With the introduction of its Clean Energy Charging feature, Apple continued helping consumers be more eco-friendly. The new feature gave the iPhone the ability to time its charge cycle for those times when clean electricity sources were utilized.
Adding Grid Forecast, your iPhone, iPad, Mac, or Apple Watch can tie in to help with using the electrical grid when it's the most eco-friendly. This type of energy management doesn't just include the appliances in your kitchen or laundry room, though. Charging your EV is also a great time to try using renewable energy rather than other forms of electricity.
Advancing Green Energy and Carbon Neutrality
Smart home technology offers an unparalleled advantage in coordinating such energy-efficient practices. If Apple expands on its Grid Forecast feature, the Home app could help you automate tasks like electric vehicle charging.
In theory, it could even help you schedule when you run your dishwasher, clotheswasher, or other major appliances. This way, you could adjust your electricity consumption to align with times of reduced cost and environmental impact.
By leveraging this data, homeowners can judiciously time the operation of high-energy appliances like clothes dryers or charging electric vehicles to coincide with intervals of cleaner energy availability.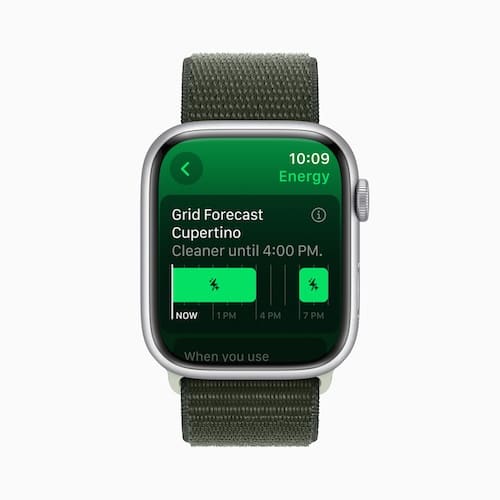 For ease of access, Grid Forecast is also configurable as an iOS widget and an Apple Watch face complication. Initially, this service will be available exclusively within the contiguous United States.