If you're fond of stickers in the iPhone messaging app, you'll be glad to know that you'll be able to turn your photos and live photos into fun stickers soon. That's happening in iOS 17 slated for public release later this fall. For those who were brave enough to download and install iOS 17 beta on their device, read along to learn how to create Live Stickers using your photos on your iPhone.
Turn Your Photos or Live Photos into Custom Stickers
The process of creating Live Stickers using your photos or live photos in iOS 17 is pretty simple. You simply navigate to the camera roll and choose the photo that you want to turn into a custom sticker. Long press on the photo until a context menu appears, then tap on "Add Sticker".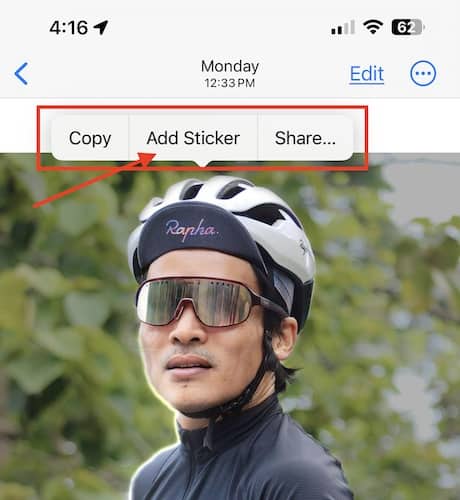 A new pop-up window will appear below where the sticker you created will be stored. To use the sticker, tap and hold as you open an existing conversation in the Messaging app. Drop the sticker and it will be posted on the conversation thread, much like when you're inserting an emoji or regular sticker.

You can also tilt the custom sticker before posting it to the conversation thread. Note that if you use live photos, the new feature will turn it into a looping animated sticker. You may also add some effects to the custom sticker before using it.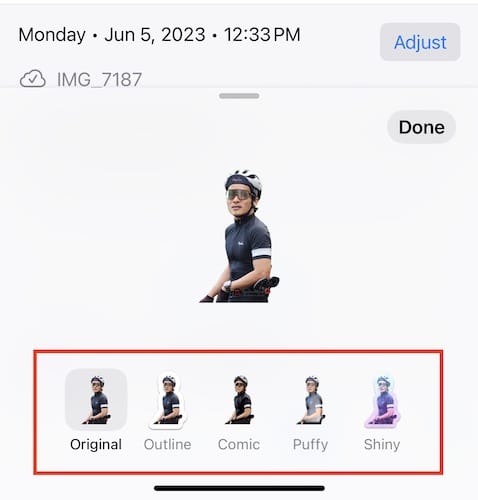 Live Stickers Feature Availability
The Live Sticker feature will be available when iOS 17 is released to the public. In iOS 17 developer beta, the Live Stickers can only be used with the iPhone messaging app. But Apple said the Live Stickers will also be available for use with third-party iPhone apps.
If you can't wait for the public release of iOS 17 this fall and want to try out the many new features that the software update has to offer, you can try downloading and installing iOS 17 beta right now. Check out how to download and install iOS 17 on your iPhone now for some guidance on how to do this.
Final Words: Should You Download and Install iOS 17 Beta Now?
Although the Live Sticker feature may seem fun and exciting, remember that enjoying it now may not be worth the risk of downloading and installing the iOS 17 beta on your iPhone. And besides, the feature currently works only with the iPhone messaging app. So, it may be wise to just wait for the public release of iOS 17. Until then, you could download the iOS 17 Wallpaper on your iPhone.
But then again, it's just one of the new features of iOS 17 that Apple unveiled during the WWDC. There are more new features that I'm pretty sure many of you would like to try. It's a tough decision, I know. But it could be fun if you don't mind the risk. Curious whether your iPhone supports iOS 17? Check out the compatibility list.