Apple recently unveiled the iOS 17 at the WWDC. The latest iOS iteration heralds a slew of new features, some of which are centered around safety. Check In is one such feature. It lets you update family and friends when you are traveling alone. It is similar to Facebook Check In but restricted to your close ones.
What is Check In Feature on iOS 17?
Sometimes traveling alone in an unknown place or late at night could be dangerous. It is always better if our near ones know where we are. My partner messages me whenever she reaches a particular place or when she hails a cab. The Check In feature makes sharing your current location effortlessly using the Messages app.
Now you might what is new? Well, the Check-In feature is not just for sharing locations. You can set the destination, choose a mode of travel, select the type of location data to be shared and much more. The feature will automatically inform recipients once you reach the destination. If the transit takes too long, the recipient will get a notification containing your current location, route, iPhone battery level, and cellular network strength.
Apple assures top-notch privacy as the Messages are end-to-end encrypted.
How to Setup and Use iOS 17 Check In Feature
The feature is only available on iOS 17. In other words, both you and the recipient device should be running iOS 17.
Quick Disclaimer- iOS 17 is still in the early beta stage. We don't suggest installing early beta versions on the primary device. Eager to try out iOS 17? Wait for the Public Beta release to happen next month.
Time needed: 2 minutes
Using the Check In feature on iOS 17 is easy. You get to control details like the type of location data shared, time of arrival, and destination. Follow the steps below to use the Check In feature-
Open a conversation on Messages. Tap the "+" icon on the bottom left. 

Select More drop-down on the pop-up menu. 

Now tap Check In.

Follow the onscreen instructions. You will get an information card telling your friends will be automatically informed when you reach the destination. Tap Continue.
You might also be interested in how to send photos using the updated Messages feature in iOS 17.
Choose the Extent of Data to be Shared
Now, you must choose the data you want to share. The location data is sent only when you don't arrive at the destination within the stipulated time. iOS 17 Check In notifies the person before sending the location data to their contact.
1. Limited- The mode includes current location data, network signal, and battery data. Limited mode is useful when sharing details with someone, not in your inner circle.
2. Full- Includes the entire route traveled from the time Check In is activated. Other details include the location where the iPhone was last unlocked, iPhone, Apple Watch battery, signal strength, and more. Full mode is good when sharing a location with close family and friends. Tap Continue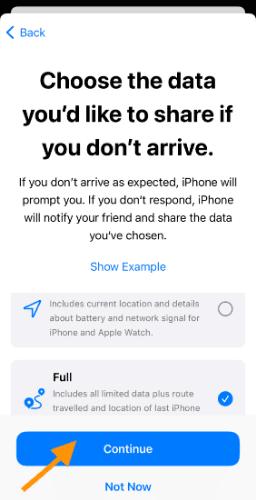 3. When ready tap Send a Check In.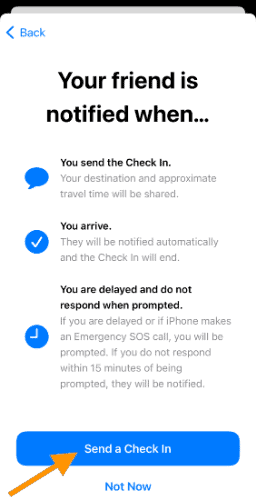 4. Tap Edit to add destination, mode of transit, estimated time required for the transit, and Check In Data.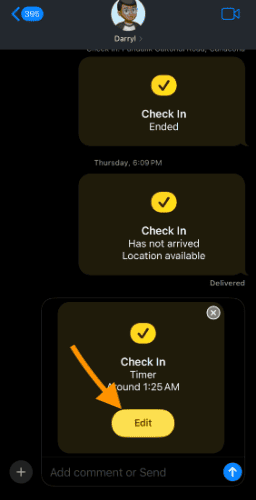 Messages will notify if you do not reach the destination in time. Before sending, you will get a notification like the one below. If you are stuck in traffic or delayed due to any reason, you can override the notification.
Safety of Your Near Ones Without Invading Their Privacy
More often than not, parents take the brunt for tracking Child's location. In fact, intrusive parenting is often termed "helicopter parenting." Countries like India and the US are seeing an uptick in missing persons cases. iOS 17 Check In helps share your location only in dire circumstances. In extreme cases, it will help law enforcement authorities to locate the missing person swiftly.
Many of us are so caught up, we forget to update our loved ones when we reach a destination. Check In takes care of this. It automatically sends a message upon reaching the destination. Lately, Apple has been focussing on safety features, with the latest ones being Check In and Sensitive Content Warning.
What are your thoughts about iPhone Check In feature? Let us know in the comments below.