Apple is making it clear that 32-bit apps on the Mac are going away and the future will be 64-bit only. So how to you tell if your Mac has a 32-bit or 64-bit processor? Read on to learn how.
64-bit processors can access much more memory than 32-bit processors. They can also potentially handle processor requests more efficiently than their 32-bit counterparts. Apple decided years ago to transition into 64-bit processors exclusively for the Mac, as well as the iPhone and iPad.
macOS has been 64-bit and 32-bit since 2005, and generally speaking if you purchased a new Mac in 2007 or later, its processor is 64-bit.
How to See if Your Mac's Processor is 32-bit or 64-bit
To see if your Mac's processor is 32-bit or 64-bit, go to the Apple menu and choose About This Mac. Below the operating system version and computer model name you'll see your processor.
If the processor is an Intel Core Solo or Intel Core Duo, it's 32-bit only. Here are the 64-bit Intel processors Apple has used in the Mac:
Core 2 Duo
Dual-core Xeon
Quad-core Xeon
Core i3
Core i5
Core i7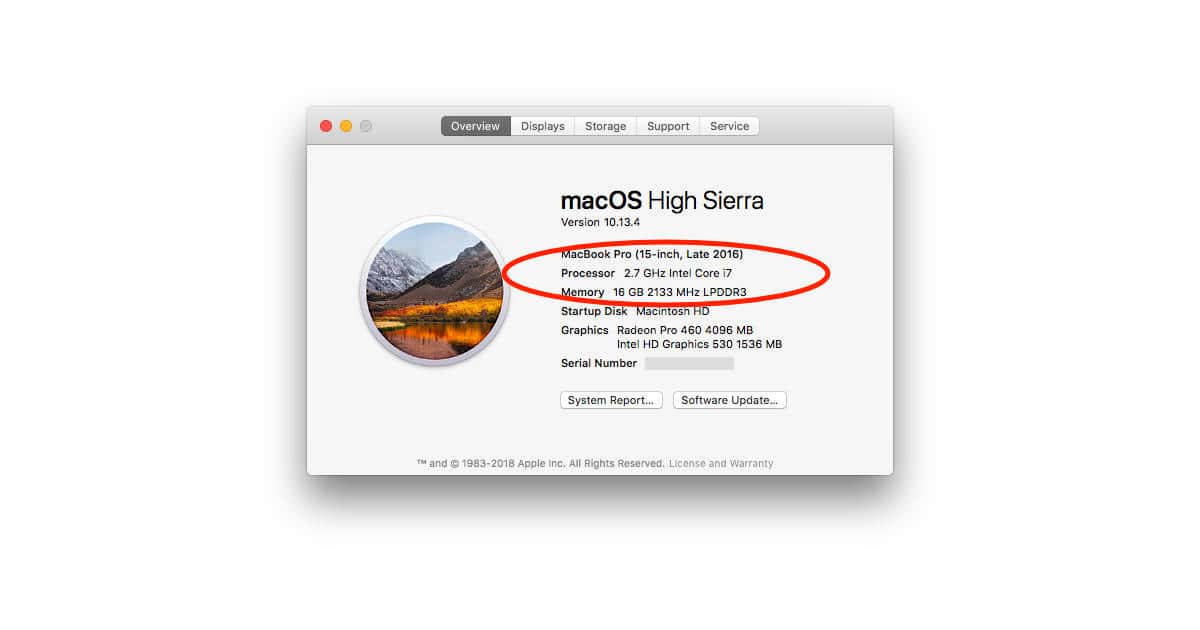 If you don't see your Mac's processor in the About window, click System Report and select Hardware at the top of the column on the left. You'll see your processor name in the Hardware Overview.
Why 64-bit Processors Matter in Your Mac
macOS has been 64-bit for years, but also supports 32-bit apps. That's going to change soon, although Apple hasn't announced an exact date yet.
[PSA: All Apps Submitted to Mac App Store Must be 64-bit Starting January 31]
As of January 2018, all Mac App Store submissions must be 64-bit. Apple has started displaying alerts when you launch 32-bit apps on your Mac, too.
[Here's What You Need to Know About the macOS 32-bit App Warning]
If you plan on staying up to date with macOS and your apps, 64-bit compatibility is a necessity. Considering how long Apple has been building Macs with 64-bit processors, there's a good chance you're good to go.