If you need to remove Search Marquis malware from your Mac, there's a couple of different solutions for users. For those unaware, Search Marquis is a from of malware that is capable of taking over a user's search engine. I'm going to go over a couple of different ways users can know if they have this malware on their device, as well as go through a couple of different ways to remove it from your system.
While users should always do their best to avoid malicious software on the internet, this can often be easier said than done. While traversing the web can be great for finding information and content, it can also accidentally be a great way to catch a virus or malware. If you find yourself with the Search Marquis malware, continue reading to rid yourself of it.
Why Does My Mac Keep Opening Search Marquis?
If you are attempting to use your usual search engine while using an internet browser, and you find that your search says Search Marquis rather than what you typically use, you may have the Search Marquis malware.
Search Marquis is a browser hijacker that on the surface appears more annoying that anything. This malware hijacks your search engine, replacing it with a phony one that will likely attempt to scam you. It is essentially a scam search engine.
However, not only is this malware offering a phony search engine, but it is also capable of controlling and accessing all of your browser information, including personal data, passwords and cookies. Search Marquis is capable of accessing this information, and then can sell it to both advertising companies as well as cyber criminals.
Users may find Search Marquis on their device if they recently downloaded anything from a dubious or third-party App Store. Users can also get this malware through unreliable applications, or visiting somewhere nefarious on the web. Most of the time, users are not going to notice when Search Marquis infects their device.
Signs and Symptoms of Search Marquis
If you believe your web browser is infected with Search Marquis, there are some signs and symptoms you should look for. While typical malware infects your system and then causes noticeable changes, Search Marquis likes to lurk in the background.
With that being said, check these signs and symptoms:
An increase in advertisements: if your Mac is experiencing more pop-ups or banner ads than you are accustomed to, you may have Search Marquis on your device.
Your regular search engine is replaced with searchmarquis.com: One of the most common symptoms, you can tell if you have Search Marquis on your device by checking your default search engine.
Suspicious website redirects: When going to a normal or typical website, users may notice that they are seeing redirects to more dubious websites. This can often involve phishing scams, so pay attention to the websites that you visit.
Weird and/or unknown extensions: Search Marquis is infamous for adding extensions without your permission. Check your extensions to see if there are any that are unknown to you.
Is Search Marquis a Virus?
Search Marquis is a form of Malware. Technically, a virus is a form of malware, though what makes a virus distinct is that it will replicate itself in order to spread to others. One could make an argument that Search Marquis is just malware, but there's also good arguments that you can classify it as a virus as well. Either way, Search Marquis is still a form of malware, which is harmful, and you should remove it from your device as soon as you can.
How to Remove Search Marquis
Fortunately, removing Search Marquis is rather easy. Users have two options when it comes to removing the malware from their device: they can either use an antivirus software, or they can remove the files manually. Users will then need to reset their browser to the default settings.
Remove Search Marquis with Antivirus Software
When it comes to removing the files through an antivirus software, simply run your antivirus and allow the app to delete the malware for you. If you are not using an antivirus software, you should do your best to get one. While there are ways to remove Search Marquis manually, allowing virus software to do the work for you will be much easier. If you have virus software, simply run a full system scan.
When it comes to antivirus software, I would personally recommend CleanMyMacX from MacPaw. Not only does it provide antivirus software, but it also provides tools for cleaning other areas of your computer, such as old cache and broken download-logs from your browsers. Additionally, there is also free and paid versions available as well. If you're in need of antivirus software, I would highly recommend CleanMyMacX.
Remove Search Marquis Manually
If you want to remove Search Marquis manually, simply follow these steps:
How to manually remove Search Marquis.
First, you will need to identify and stop all malicious processes. Go to Finder > Utilities > Activity Monitor and Force Quit all suspicious activity.

You can also go to Finder > Go > Utilities from the Menu Bar.
Click on an app, then select the X to kill the app.


You will then need to remove any login items that you do not recognize. Go to Apple > System Settings from the Menu bar, and then select General > Login items. Delete any Login items that you do not recognize.

Note, if you are using something older than macOS Ventura, your login items may be under Users & Groups > Login Items.


Now, you will need to delete any .dmg files that you never downloaded. Simply go to Finder > Downloads, and delete the files you do not recognize.
You will also need to delete any launch agents that you do not recognize. From the finder navigation bar, go to Go > Go to Folder and type /Library/LaunchAgents. You will also need to clear the unknown files from /Library/Application Support and /Library/LaunchDaemons.

Users will also need to delete any and all suspicious applications. Go to Finder > Applications, and delete any apps that you do not recognize or you did not install.
Cleaning Your Browser
After going through your Mac and deleting the malicious files (or with antivirus software), you will also need to clean your web browser. I'm going to take a look at how to do this with three of the most popular browsers.
Note that if you used an antivirus software, you may be off the hook performing these next steps. However, completing the steps will fully ensure that Search Marquis is gone for good.
Safari
To remove Search Marquis from Safari, follow these steps:
First, you're going to need to remove any extensions you do not recognize.
Open Safari, and go to Safari > Settings from the Menu Bar. Then select Extensions. For an extension you do not recognize, click it, and select Uninstall.

You will then need to remove unfamiliar cache and cookie files.
Within Safari, go to Safari > Preferences from the Menu Bar. Then go to Privacy and select Manage Website Data. You can then click on any unfamiliar cache files, and select Remove. You can also select Remove All.

You will then need to clear your history. From the Menu Bar, go to History > Clear History.
Finally, quit Safari and reopen it.
Google Chrome
For those using Google Chrome, it's a bit less complicated. From Chrome, simply go to three dots in the top right corner, and select Settings from the drop-down list. Then, from your Settings, go to Reset settings and select Restore settings to their original defaults. Be sure to go to Extensions, and delete any you do not recognize by selecting Delete. Remember to Quit Chrome and reopen it.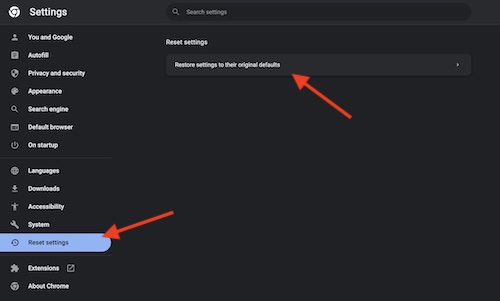 Firefox
For FireFox, simply follow these steps:
Click the three lines in the top-right corner and select Settings.
In the bottom left-hand corner, select Extensions and Themes.
Click Extensions.
Choose the extensions you do not recognize, and delete them by clicking the vertical there dots and selecting Remove.
Then go to Settings > Privacy & Security.
Scroll down until you see Cookies and Site Data. Select Clear Data.
You are able to clear your cookies and your cache content.
Quit Firefox and reopen it.
Remember that before clearing your browsers that you need to run an antivirus software or follow all of the delete files manually steps.
If this sounds like a lot of work, then simply going the antivirus route may be the best method.
Conclusion: Remove Search Marquis from Your Mac
Keeping your device secure can be tricky, but there are a couple of methods to ensure you keep your device safe. Make sure that you regularly keep all of your apps and OS updated, never click on suspicious ads and never open dubious email attachments. Additionally, staying away from questionable links on social media can also be a major help.
Having malware on your device can be a major hassle, especially when it is something nefarious like Search Marquis. When it comes to owning a Mac, or any device, protecting yourself should be the highest priority. If you are infected with Search Marquis malware, following this guide should help you out of your situation. Of course, ensuring you don't find yourself here in the first place by using an antivirus can be the smart move as well.