WhatsApp rolls out new features regularly and the Instant Video Messages feature is the latest to join the list. You can now record and share up to a minute-long video with your WhatsApp contacts.
In this article, let us check out WhatsApp Instant Video Messages and learn how to use this feature to send short, interactive videos to your WhatsApp contacts.
What Is an Instant Video Message?
WhatsApp's Instant Video Message feature allows you to send minute-long video messages to your friends, family, and other contacts. You can do this directly from within the chat interface. You will not have to open the camera app separately.
How Is It Different From Video Chat?
The difference between an instant video message and a video chat is the same as the difference between a voice note and a phone call. Instead of real-time communication like a video chat, the person that you send the instant video message to can see it at their convenience.
This feature is quite popular among users globally. Mainly because instead of sending a GIF, Memoji, Animoji, voice message, etc. you can capture videos and send them.
How To Send an Instant Video Message on WhatsApp on iPhone
Sending an instant video message is a simple task. Let us see how to do it.
Time needed: 3 minutes
Steps to send an instant video message on WhatsApp.
Open WhatsApp on your iPhone.

Go to the Chats tab from the menu bar at the bottom of the screen.

Select the contact that you wish to send the video message to.

Now tap on the Voice Chat icon at the bottom right corner.

You will see that the icon has now changed to the Instant Video Chat icon.

Long-press the Video icon to start recording your video.

Your video will start recording once your timer counts down.

If you wish to delete the video and start again, slide towards the slide to cancel option.

Release the Video Chat icon to send the video as an instant video message.
And voila! You have successfully sent your first instant video message.
Having Trouble Sending Instant Video Messages? Here's How To Fix
Not able to send a video message? Did the Video Chat icon not appear? Do not panic. We have a handy list of easy solutions for the issues.
Update WhatsApp
1. Go to App Store and select the Search icon at the bottom right corner.
2. Type in WhatsApp in the search bar and select the search button.
3. If you have any pending updates, you will find an Update option beside WhatsApp Messenger instead of Open. Tap on it.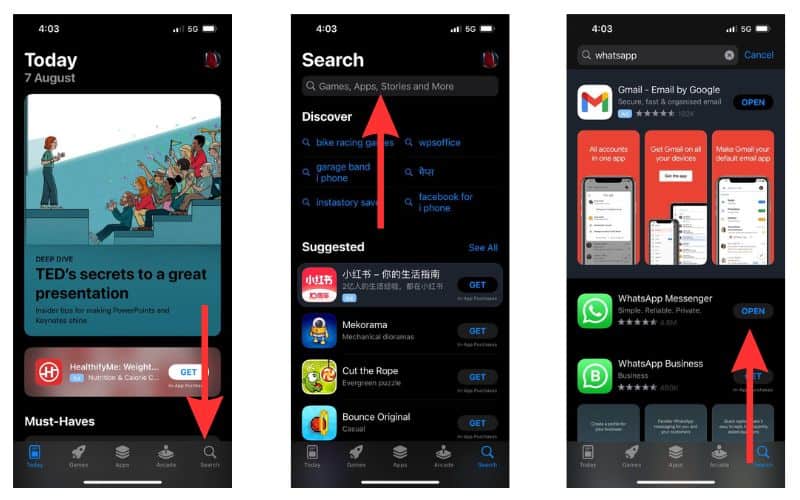 Allow Access to Camera
If you do not have permission enabled for WhatsApp to use your Camera, turn it on with the following steps.
1. Open the Settings app on your iPhone.
2. Scroll down and select WhatsApp.
3. Now turn on the toggle beside the Camera option.
Check to see if you can use the Instant Video Message feature.
Force Quit WhatsApp and Relaunch
Force quitting WhatsApp can help resolve the issue at times. Let us see how to do it.
1. Unlock your iPhone and swipe up and hold on to the Home Screen to reveal the list of apps running in the background.
2. Scroll through the list and locate the WhatsApp window.
3. Swipe it up to force quit WhatsApp.
4. Now, open WhatsApp again and try sending the video message.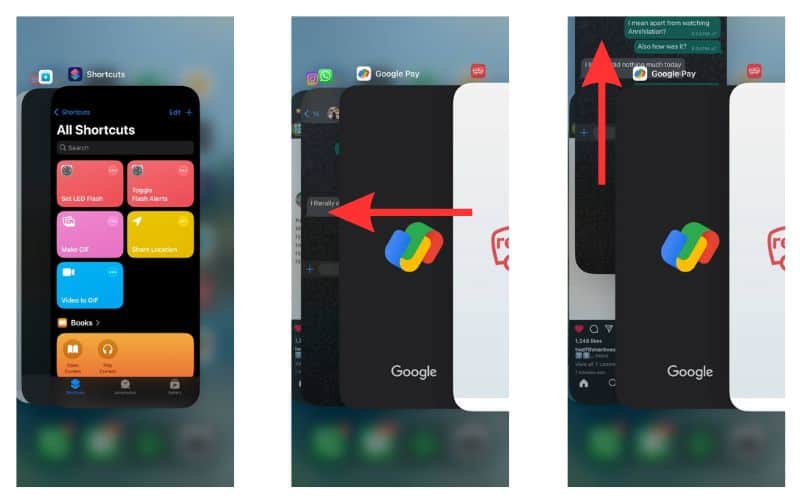 Other Easy Fixes
Check your internet connection. Video messages tend to use a lot of data. Check to see your data usage. If you are on a limited connection, check if you have run out of the permissible quota for the day.
Tips for Sending Instant Video Messages on iPhone
Using the Instant Video Message feature on WhatsApp is really easy. Here are some additional tips to help you get the best out of video notes.
Make sure that you have a strong internet connection. A weak connection can keep your short videos unsent.
Keep it short and simple. Although you can send a minute-long video message, most users tend to send instant video messages shorter than 15 seconds.
Be aware of your surroundings. Especially in a public space, make sure your video message contains nothing embarrassing or sensitive.
Get creative. Cannot find the right GIF to send as a reaction to something somebody said in the Group Chat? Just capture a video of yourself reacting to it and send it across. Or send a cute video of your pet being goofy to cheer up somebody.
Have Fun With the Instant Video Message Feature on WhatsApp
Instant Video Message is a great feature to send your real-time reactions to your close ones in response to their hilarious, angry, or sad messages. It lets you express your emotions better rather than typing them out through lifeless words.
Please let us know in the comments if you have any further questions regarding the Instant Video Message feature. Subscribe to our newsletter to stay up-to-date with the latest Apple news and updates.
FAQs
What is the maximum size of a WhatsApp video message?
There is a 16MB limit on WhatsApp when it comes to the size of the video. The duration of the video depends on the quality of the camera and the video. It can vary from 30 seconds to 3 minutes.
What is the new feature of WhatsApp video?
Meta released a new feature for WhatsApp that allows you to send short (maximum 60 seconds) video messages to your contacts. It works just like the voice chat except instead of a voice recording, you send a video recording.
Why is WhatsApp video quality low?
WhatsApp has a limit on the size of the media files. So, to save up space, your media are automatically converted to a lower quality.