Need help knowing how to transfer money from Apple Pay Cash? We've got just the solution for you. There are a variety of different payment methods available today, such as CashApp and PayPal. So it only makes sense for Apple to get in on the action as well. Apple Cash is a user's digital debit card for the modern age. It's a means of being able to send money to family, friends, and businesses. There are a few handy features within Apple's services. These can be extraordinarily helpful for those that need and use a digital wallet. With just a few details, users can retrieve their Apple Cash and deposit it to their bank account or debit card.
Let's take a look at how users can transfer Apple Cash to their bank account or debit card, including pre-paid cards. I'll cover the differences between Apple Cash, Apple Pay, and Apple Card. This is important information for those that need to spot the differences. I take a look at certain things users need to be aware of, such as fees, eligibility, and more. For those that need to make a digital payment, or just want a better understanding of Apple's services, continue reading.
Understanding Apple Cash
Originally seeing a launch in 2017, Apple Cash is Apple's answer to a digital card. It allows users to send and receive money within Messages or Apple Wallet. Once there, users can spend the money just like regular currency. It doesn't matter if you're shopping online or at a brick-and-mortar store. A business only needs to be able to accept Apple Pay to get customers going.
Concerning Apple Cash, users need to tie a debit or prepaid credit card to their Wallet to use Apple Cash. This then allows users to pay with their own money. Apple does provide a credit option thanks to Apple Card. While many services within Apple Cash are free, there are some potential costs and fees associated with Apple Cash. These primarily deal with transferring money to a debit card, which I discuss in more detail later in this article.
Also, know that there is an Apple Cash Family feature. This allows those under the age of 18 to use Apple Cash. Once Apple Cash Family is properly set up, those under 18 can receive, spend and send money using Apple Cash. Parents or guardians under the Apple Cash Family plan can receive transaction notifications and limit who those under 18 can send money to. Parents or guardians can lock the account.
How to Transfer Apple Cash to a Bank Account 
Time needed: 1 minute
If you want to transfer Apple Cash to your bank account using your iPhone, simply follow these steps:
Open the Wallet app on your iPhone.
Select your Apple Cash card.
Tap the More button (three dots).

Select Transfer to Bank. On the next screen, enter the amount you want to transfer and select Next.

Choose 1-3 Business Days. For those that do not have a bank account tied to Wallet, the app will provide onscreen instructions on how to add one.

Finally, select Transfer. You will then confirm the transfer using your passcode, Touch ID, or Face ID.
For those on iPad, you can follow virtually the same instructions. However, instead of steps one through four, simply go to Settings > Wallet & Apple Pay > [Your Apple Cash card] > Transfer to Bank. 
Note that it may take one to three business days for your Apple Cash to deposit into your bank account. Funds will not deposit during the weekends or holidays observed by the Federal Reserve. Users should remember to enter their bank account and routing number correctly, as entering the wrong information can potentially send money to the wrong account. Users may want to contact Apple Support if they potentially entered the wrong information.
How to Transfer Apple Cash to a Debit Card 
There is also a way to transfer Apple Cash to a Visa or Mastercard debit card. This can be a faster process than transferring directly to a bank account, as there is an option to transfer instantly. Before beginning, make sure that your iPad or iPhone are on the latest versions of their respective operating systems by navigating to Settings > General > Software Update and seeing if an update is available.
Users will need to add a debit card to their Apple Wallet, which is rather easy to do. If you are on iPhone, simply go to the Wallet app and select Add a Card. For iPad, go to Settings > Wallet & Apple Pay > Add Card.
To make an instant transfer to a debit card, follow these steps:
First, go to your card info.

On iPhone, you will open the Wallet app, select your Apple Card card, choose the More button (three dots), and select Transfer to Bank.

With an iPad, go to Settings > Wallet and Apple Pay > [Your Apple Cash card] > Transfer to Bank.

Either method, you will then enter the amount you want to transfer and select Next.
Select Instant Transfer.

If you have yet to add an eligible debit card, you can select Add Now to add a Visa or Mastercard. Follow the onscreen instructions.
Select Transfer and then tap > to choose your debit card that will receive the transfer. You will then select your billing information for the chosen card.
Users should receive the funds within 30 minutes of the request. Users that do not receive their transfer after two hours should get in touch with Apple support. It's important to note debit card transfers do require you to use the address that is associated with the card.
Apple Cash Transfer Limits
When it comes to transferring money, users should be aware that there are several limitations to this feature. When it comes to transferring money to your bank account or debit card, the minimum you can transfer is $1, or the full balance of your Apple Cash if it is less than a dollar. Users can transfer up to $10,000 within a single transfer, which applies to both a debit card and a bank account. It's important to note that users can only transfer up to $20,000 within seven days.
If you are part of the Apple Cash Family plan, the one-dollar minimum stays the same, but you can only transfer $2,000 in a single transfer, or up to $4,000 within seven days. Check the next section to learn more about fees associated with Apple Cash.
Users should be aware that transfers are only good within the U.S., as you will need a U.S. debit card. Apple Wallet is only operable within the U.S. Users must be at least 13 years old and part of an Apple Cash Family plan to transfer money to an eligible debit card or use Instant Transfer. If a user is not a part of the Apple Cash Family, they must be 18 to use these services.
Fees Associated with Apple Cash 
It is important to note that there are certain fees attached to Apple Cash features. For example, if a user decides to use Instant Transfer with their debit card, there is a 1.5 percent fee. This is deducted from the amount of the transfer, and the minimum fee is $0.25. The maximum fee is $15.
For those that transfer their money directly to their bank account, there is no fee. However, remember that this transfer may take one to three business days. Essentially, you get what you pay for, and choosing Instant Transfer is the faster, but pricier option.
Restrictions, Eligibility and Error Troubleshooting Apple Cash
If you're having issues transferring Apple Cash to your debit card or bank account, there are a couple of things to consider and try:
Ensure your device is up to date. This includes your iPhone, iPad, and Apple Watch. Go to Settings > General > Software Update to see if an update is available for your device.
Ensure your device supports Apple Pay. If you're using an iPhone, it will need either Face ID or Touch ID. However, an iPhone 5s is not compatible. Your iPad Pro, iPad, iPad Air, or iPad mini will need Face ID or Touch ID. For Apple Watch, you will need an Apple Watch Series 1 or later.
Ensure that you have a connection to Wi-Fi or cellular. Check your connections, and make sure your device is not in Airplane Mode.
Do not use accent marks whenever you are entering your name.
Remember that that are limits to transfers. The minimum is typically $1, and the maximum per transaction is $10,000 or $2,000 if you are on the Apple Cash Family plan.
When using Instant Transfer, your billing address must match the one associated with your card.
If you are transferring money through the one to three days business transaction, you must use an eligible U.S. bank account with the correct account and routing number information. Contact Apple Support if you believe you entered your information incorrectly.
Use Siri to Send Apple Cash
By now, users should know that if they want to send money to other individuals, all they need to do is tap the Apple Cash button in Messages, enter the amount they want to send or request on their keypad, and then select Pay. However, some users may not know they can use Siri to send Apple Cash. With Siri, users only need to say something such as "Send 15 dollars to Jeff Butts using Apple Cash" and then select send.
Even better, Siri can help you find locations and businesses that accept Apple Pay. For example, you can say, "Hey Siri, show me bookstores that take Apple Pay", and Siri will provide you with the details.
Apple Cash vs Apple Pay
Something that may be confusing to users is the distinction between Apple Cash and Apple Pay. While they sound like they would be the same, they are uniquely different. Essentially, think of Apple Cash as a digital credit card that allows you to transfer money between friends and individuals, including merchant payments. Users can use their Apple Devices to make these payments and transfers.
On the other hand, Apple Pay allows users to make online and in-store purchases with the debit and credit cards associated with their Apple Wallet. To boil it down, Apple Cash is like having another card for your Apple Pay options. This allows them to work -hand-in-hand for seamless transactions, though you do not need Apple Cash to use Apple Pay.
For a brief explanation, think of it like this: Apple Pay helps your device make digital payments, Apple Card is a physical and digital credit card and Apple Cash is similar to a prepaid debit card within Apple Wallet.
Apple Card Integration
Users should be aware that in addition to Apple Cash and Apple Pay, the company provides a credit card backed by Goldman Sachs. Users need to apply for this card, and it will depend on a variety of factors to be accepted. Not only are users able to load their Apple Card into Apple Pay to make digital purchases, but they also receive a rather sleek physical card as well. Users can receive daily Cash Back on their purchases, which they can put into a high yield Saving account.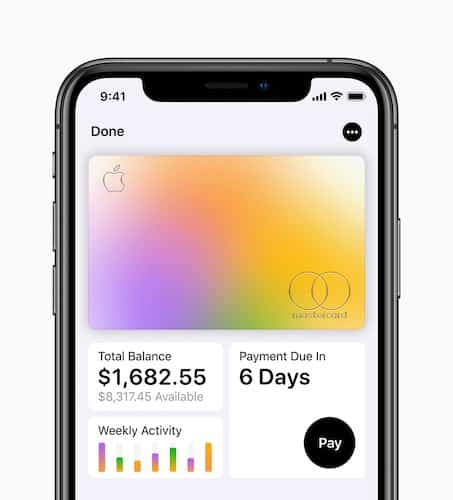 Users can apply for the card directly through the Wallet app by going to the app and tapping the + button in the top-right corner. They can then simply select Apply for Apple Card from the pop-up window. Users will receive an answer if they qualify in minutes, and there are no annual, foreign, or late fees.
Conclusion
In the end, Apple Cash can be a great way to send money to friends or local merchants. Additionally, Apple Pay makes it easy for users to have their device send contactless payments to any business that accepts it. Apple Pay can be a great payment option for those with compatible devices. An incredibly simple process, there are plenty of mobile payment features to get users to easily make payments and transfers. The only real major downside currently is that the program is limited to the U.S. Some may not be a fan of the fees associated with Instant Transfer, though the cost in fees simply makes the process faster.
For those that constantly need to send money to people, or simply are looking for an easy way to make payments online or without using a physical card, Apple Cash and Apple Pay are some of the best solutions. Those with a family can ensure that anyone under 18 is spending their money responsibly. Those with eligible devices can get the most out of these features by using Apple Cash alongside Apple Pay and even the Apple Card. This service can certainly be one of the ideal options for sending and receiving money amongst friends and businesses.
Frequently Asked Questions
What's the Difference Between Apple Cash and Apple Pay?
The easiest way to remember the difference between Apple Cash and Apple Pay is that users should think of Apple Cash as a digital debit card: you can load money onto this card to send and receive amongst other Apple Cash users. Apple Pay, on the other hand, is a method of securely paying for goods and services either in-store or online using any debit or credit cards associated with your digital wallet.
How Long Does Money Take to Transfer From Apple Cash? 
When transferring money from Apple Cash to a bank account or a debit card, remember that you can send money to your bank account for free, though it will take one to three business days. This means no weekends or Federal holidays. If using a debit card, including pre-paid debit cards, there's an option to Instant Transfer, though users will receive a 1.5 percent fee. This fee can be no longer than $0.25, and no higher than $15.
Is My iPhone Compatible with Apple Cash? 
Users can use iPad, iPhone, or Apple Watch with Apple Cash, though remember that your iPhone needs Face ID or Touch ID. For devices with Touch ID, users are not able to use the iPhone 5s. Users can use any iPad, iPad Air, iPad Pro, or iPad mini models so long as they have Face ID or Touch ID. Concerning Apple Watch, users simply need an Apple Watcher Series 1 or later to use Apple Cash.
Can I Refund Apple Cash or Make a Dispute? 
If you need to dispute an Apple Cash payment, you will need to cancel the payment before the other user accepts. If they accept the cash, you will have to ask for it back. Unfortunately, because Apple Cash is a peer-to-peer transfer service, successful transactions cannot be reversed. However, you can try to cancel the payment by going to the Wallet app, clicking Recent Transactions, selecting Payment twice, and then selecting Cancel Payment.

Users can get a refund from a merchant through Apple Pay. It will work similarly to the way you receive any other refund from a business. So if you are doing the refund in person, you may need to procure your Apple Pay card number by opening the Wallet app on your iPhone, tapping the card you used, selecting the More button, and then clicking your card number. Some merchants may not require this number. The money will go back to your card.