Full-featured RSS readers are essential to some people, but overkill to many more. Apple's Safari for iOS has a feature that should fill the void between "No feed reader necessary" and "All kinds of bells and whistles in a feed reader." Safari for iOS gives us this in a simple, bare-bones feed reader by the moniker "Shared Links."
What and where are Shared Links, and how does that turn Safari into a feed reader?
Shared Links is a tab that's been around since iOS 7, but it used to just support Twitter accounts. Since then, it's been greatly expanded to support RSS feeds in addition to your Twitter timeline.
To get to the shared links, just tap on the Bookmarks button at the bottom row of Safari. Next, tap on the tab with the "@" sign, and you'll be in your Shared Links. One of the first feeds that will show up in Shared Links, if you have signed into the social media network in the Settings app, is your Twitter timeline. I'm not sure this is the best use of Shared Links, but it was the only use for the service until recently.
All I see there is Twitter. How do I add more Shared Links?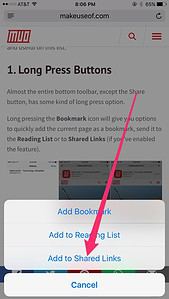 Curious how to add more to your Shared Links? Well, stand by, because I'm about to show you. Just long-press on that Bookmarks button, and a new menu will pop up. You'll see "Add Bookmark," "Add to Reading List," and "Add to Shared Links." You'll want to tap on that last one, and voilà, the RSS feed for the page you're looking at will show up.
Troubleshooting Shared Links
If Add to Shared Links doesn't appear, try going to an article on that site instead of the home page. The Shared Links option will often appear then. If not, an email to the site's administrator might be in order. Or, you might have to use a more full-featured feed reader for that particular site. One of our favorites is Reeder.
What other neat Safari tips and tricks can you think of? Let us know in the comments.