Every phone is linked with a unique alphanumeric code called IMEI or EID. It is like your phone's social security number. The IMEI is used to identify iPhone. Unlike SIM cards, IMEI cannot be changed. Let us learn how to find IMEI and EID on any iPhone model.
What Is an EID and IMEI?
IMEI stands for International Mobile Equipment Identity. It can establish device ownership, track the device, register iPhone with a network carrier, and block your phone when stolen.
The GSMA allocates a specific range of IMEI numbers for smartphone manufacturers. It is always 15-digit and often printed on a box or a booklet within iPhone packaging. MEID, or rather EID, stands for Mobile Equipment Identifier. Typically CDMA service providers such as Verizon and Sprint need MEID, while the others rely on IMEI. You also need to furnish MEID when linking an eSIM on iPhone.
How To Find EID and IMEI Numbers on iPhone?
It is always helpful to keep your EID and IMEI numbers handy. I suggest adding it to notes or store on iCloud. But before that, we need to find out the iPhone IMEI number.
Check the original packaging. Thankfully, the IMEI and MEID number is written on a booklet within iPhone packaging. But what if you don't have the box or bought a used iPhone? In such case, you can find it in iPhone Settings.
IMEI and EID number is needed in the following scenarios-
1. Whenever you want to claim device warranty.
2. Get an eSIM card on your iPhone.
3. Track and block a stolen iPhone.
4. Check whether your iPhone is eligible for repair or recall.
5. Law enforcement uses it to track persons of interest.
Find IMEI and EID Numbers From iPhone Settings Menu
IMEI and EID number details are available in the iPhone Settings. You can take a screenshot and save it on iCloud or note it down somewhere safe.
Time needed: 1 minute
Follow the steps below to find IMEI and EID number from iPhone Settings.
Open iPhone Settings. Scroll down and select General.

Tap on About to access all information about your iPhone. 

Now you will get to see IMEI, and MEID details. 
About menu is a great place to check all information about your iPhone. For instance, you can check remaining storage, serial number, ICCID (Integrated Circuit Card Identifier), and more. Did you know? Apple used to engrave IMEI on older iPhone models. It doesn't do it anymore.
Use Shortcut To Find IMEI and EID Details on iPhone
Interestingly there is a super easy way to get iPhone information. No need to delve into iPhone Settings. All you need to do is use iPhone keypad dialer. Simply dial *#06# and the device information will simply pop up. The method works on all iPhone and iPad (cellular) models.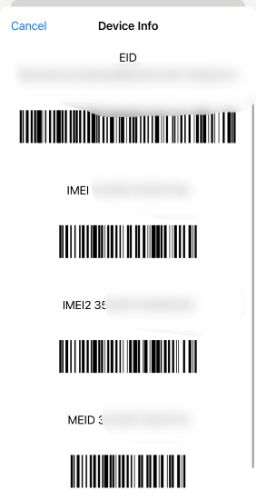 Get Details From Sales Invoice
This method is useful if someone has stolen your iPhone. In such cases you can find IMEI number on sales invoice. Online stores usually send the invoice on your email ID. Furthermore, you can reach out to them and ask for the same. The invoice also comes in handy while reporting theft or while reselling your iPhone.
Contact Apple Support for Assistance
As a last resort you can contact Apple Support. They will promptly help you with all the details. Before doing that, they will verify whether you are the rightful owner. So you may have to authenticate using Apple ID or other purchase information. Apple will not charge anything in such cases.
We hope the article is helpful you have noted down IMEI and EID number for your iPhone. If not, follow the steps in this article. Let us
1. What are EID and IMEI numbers on an iPhone?
IMEI is a unique 15-digit alphanumeric serial number on iPhone. EID is a identity number that is useful for setting up an eSIM on iPhone. 
2. Why do I need to know my EID and IMEI numbers on my iPhone?
IMEI and EID number is useful when you want to track lost phone, claim warranty, wipe data remotely, and setup a eSIM.
3. Where can I find the EID and IMEI numbers on my iPhone?
There are multiple ways in which you can find EID and IMEI on iPhone. You can use dealer shortcut, or open the Settings menu. Refer the article above for more info. 
4. How can I protect my EID and IMEI numbers on iPhone?
Do not reveal EID and IMEI number to anyone unless absolutely necessary. If you are posting or sharing a screenshot in public forum, make sure to blur the EID and IMEI numbers. 
5. Can I Change my EID and IMEI numbers on my iPhone? 
The IMEI and EID is assigned by the manufacturer to your device. It is permanently encoded and thus you cannot change it.