One thing I liked when I first shifted from Windows PC to Mac is the big difference when it comes to the sound quality of their built-in speakers. When I was using a Windows PC, I always needed to have good-quality external speakers.
But when I shifted to Mac, I didn't bother to buy external speakers for a long time. I only bought an external speaker when I wanted to hear even better sound quality. If you're planning to get external speakers because you feel that the quality of your Mac's built-in speakers is starting to wane, think again.
External speakers may not yet be your best option. You might want to consider using equalizer software to improve the sound quality of your Mac. So, we've curated the best equalizer software solutions for Mac to help you choose the right one to get.
Know Something About Software Equalizers First
Software equalizers are programs that let you adjust your Mac's audio. By this I mean putting more or less bass, treble, and other sound presets. This means that aside from the default audio quality of your Mac that you probably didn't bother to adjust, you can make it boomier, sharper, crispier, louder, wider, and more.
Compared with amplifiers, equalizers let you apply adjustments to audio using software instead of physical knobs. And with the increasing power of your Mac's audio, many software equalizers enable more advanced sound adjustment capability. These include 3D audio processing, adding audio effects, and any other enhancements that you can imagine.
Best Free Equalizer Software for Mac
Mac Music Equalizer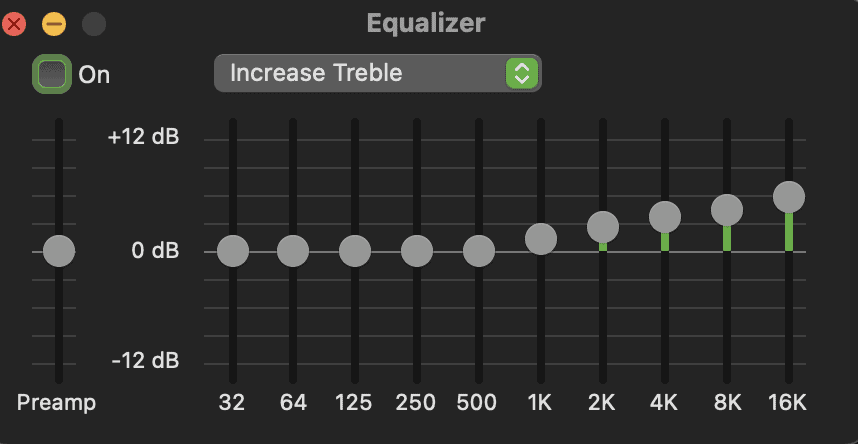 In case you're not aware, your Mac comes with a built-in software equalizer. You can access this on the Apple Music app. It's a simple equalizer, but Apple made sure that it does the job. If you want to, try it out right now, adjust various audio settings, and listen to music on your Mac.
Observe the difference in the audio when you adjust one setting after another. If that satisfies you, then you can stop reading from here.
However, if after using the built-in Mac Music equalizer, you're still clamoring for better audio quality, then you can proceed reading to find out the rest of the best equalizer software for Mac.
Availability: Free
Pros
Since it's pre-installed on your Mac, this software equalizer won't take up space or resources.
Easy to use.
Simple, plain user interface.
Cons
Very few equalizer features.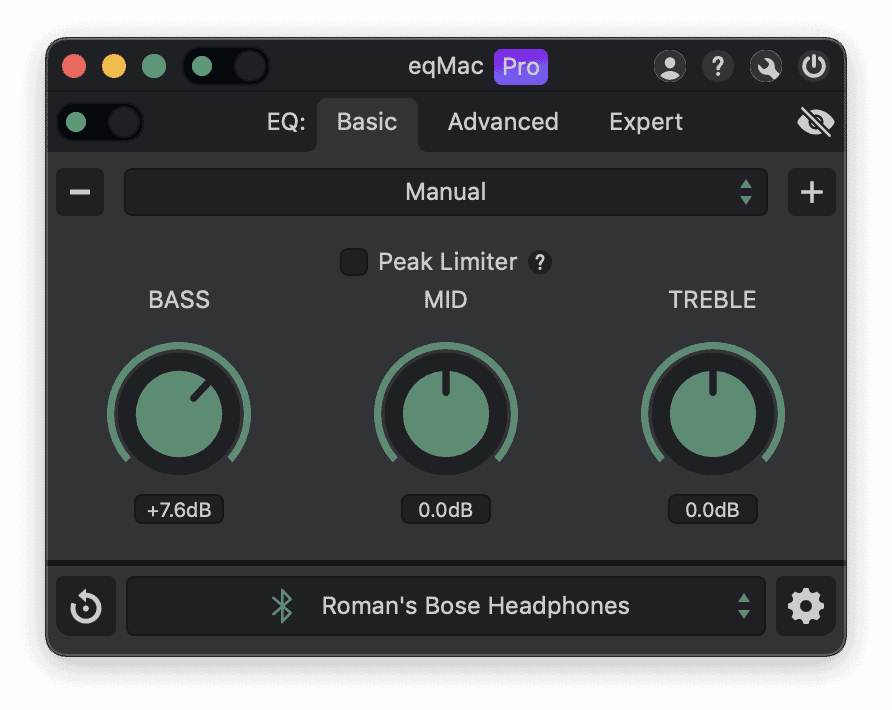 Another freely available equalizer software for Mac is eqMac2. Possibly the simplest equalizer software second to the Apple Music Equalizer, eqMac2 provides the most basic options when it comes to audio quality enhancement of your Mac.
It's a 10-band equalizer with plenty presets that you can use. eqMac 2 also serves as an audio booster for your Mac and it even comes with an audio balance knob. It also has a toggle for bass, mid, and treble levels.
Now, if eqMac2 and Apple Music's Equalizer don't get you excited, it's time to move to the more advanced equalizer software for your Mac that is available for a fee.
Availability: Free
Pros
Easy-to-use interface.
Free and open-source.
Advanced sound controls.
Cons
Minor glitches when switching audio source.
➡️ Get eqMac2
Best Paid Equalizer Software for Mac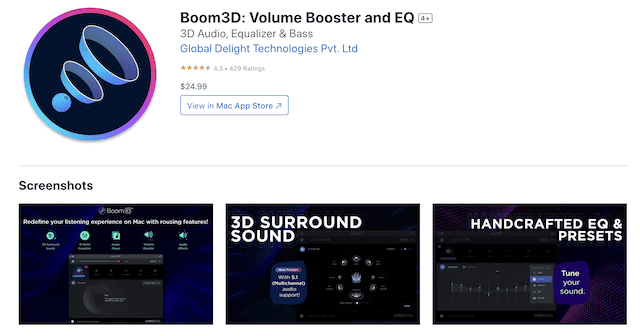 As the best overall software equalizer for Mac, Boom3D offers some extra options that can greatly enhance your computer's audio quality. These include 3D surround, Ambience, Fidelity, Night Mode, Spatial Audio, and Pitch adjustment. It also serves as a volume booster for your Mac's underwhelming audio volume.
For its equalizer functions, you'll be glad to know that it has tons of presets that you can use to adjust the audio quality of your Mac suited to your preferences. And with its simple-to-use interface, you can easily use these presets with the slide of your finger.
Simply put, it would take a full review to cover all the features of Boom3D. But to sum it all up, Boom3D simply puts the control of the audio coming out of your Mac to you.
Availability: Free trial version for two weeks, offers Premium Version for $29.99.
Pros
Offers tons of features.
Multi-platform support.
Easy to use.
3D audio features.
Cons
The free version is limited to two weeks trial only.
➡️ Get Boom3D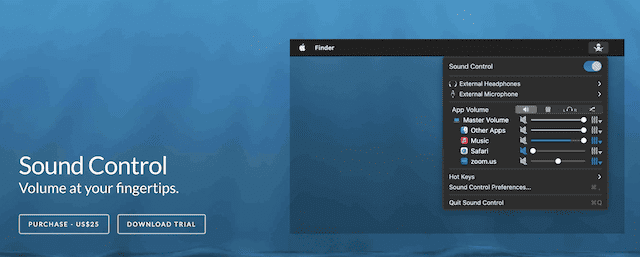 This is yet another good equalizer software for Mac that lets you apply system-wide audio enhancement as well as adjust sound volume per app that you use. Sound Control adds a software mixer to the menu bar of your Mac, allowing you to easily change app volumes and apply a system-wide equalizer to app audio.
Additionally, it adds a software equalizer to your audio output. Hence, you will be able to tailor the sound of your Mac's audio to your specific needs and preferences. This will also help you calibrate the audio based on the frequency response of the speakers that you use.
Availability: One Time Purchase for $25
Pros
System-wide EQ with 10 or 31-bands.
Easy control via menu bar item or hotkeys.
Independently route app audio to different output devices.
Cons
No free trial version available.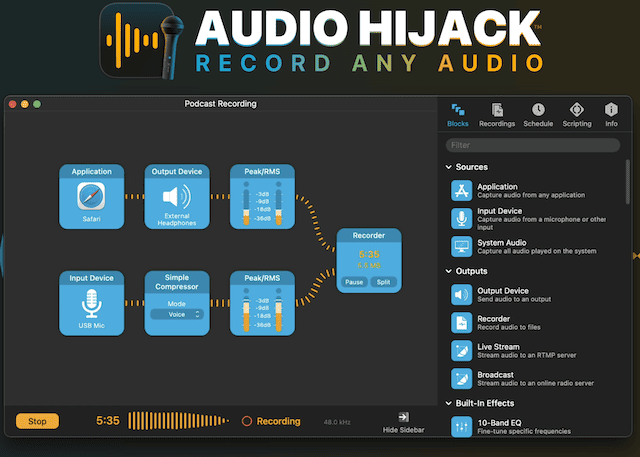 I intentionally saved the best for last — Audio Hijack. Apart from being geared toward more professional users, Audio Hijack provides a feature that lets you record audio from various input devices and different apps. It also allows you to modify the frequency of the input audio and output audio from different devices that are connected to your Mac.
With its 10-band equalizer, you can configure the audio outputs from headphones, speakers, and others. But what's more important is that Audio Hijack lets you boost the audio output of the built-in speakers on your Mac.
Finally, Audio Hijack has tools for recording audio streams, making it a perfect tool for podcasters and streamers for recording their tracks.
Availability: One Time Purchase for $64
Pros
Audio recording functionality.
Customization of audio output.
Can be used for live streaming.
Can record audio streams.
Cons
Expensive license fee.
Not too many equalizer features.
Final Words: How to Choose the Best Equalizer Software for Your Mac
When it comes to equalizer software for Mac, there seem to be not too many choices. That's probably because the Mac has good built-in speakers that can provide audio quality that is good enough for most users.
Still, that should not stop you from wanting to improve the audio that's coming out of your Mac. If that's your reason for looking for equalizer software, you can certainly find one or two good options from this round-up.
Now, if you want to use your Mac as a powerhouse recording machine, then you will need equalizer software with highly advanced features. There are one or two good options on this list as well.
The bottom line is, your ultimate selection depends on why you want to enhance the audio quality of your Mac.