If you're an avid mobile gamer, you've probably passed the stage where you enjoy playing games on your iPhone or iPad using touchscreen controls. That means you already got yourself a game controller and connected it to your iOS device. There are many controller-supported games available on the App Store, allowing you to use a game controller if you have one, whether an Xbox or PlayStation controller. If you're just getting into mobile gaming on your iOS device, here are the top 10 controller-supported games for iOS that you can download to get your mobile gaming on.
Minecraft – Top Controller-Supported Simulation Game for iOS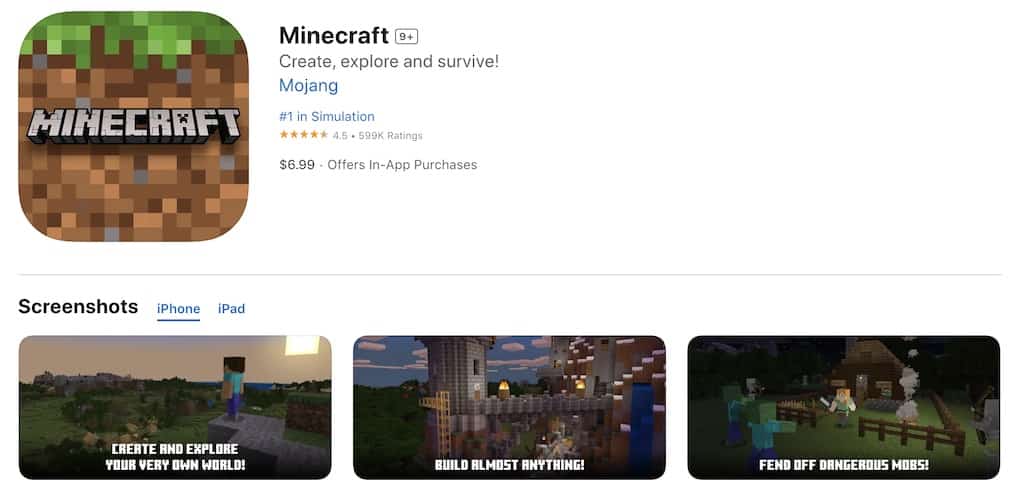 What better way of starting this list than with the number one game in the simulation strategy genre, Minecraft. In case you're not aware, Minecraft lets you explore infinite worlds, and build awesome structures such as castles, mansions, fortresses, and more through the game's notable feature known as the Creative Mode.
For simple fun and no-nonsense gaming experience, you can either explore the world of Minecraft or play with friends and family through multiplayer mode. Simply put, Minecraft is a great game that will definitely get you hooked the moment you start playing it on your iOS devices. And yes, using a game controller definitely adds more fun when playing the game.
Availability: $6.99, Offers In-App Purchases.
Pros
Massive gaming world environment with endless areas to explore.
The Creative Mode challenges your creativity.
The Survivor Mode is equally exciting to play as well.
Cons
The iOS edition tends to lag behind when it comes to updates.
You can't join third-party Minecraft servers.
When it comes to arcade-type car racing games, the Asphalt series is definitely one of the top franchises. I've enjoyed playing various Asphalt games on different platforms before, including on my old iMac. I simply love this car racing game, despite its tendency to become too unrealistic at times. But, hey it's an arcade-type racing game, so expect the unexpected to happen when it comes to gameplay.
For its ninth iteration on iOS, Asphalt 9: Legends has enjoyed a massive player base since it was released. Asphalt 9: Legends is feature-packed and could definitely eat up much of your gaming time, trying to complete all the races in either single-player career mode or online multiplayer mode.
Availability: Free, Offers In-App Purchases.
Pros
The editor feature for customizing your cars is fun.
Features more than 150 cars that you choose to drive and race.
Has more than 80 entertaining and realistic tracks to race on.
Cons
Implementation of the Always Online feature can be improved.
The lack of realism may turn off some players.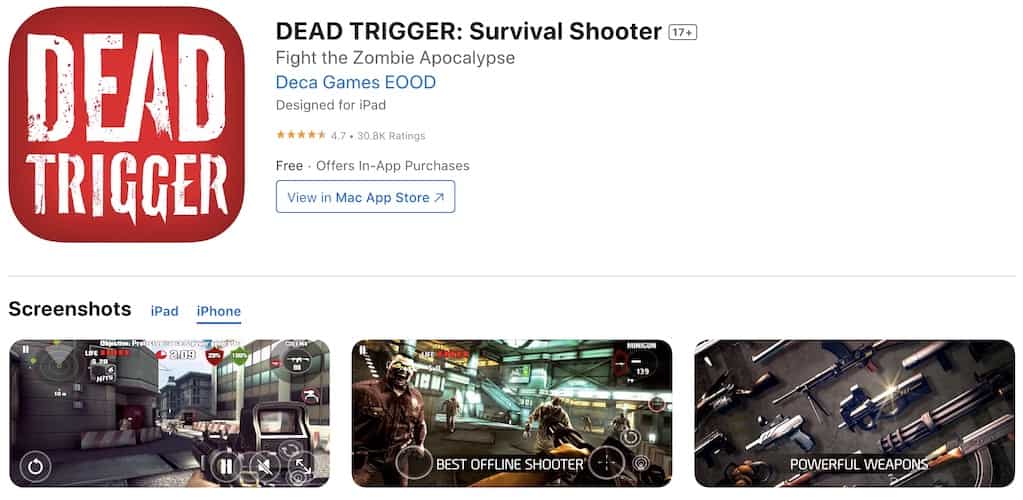 For fans of first-person-shooter (FPS) games and zombie apocalypse settings, Dead Trigger 2 is the game for you. In this survival game, you must use your wits in building safe hideouts and fighting off zombies to win the game.
Dead Trigger 2 features 10 different game locations and 30 battle areas. In addition, Dead Trigger 2 offers more than 600 gameplay scenarios and almost 70 types of weapons that you can use to kill the undead.
Availability: Free, Offers In-App Purchases.
Pros
Features high-octane, exciting gameplay.
Feature-packed that will get you hooked into playing non-stop.
Cons
Lack of opportunities to buy game upgrades (surprisingly!)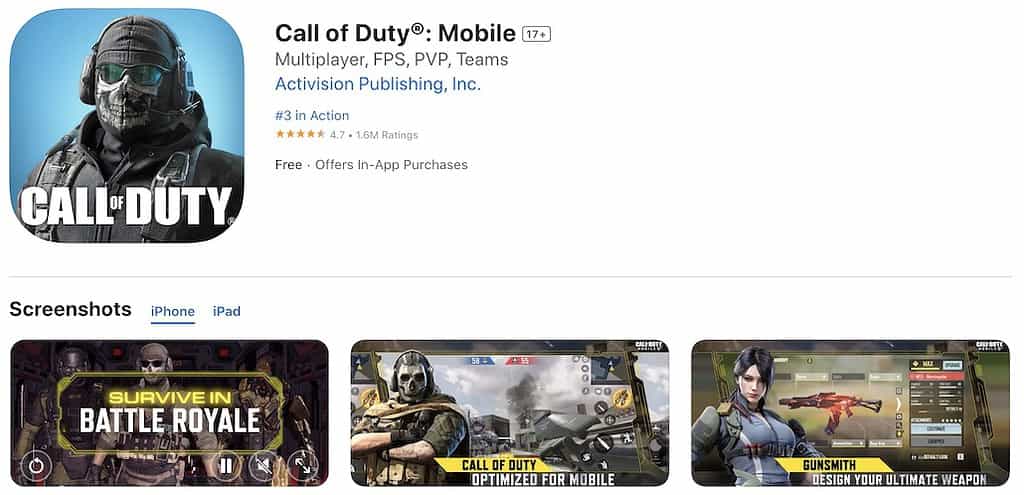 The Call of Duty game franchise does not need a longer introduction. It is easily one of the most popular game franchises today. For its mobile iteration, COD offers a console-like gaming experience even on the smaller screen of your iPhone. Call of Duty: Mobile features tons of goodies to unlock as you play the game.
These include famous COD characters, awesome outfits, tons of weapons that you can use, and other gear that you can pick up along the way. The game lets you play the classic multiplayer maps or team up with your friends in the 100-person battle royale survival map. Call of Duty mobile is simply the best multiplayer controller-supported game for iOS.
Availability: Free, Offers In-App Purchases.
Pros
Unlocking famous characters, outfits, and weapons adds more value to the game.
Console-like gaming quality, including 3D graphics.
Cons
The progress tracking feature needs to be improved.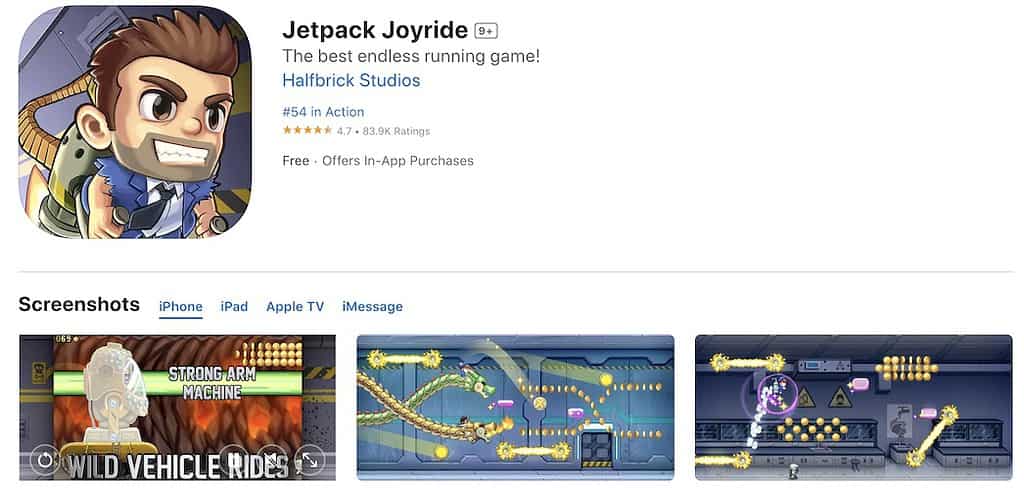 Here's another classic game that I enjoyed playing before, Jetpack Joyride. In case you haven't played this game before or are not familiar with it, it's an endless runner game. But what makes it more exciting and fun to play is the variety of weapons and other items that you can pick up and use along the way.
Also, when it comes to graphics, Jetpack Joyride is definitely a feast for the eyes and doesn't tend to get boring even if you play it for a longer time. Jetpack Joyride recently added support for game controllers, making it even more fun and engaging to play.
Availability: Free, Offers-In App Purchases.
Pros
Features a variety of jetpacks.
A variety of missions will challenge you.
Features special events.
Cons
The free version lacks customization features.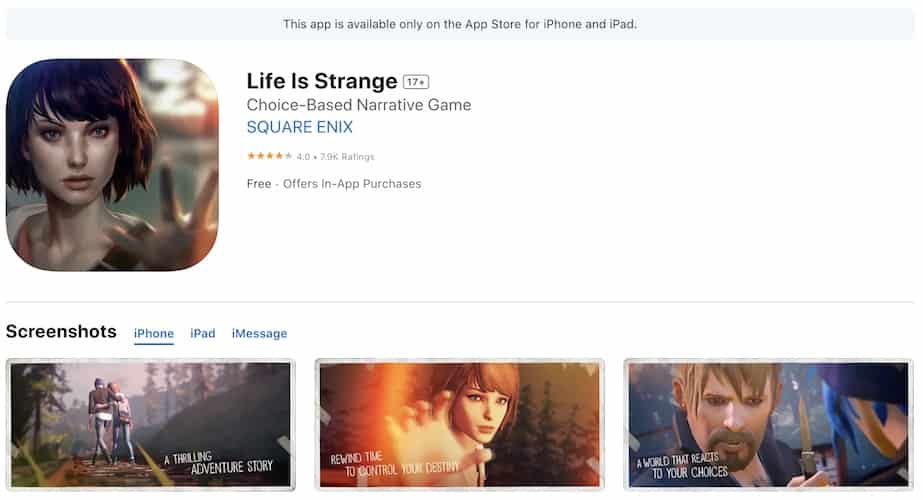 If you enjoy playing mobile games that challenge your decision-making skills, then Life is Strange is a great game option for you. Published by Square Enix's European branch, this graphic adventure game consists of five episodes that offer you a series of story-based choices.
Life is Strange allows you to manipulate time by altering past and future events to influence the present. Adding interest to the game is the hand-painted visuals of the game environment.
Availability: Free, Offers In-App Purchases.
Pros
Story-based choice.
Beautifully designed hand-painted visuals.
Cons
When rewinding time, the game tends to get buggy sometimes.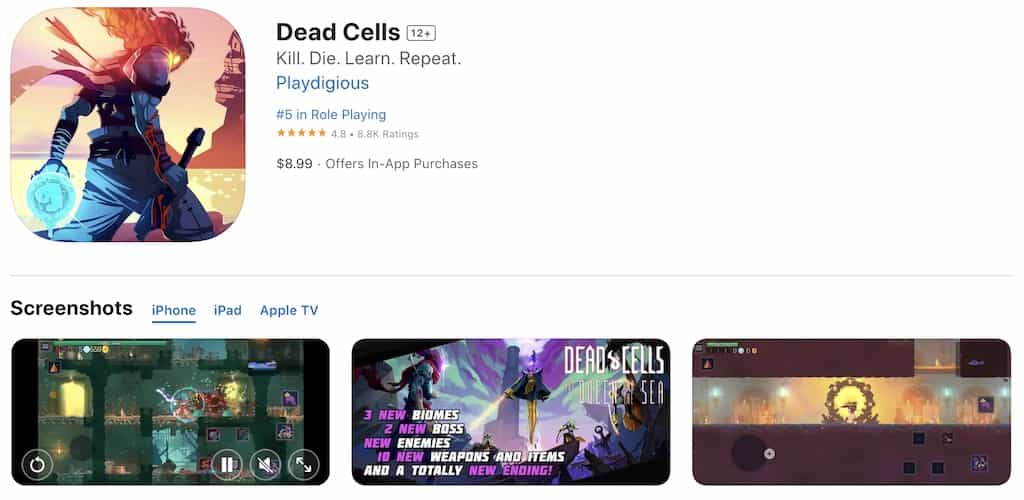 This action platformer in a 2D combat environment caters to a special type of gamer. I mean, it's not like a 3D action platformer that anybody can pick up and possibly enjoy. So, if you enjoy playing this game genre, you will surely enjoy playing this controller-supported game called Dead Cells.
First released on PC and consoles, Dead Cells iteration on iOS is equally entertaining, engaging, and challenging. Dead Cells feature nonlinear progression, which adds more depth to the game as a whole.
Availability: $8.99, Offers In-App Purchases.
Pros
The Rougevania gameplay is both challenging and fun.
Seamless 2D combat.
Neat controls work well with supported game controllers.
Cons
Controls may not always work.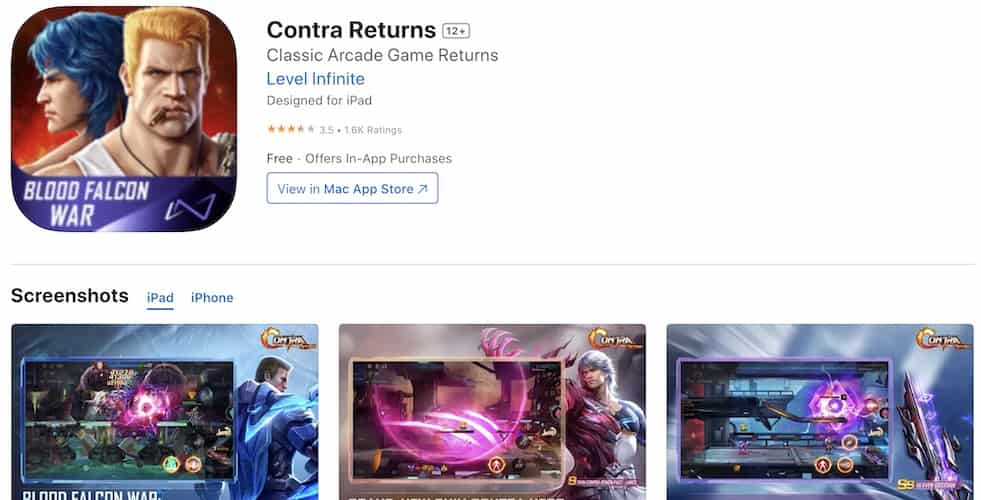 Contra is another classic game franchise that needs no further introduction. Its iOS version, known as Contra Returns, features the same side-scrolling run-and-gun shooter gameplay the game franchise is well known for.
Contra Returns also features a two-player mode and of course, a final boss that will surely challenge you to beat the game even if you fail to do so several times. Additionally, Contra Returns features the soundtrack from the original series, making the game more interesting, especially for long-time Contra fans.
Availability: Free, Offers In-App Purchases.
Pros
Excellent side-scrolling gameplay.
Multiplayer online battle adds gameplay variety.
The original series soundtrack adds sentimentality to the game.
Cons
The free version is very limited.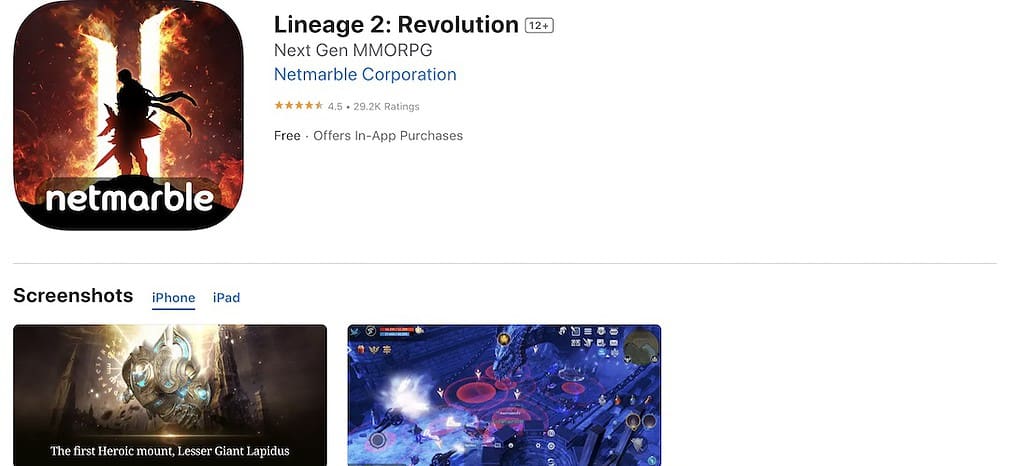 Lineage 2: Revolution is possibly one of the most underrated massively multiplayer online role-playing games (MMORPG). Surprisingly, it's free and comes with a beautifully designed game environment with a great graphics engine. Lineage 2 has all the bells and whistles that you would look for in an RPG.
It features a massive variety of skills and races that you can choose from while at the same time, it also gives you the ability to create your own race. Simply put, this game could take a lot of your time if you get hooked on playing it. It's a massive game and you've been warned.
Availability: Free, Offers In-App Purchases.
Pros
Features 50-vs-50 fortress matches.
Lets you play against 200 players online.
World exploration is equally entertaining.
Beautiful and stunning graphics.
Cons
Since it's an online game, you might experience freezing issues from time to time.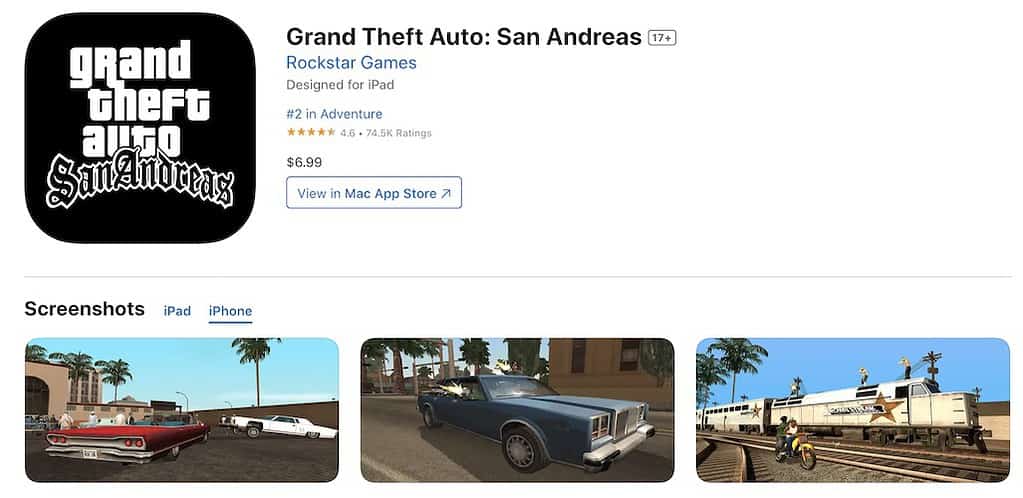 Finally, I saved the best for last: Grand Theft Auto: San Andreas. I played this game countless hours on PlayStation 2, and then picked up the game again when I bought a PlayStation 4. I mean, who would get tired of beating up thugs just to drive cool cars?
All kidding aside, the GTA game franchise is easily one of the most successful game franchises in the history of gaming. Rockstar, the game developer, released Grand Theft Auto: San Andreas for iOS to celebrate the company's 10th anniversary. The game's story-driven gameplay will simply get you hooked into beating the game in one sitting.
But of course, its replayability factor is also high, so you'll soon find yourself playing it again and again. And what better way to enjoy driving cars around than using a game controller?
Availability: $6.99.
Pros
The story-drive gameplay is deep enough to keep you engaged.
Graphics-wise, this game definitely excels on iOS devices.
Offers massive hours of gaming.
Cons
The game may tend to get sluggish once in a while, just like the PlayStation version.
➡️ Get Grand Theft Auto: San Andreas
Final Words
There you have it folks, the top 10 game controller-supported iOS games that you can pick up and play either on your iPhone or iPad. If you're using an Xbox or Playstation controller together with your iOS device, all of these games will let you use them.
Please note that these are just 10 of the most popular and widely played controller-supported games for iOS. There are definitely a lot more out there that may be equally engaging, fun, and exciting games. But if you don't have the time to browse the App Store, then any of the games on the list will surely give you a good mobile gaming time.