For those looking for a Mac alternative to Rufus in order to help them make their own bootable USB drive, I'm going to offer up some super cool alternatives. While many users may not often consider a bootloader, this is often because they typically serve a background role. Bootloaders primarily help with getting an operating system going, and one of the more popular ones for Windows machines is Rufus.
For those that don't know, Rufus is an open-source app that allows users to create bootable USB drives for their Windows machine. Many praise it for being incredibly easy to use, while also giving it high-marks for being open-source. Making the process of creating a bootloader for Windows super straight-forward, many Mac users often wonder if it is available for Mac.
Can I Get Rufus to Run on My Mac?
While a lot of users have high praise for the app, it's unfortunately only available for Windows. Additionally, it doesn't seem that the developer has any plans of releasing the program for Mac or Linux any time soon. On the bright side, this has little to do with the developer's opinions on these operating systems, and more to do with time constraints. In fact, the developer of Rufus has even suggested that since the app is open-source, a user with a dedicated amount of time could port the app themselves.
What Are Good Alternatives to Rufus for a Bootable USB?
With that in mind, let's take a look at some of the best USB bootloaders currently available for Mac. Keep in mind that some of these apps are for older versions of macOS, which can still be quite helpful.
Etcher by Balena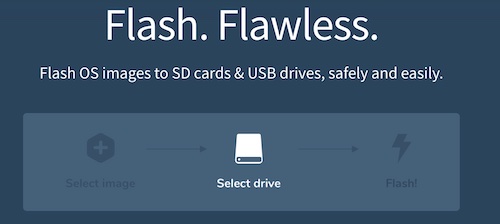 Etcher by Balena tops our list for a variety of reasons. In addition to being open-source, many also compliment it for being incredibly easy to use. Typically, all you have to do is select your image, then select your drive and then flash it. Additionally, users also don't need to know how to navigate the command-line to use Etcher, and it also provides support for being able to flash up to 16 drives at once.
Users should know that Etcher is going to work with macOS Yosemite and later. However, Etcher is also great in that it is able to work with Windows and Linux as well. This can be an awesome alternative to Rufus, and one potentially everyone should check out.
You can find Etcher here.
UNetbootin

Another great Rufus alternative is UNetbootin. Originally designed for Linux-based boot drives, UNetbootin is great for those that are missing Rufus in their lives. The program is also cross-platform, and works for Windows devices as well. Additionally, the program is also rather easy to use. All a user needs to do is select an ISO file or distribution, select the USB drive (or hard disk) and then make sure to reboot when they are done. It's really that easy.
However, some of the downsides is that UNetbootin doesn't feature support for SD cards, nor is it able to use multiple boot images from a single hard drive. However, the software is free, so you can give it a try if you like. The program also has its own Wiki if you have any questions or need to do further research.
You can find UNetbootin here.
Deepin Boot Maker
Another popular choice is Deepin Boot Maker, developed by Deepin Technology Team. Straightforward and lightweight, this can be a great alternative to Rufus for those that are looking to keep things simple. Another open-source app, a great thing about this development team is that they also offer a wide variety of other products, which many may have an interest in checking out.
While the forum for Deepin Boot Maker is in Chinese, there is one available if users have any questions. Considering that the app is also free, it's worth checking out for those that are looking for a simplified means of making a bootable USB drive.
You can find Deepin Boot Maker here.
DiskMaker X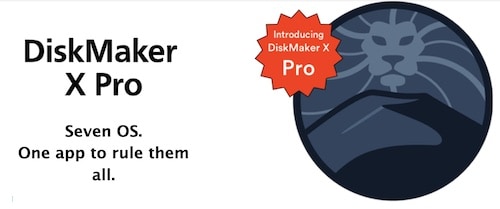 If you're using an older version of macOS, or are using an older Mac in general, a highly popular choice is DiskMaker X. While it unfortunately no longer supports macOS Big Sur or later, and also doesn't support Catalina, many have given it high-praise for its ease of use and functionality. Written using AppleScript, the cool thing about this app is that it searches for macOS install promos using Spotlight. Once found, it instantly creates a bootable disk.
While the developer has unfortunately abandoned the project due to issues with AppleScript, this can still be a great choice for those that use older devices. If you're on a legacy device, this app can be particularly useful for creating a bootloader for your Mac.
You can find DiskMaker X here.
Which One is the Best?
Personally, out of all of these on the list, I would recommend Etcher. The ease of use, combined with adaptability and features makes this one a sure-fire win for anyone looking to create a bootable USB drive for their Mac. While the others all have their merits, I think Etcher offers the most. However, many of these selections are free, so you can try any or all of them out and see what your preference is.
Alternatives to Rufus to Create Your Own Bootable USB for Mac
If you're in need of a program that can create a bootable USB for you, Mac users are simply going to have to wait and hope Rufus one day makes it to the Apple-ecosystem. While you likely shouldn't hold your breath for this day to arrive, there are some alternatives out there. Of course, don't forget to get your copies of macOS from the official Apple source.
Having a bootable USB drive can be a great time-saver, or can even help avoid headaches later down the road. It's not a bad idea to keep one around just in case things go south for your device. Of course, they can also be particularly useful if you have to take care of multiple devices at once. While Apple fans shouldn't expect to see Rufus anytime soon, that doesn't mean there aren't other options available.