Apple product users often work cross-platfom. So it's good to know what's going on over on the Microsoft side when it comes to Surface PCs. Here's a quick guide to the Microsoft Surface family of products and how they compare to Apple's MacBooks and iPads. [All images via Microsoft.com]
Surface Pro. Apple customers are probably most familiar with Microsoft's flagship tablet, the Surface Pro. This family went though several numbered versions, culminating in the Surface Pro 4. Today, it's just the Surface Pro. (Don't you love it when companies do that?)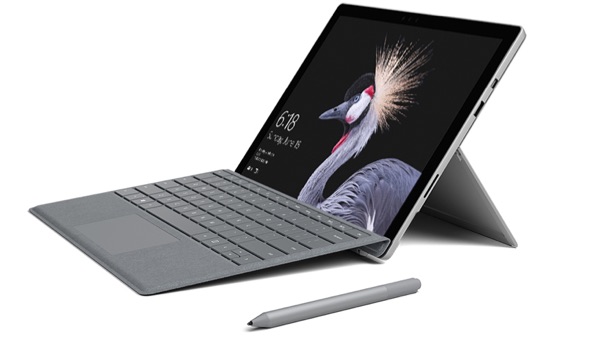 This tablet can have a 7th generation Intel Core m3, i5, or i7. Memory options are 4, 8, or 16 GB of RAM. Storage can be 128, 256, 512 GB or 1 TB. The display is 12.3 inches (2736 x 1824). Starting at $799, a fully loaded Surface Pro can become very expensive, more than $2,500. It ships with Windows 10 Pro. The weight is under 1.7 pounds, without he cover/keyboard. Think of it as, roughly, a 12.5-inch iPad Pro. As with iPad Pro, its often used with a keyboard and, perhaps, the Surface Pen (shown).
Surface Studio. This is another well-known product. It's basically a 28-inch iPad with a resolution of 4500 x 3000. It can have a Core i5 or i7, up to 32 GB of RAM, up to 2 TB of storage. Starting at $2,999, a fully loaded Studio can also be pricey, about $4,200. It also ships with Windows 10 Pro.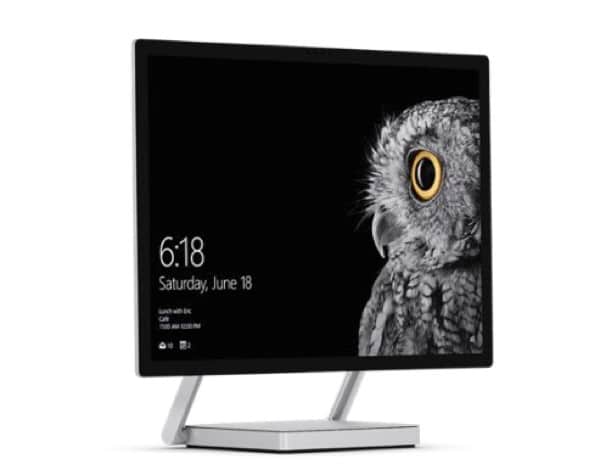 Microsoft made a big fuss about this new Surface product at launch, and it doesn't really have an analog in the Apple family of products. See: "Microsoft Just Announced the iPad I Always Wanted – Surface Studio." It has all kinds of innovations, such as a "Zero Gravity Hinge" and the Surface Dial.
Surface Book 2. This is basically a high-end notebook computer, on par with the MacBook Pro, geared to performance. Technically its also a convertible or 2-in-1), but is said to feel more like at notebook PC. It's available in 13.5-inch (3000 x 2000) or 15-inch displays (3240 x 2160). CPU options are i7 quad core or i5 dual core, RAM tops out at 16 GB, and storage is up to 1 TB. The 15-inch weighs in at 4.3 pounds. Pricing starts at $1,499, and, like a 15-inch MacBook Pro, can be loaded up at a cost of over $3,200.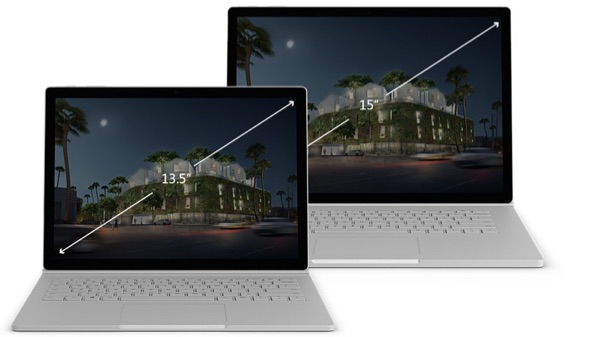 Surface Laptop. This is a mid-range notebook with a 10-inch (2256 x 1504) display. It's not a convertible, it's fairly light, and it can be compared to the MacBook Air. Accordingly, the price starts at $999 but can be as high as $2,199. It can support up to 16 GB RAM and up to 1 TB storage. CPU options are Core i5 or i7. Some reviewers think it's underpowered, but it's the kind of notebook that's easy to travel with because it's small and light (under 3 pounds.) That can make it very cool. See: "Wow, Microsoft Surface Laptop is $999 of Sexy." It ships with Windows 10 S.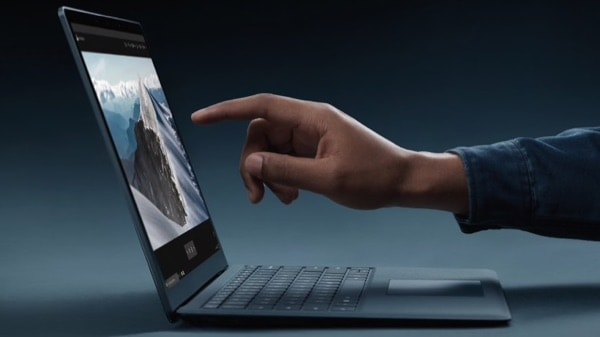 Surface Go. This is a new addition to the Surface family. It appears geared to education or budget-conscious owners because the price starts at $399. It uses a low end Intel CPU, suitable only for modest tasks, has a 10-inch (1800 x 1200) display, rather thick bezel, tops out at 8 GB RAM, and 128 GB storage. It's super-light at 1.15 pounds. It doesn't come with a keyboard (an extra cost option), and to get some reasonable  performance, one has to pay somewhat more. One can think of it, very roughly, as a 10.5-inch iPad Pro. Here's a review. It ships with Windows 10 S.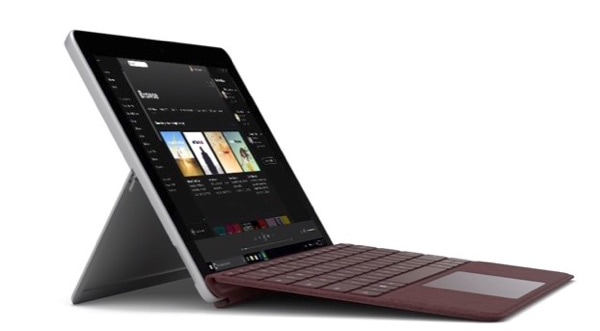 More Information
There is a lot more to know about these Surface products. Reviews are easy to find. Microsoft has a splendid comparison page where you can see multiple products compared in detail, side by side.
The goal here, however, has simply been to provide a thumbnail sketch of this growing family of Surface products and provide a rough comparison to Apple products.