It's time now to run a comparison of HEVC versus H.264 file sizes. Chances are, you've heard about the H.265 video codec, otherwise known as High Efficiency Video Coding (HEVC). You've likely heard that it is, in many ways, superior to H.264, its predecessor. If you hadn't heard about those factoids before, you have now, but they were first talked about in reference to the Mac during the macOS High Sierra announcement at WWDC 2017. HEVC is also the default recording mode for iOS 11 and macOS High Sierra. Any videos you record with your iPhone running iOS 11 will use the new H.265 codec. One of the goals of this new format is to create smaller files, but does HEVC live up to that claim?
The Test: Videos Created for Entertainment, not Evaluation
To gauge the file size differences between HEVC and H.264, I chose to use videos I'd recorded for other purposes. My reasoning is that I didn't want to record specifically for the test, since I might subconsciously do something that would favor one or the other. I figured it was good to use existing video shot for other purposes, to make the testing as objective as possible.
With that in mind, I chose three videos from my Photo Library: a night video of a drone flying and then landing (44 seconds), a slo-mo video of Dave Hamilton's son playing asparagus ninja (45 seconds), and a longer video of yours truly assembling a Raspberry Pi (seven minutes 23 seconds).
The H.264 File Sizes
To generate the H.264 files and then get their file sizes, I exported the videos as 1080p files from Photos on my macOS High Sierra installation. This gives you a .m4v file, encoded in H.264 to ensure compatibility with computers and mobile devices not yet compatible with the HEVC standard. Here are the file sizes:
44 second video drone_landing.m4v: 58.8MB
45 second slo-mo video asparagus_ninja.m4v: 51.2MB
7:23 video raspberry_pi.m4v: 590.1MB
What About H.265, the HEVC Files?
For the HEVC videos, I simply chose File > Export > Export Unmodified Original for the videos. This generates a .MOV file, maintaining the HEVC encoding. Here are the file sizes:
44 second video drone_landing.MOV: 22.1MB
45 second slo-mo video asparagus_ninja.MOV: 23.8MB
7:23 video raspberry_pi.MOV: 467.3MB
To visualize those size differences, look at the chart below. It's quite remarkable, because there is very little lost in the way of video quality. It's also strange that the longer video doesn't offer much improvement in the file size. However, that video is zoomed in on fairly intricate objects, which may explain the inability of the iPhone to encode it at a higher compression ratio.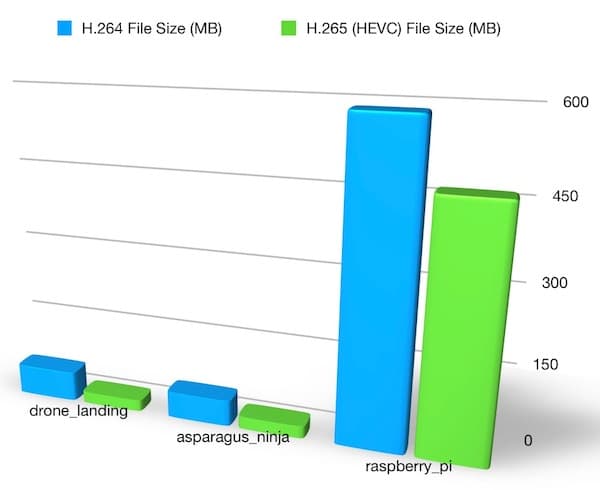 Summing Up HEVC Versus H.264 File Sizes
Compression isn't precisely twice as good with HEVC, but it's certainly a dramatic difference. The file sizes of HEVC files are consistently smaller, almost twice as small if not more than that. Since there's little to no quality loss, I can definitely make a strong argument for maintaining your videos in HEVC whenever possible. Hopefully, the new standard will become more widely-supported in the near future. It didn't take long for Cupertino get its own software up to the new standard, delivering iMovie for Mac does support HEVC with HEVC support the day macOS High Sierra released.