Dr. Mac's Rants & Raves
Episode #270
I used to love those iPhone car mounts that you stick in your car's CD player slot. Since I haven't listened to a CD since I subscribed to Apple Music, they were a sweet solution to the, "where do I put my iPhone in my car" dilemma. Those iPhone holders converted a nearly-useless slot in my dashboard into a an adjustable and secure iPhone mount.
Then, I got a different car. Sadly, its CD slot is directly above the touchscreen controls. I tried several different CD mounts, but every one of them blocked the screen.
So, for the past year or so, I've been driving around with my iPhone in the cup holder. I do not recommend or condone this, but it was the best I could do until….
I recently heard about the appropriately named iOttie Easy One Touch Wireless Fast Charging Air Vent Mount (once again on my favorite geeky podcast, MacGeekGab). I'd tried air-vent mounts in the past, but they always felt less stable to me than the good, old CD-slot mounts. I was a little leery at first, but I ordered one a couple of weeks ago.
I couldn't be happier; there's so much to like about this slick $49.95 gadget.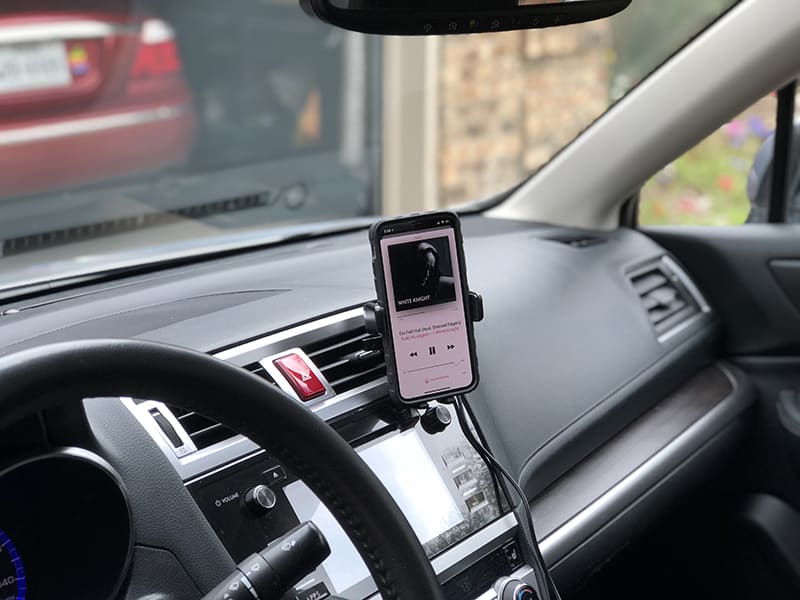 The Clamp is Solid and the One-Touch Mounting System is Superb
The first thing is its super-solid clamp, which grabs the air vent and feels as solid as those CD-slot car mounts.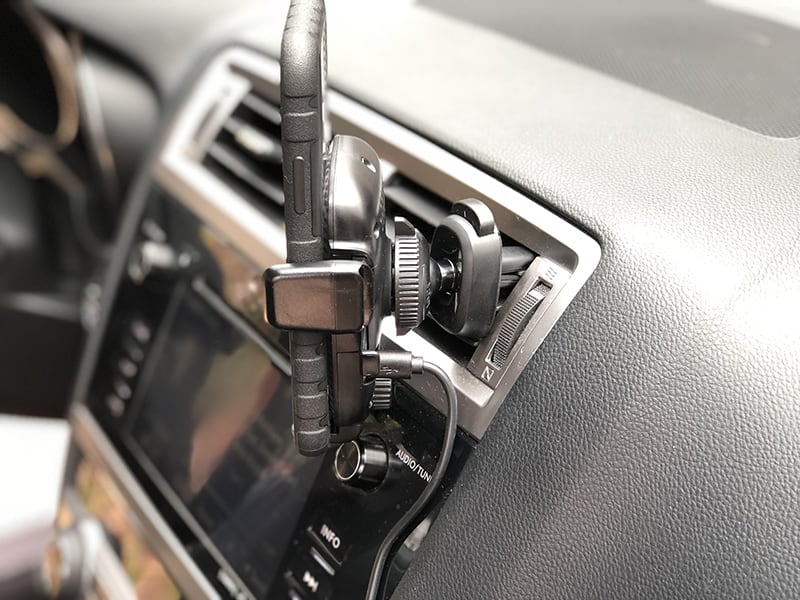 The second thing is the one-touch mounting system: When you place your phone in the cradle, the side arms automatically close and secure your precious device. I've had many car mounts over the years and this is one of the easiest to insert or remove your phone with one hand.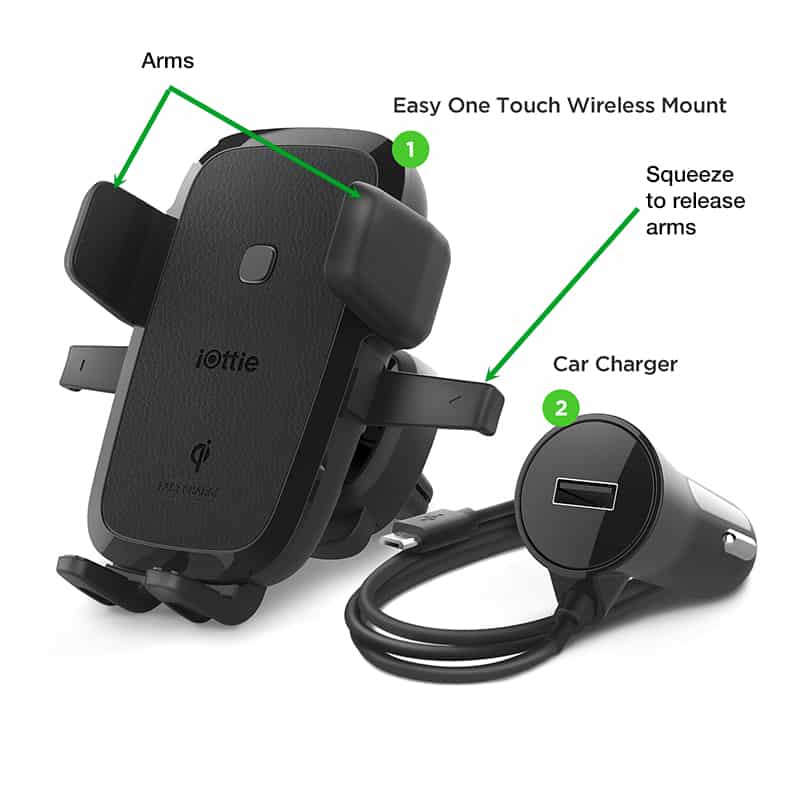 Wireless Charging isn't Fast, but it's still the Icing on the Cake…
The third thing I liked—a lot—is the built-in Qi charger. Just plug in the included 12V adapter and, as long as your phone supports wireless charging— including iPhone 8, iPhone 8 Plus, and iPhone  X—it will begin charging as soon as you insert it in the cradle.
While "Wireless Fast Charging," is the product's middle name, don't get your hopes up. It provides a faster charge (up to a 40% faster) on Fast Charge Enabled Devices. Sadly, the current iPhones are not "Fast Charge Enabled."
I was disappointed initially, but it wasn't a deal-breaker for me. It still charges just as fast as my desktop and nightstand Qi chargers, and that's all that matters.
One More Thing: It Makes Shooting Car Videos a breeze…
I did discover one additional unadvertised feature a few days after I got it: My vent is positioned in just the right spot to shoot video through the windshield (or the driver or passenger).
I can't speak to the safety or legality of this, I'm just pointing out that it can be easily done.
Bottom line: If you have a current-generation iPhone (i.e. Wireless Charging), this is the holder and charger you're looking for.
One last thing: While I didn't test them, the same device is also available with a CD or dashboard mount instead of the vent mount.
Link: iOttie Easy One Touch Wireless Fast Charging Air Vent Mount (Amazon)