If your love/hate relationship with Facebook has you ready to delete your account and walk away from the social network service, you need to follow the right steps. If not, you may be leaving your account and all its data on Facebook's servers. Read on to learn how to delete your Facebook account, or just deactivate it if you aren't ready to head down a one way path.
How to Delete Your Facebook Account
If you're really ready to turn your back on Facebook forever and completely delete your account, here's what to do: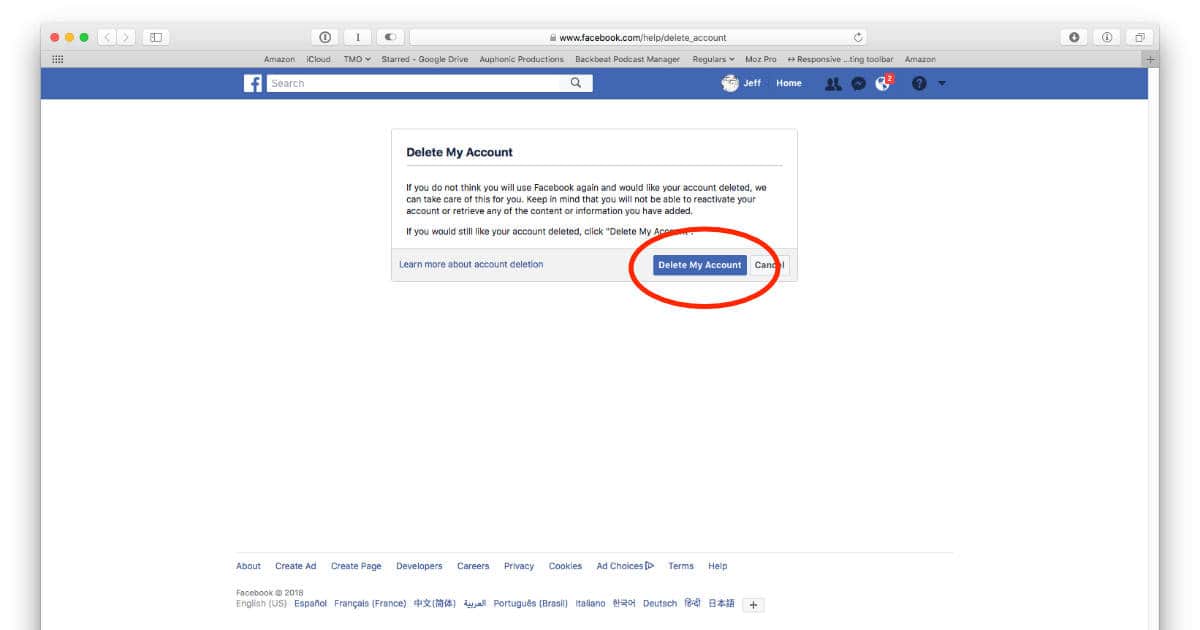 This is a one-way path, so be sure you really want to delete your Facebook account before you do this. Once your account has been deleted, it'll disappear from Facebook and no one will be able to see or search for anything you posted.
Deleted doesn't, however, mean gone. Or, at least not right away. It can take up to 90 days for everything you posted to disappear from Facebook's backups.
How to Deactivate Your Facebook Account
If that's a little extreme for you, maybe deactivating your account is a better choice. Here's how:
Go to Facebook's settings. If you're on the Facebook site, look for the little disclosure triangle at the right end of the blue tool bar.
Choose

Settings

Select

General

Click

Edit

next to

Manage Account

Click

Deactivate Account
Your posts and timeline aren't visible to anyone, but everything is still there. You can reactivate your account later if you want.
How to Control Your Facebook Privacy Settings
If that's still too extreme for you, try locking down your privacy settings and disabling Facebook Platform so no third-party apps can interact with your account. That'll limit the types of information Facebook collects, and in the case of Platform, blocks third-party apps from accessing your profile, friends list, and posts.
If you leave Platform active you can control which apps have access to your Facebook account, too. And for those of you who just want to delete a lot of what you've already posted to Facebook, there's a Google Chrome extension for that.