Dr. Mac's Rants & Raves
Episode #184
If you don't look too closely you could easily mistake the new iPad Pro 9.7–inch (released last March) for an iPad Air 2 (released December 2014). They are exactly the same size and weight, and both sport 9-7-inch Retina displays. The iPad Pro 9.7-inch is available in rose gold; the iPad Air is not. Beyond that, it's hard to tell them apart without a very close inspection until you get to the price tag. Then, it's very clear that you'll pay significantly more for an iPad Pro than an iPad Air 2.
iPad Pro 9.7-inch vs. iPad Air 2—The Pricing Matrix
How much more? It's hard to compare apples to apples (ha ha) in this case because the iPad Air 2 is only available in two capacities—16GB and 64GB—and the iPad Pro is available in three different sizes—32, 128, or 256GB.
To help you figure it out, here's a little pricing matrix: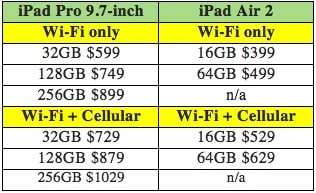 So, is it worth the extra cost to go Pro, or would most people be just as happy with the significantly less expensive iPad Air 2? To answer that question, gentle reader, I've been testing both iPads side-by-side for over a month now.
iPad Pro 9.7-inch vs. iPad Air 2—Un-identical Twins
Although they're almost exactly alike on the outside, there are significant changes under the hood. Namely, the iPad Pro has a faster processor, better cameras, and four speakers that provide more than twice the audio output.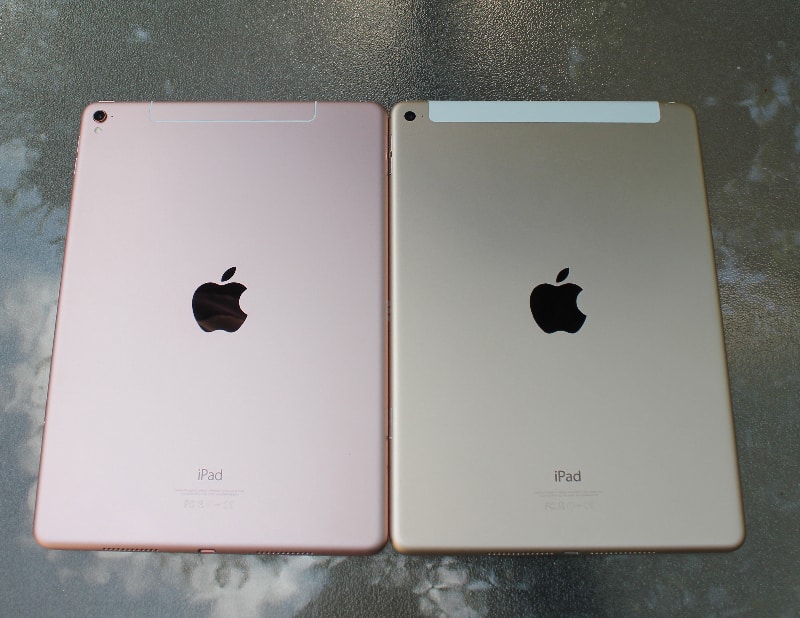 But the killer feature, at least for me, is its new "pro" Retina display, which adds exclusive True Tone technology to dynamically adjust white balance. With a wider color gamut and lower reflectivity than the Air 2, it's also 25% brighter.
In a word: wow!
iPad Pro 9.7-inch vs. iPad Air 2—Doc's Buying Advice
There are a couple of things that may make the point moot. First, if you want more than 64GB of storage you have no choice—higher capacities are only available on the iPad Pro. Or, if you want an Apple Pencil or Smart Keyboard, you'll need an iPad Pro. They're not included, however, so add $149 for the keyboard and $99 for the pencil if you want 'em.
I don't really need another iPad today. But if I did, I'd get the 9.7-inch iPad Pro for sure, if only for its superior screen. It just plain looks better, especially in bright spaces or direct sunlight. And it sounds better, too, though that's far less important to me.
If you're considering a new full-sized iPad, I suggest you visit your local Apple store and spend quality time gazing at both iPads side-by-side (if possible). It won't take long to determine whether the Pro's superior screen is worth its additional cost.
One more thing: Don't try this unless you're prepared to spend the extra dough on an iPad Pro. Because just as you can't squeeze the toothpaste back into the tube, you can't un-see how much better the iPad Pro display looks…
And, one last thing: I spent better than an hour trying to get a decent photo of both iPads side-by-side in bright light, but my outdoor  photography skills must be sorely lacking; none were good enough to show.
Sorry 'bout that.
And that's all he wrote…