This is Where You Cut Me Off – Mac Geek Gab 788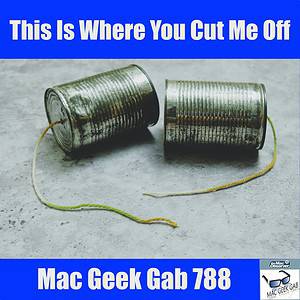 Note: Shownotes are complete!
Chapters/Timestamps/Stuff mentioned:
00:00:00 Mac Geek Gab 788 for Monday, November 11, 2019
00:01:47 QT-Command-Plus or Minus in Finder List View (to make icons larger or smaller)
00:05:08 Paul-QT-Apple Watch Unlocks even More with Catalina

System Preferences > Security & Privacy > General > Use your Apple Watch to unlock apps and your Mac

00:07:07 Richard-Google Maps iOS 13 Improvements

Google's voice commands in their Maps app will control the iPhone just like Siri

00:09:31 QT-Saving Offline Maps in Google Maps

Google Maps > Hamburger Menu in Upper Left > Offline Maps

00:10:35 QT-Calendar app show Location in Maps and "Look Around"
00:12:11 Keith-787-Catalina iCloud Authentication Loop
00:14:54 Joe-Apple's Trade-In Program
00:16:49 SPONSOR: TextExpander: TextExpander helps you communicate smarter. Create snippets for things you type – or copy and paste – all the time. Get 20% off your first year's subscription at TextExpander.com/podcast.
00:19:19 CSF-DuckDuckGo Privacy Essentials
00:22:20 Brave Browser
00:24:14 CSF-UniFi Dream Machine
00:31:04 Martin-CSF-Blackhole Virtual Audio Driver. Soundflower Replacement.
00:37:56 Todd-CSF-MixPre-3 II Field Recorder
00:40:06 SPONSOR: Linode - You can build it on Linode. Instantly deploy and manage an SSD server in the Linode Cloud. Start with a $20 credit using promo code mgg2019 at linode.com/mgg.
00:43:20 John-Disabling Annoying 32-bit Warning in Mojave

defaults write -g CSUIDisable32BitWarning -boolean TRUE

00:46:07 John-Protecting from Ransomware
00:55:37 Ewan-Printer won't print from one Mac
01:01:32 Michael-Cleaning up and consolidating Photos Libraries
01:06:11 Photos Won't sync
01:12:32 SPONSOR: BBEdit from Bare Bones Software is now back in the Mac App Store or Online at BareBones.com
01:15:39 Drive being wonky
01:25:23 MGG 788 Outtro
November 11, 2019 2:38 EST PM
to answer the last question...
I like the longer ones, once a week.  🙂 YMMV
November 11, 2019 2:45 EST PM
also, one other little comment.   I know the command-plus/minus is a pretty far under the hood shortcut in the finder... and what I'm about to mention is probably one of those things everyone knows... but command-1, command-2, command-3 and command-4 are quick ways to go between icon, list, column, and gallery view.  True, the shortcuts are there in big letters on the top of the "view" menu... but it's not really a shortcut until you use it... (if a tree falls in the woods...) and that's a set of key commands I use on a daily basis...  
November 13, 2019 7:06 EST PM
DiskWarrior is at minute 1:22. But the problem is Apple not releasing documentation about how to write to APFS disks:
DiskWarrior 5.2 & Apple File System (APFS)
What's in the works
The next major release of DiskWarrior will include the ability to rebuild APFS disks. Apple has recently released the "Read" portion of the APFS format documentation. Our developers are now waiting for the "Write" portion of documentation to update DiskWarrior to be able to safely rebuild Apple File System (APFS) disks.
https://www.alsoft.com/diskwarrior5apfs
Please, send feedback to Apple about it:
https://www.apple.com/feedback/macos.html