Musicians and other live performers could have a new way to stop attendees from using their smartphones to record video, photos, and audio at events thanks to a new patent from Apple. The iPhone and iPad maker was awarded a patent this week for a system that remotely disables recording with infrared signals. The system could be used in other ways, too, like blocking recording in secure facilities, or by governments to prevent free speech.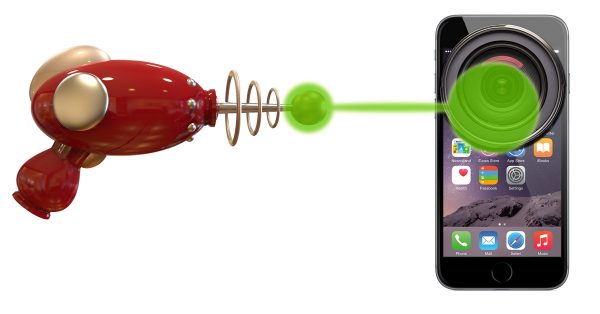 Apple's patent describes a way of using infrared technology to temporarily disable smartphone recording features by setting up special transmitters. As long as the transmitters are on, no one would be able to capture photos, video, or audio—assuming your smartphone includes a sensor to detect the infrared signal and its encoded message.
Assuming Apple turns its patent into a shipping product, this could be big for musicians and other performers who don't want their audiences making recordings. Some artists are already requiring attendees to put their smartphones into locked bags at concerts, but Apple's invention would let audiences keep their smartphones in hand while remotely disabling their ability to record.
The patent has applications outside of the entertainment industry, too. Banks, for example, could disable recording to help stop criminals from conducting their own surveillance ahead of a robbery, or companies could use the system in their research labs to prevent corporate espionage.
Governments could also block recording at what they deem sensitive events, which means this patent has the potential to be abused as a way to prevent free speech, snub the media, and suppress the public's voice. The public often takes to social networks to post photos and video of natural disasters, terrorist attacks, and government suppression, and that could be curtailed with this kind of technology.
Imagine if Apple's IR transmitters had been in place in the U.S. House of Representatives when Democrats staged a sit-in to force action on assault rifle controls. The Republican party controls the cameras, and shut them off when the sit-in began. Disabling smartphone recording would've kept legislators from recording the event themselves and sharing their photos and video online.
Getting a patent doesn't, however, mean that Apple is going to turn its camera disabling system into an actual product—and if it does, phones that haven't been designed to detect the embedded signals will still be able to snap photos and video just as they always have. That means, at least for now, musicians will bag audience phones and governments won't have an easy way to suppress the public's voice.
[Thanks to Fortune for the heads up]