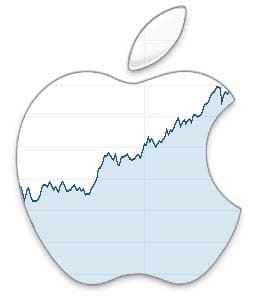 Apple reported US$52.9 billion in revenues during the March quarter on Tuesday. That's up year over year from $50.6 billion. Earnings clocked in at $11 billion, or $2.10 in earnings-per-share, up year-over-year from $1.90. The company announced a boost in its shareholder capital return program from $200 billion to $300 billion.
Apple hit its own guidance between $51.5 billion and $53.5 billion in revenues, but missed the slightly more optimistic analyst estimates. Wall Street was expecting Apple to turn in $53 billion in revenues. Apple beat earnings estimates, though, as Wall Street expected $2.02 EPS.
$AAPL Shareholder Returns
The company increased its already-massive shareholder return program by $50 billion, from $250 billion to $300 billion. That includes a boost in its share buyback program from $175 billion to $210 billion. Apple has already returned a staggering $211 billion to shareholders, with $151 of that coming in the form of share buybacks.
Apple also increased its dividend by 10.5% to $0.63 per share. That's ahead of Wall Street expectations of just over 9%. The increased dividend will be payable to shareholders of record as of the close of business on May 15th, 2017.
The company said it would continue to borrow money from domestic and international markets to fund its program. Apple has some $256 billion in cash, but the vast majority of it is held overseas. The current U.S. government is expected to make it cheaper for U.S. multinationals to bring into the U.S., but until that happens, Apple has borrowed billions in the bond markets for next to nothing.
iPhone, Mac, and Services
Apple reported iPhone unit sales of 50.8 million unit, down 1% year over year. iPhone revenues, however, were $33.3 billion, up 1% year over year.
Mac unit sales were up 4% to 4.2 million units. Revenues for Mac sales were up 14% to $5.8 billion, as Apple continued to coast on its one weird trick for boosting sales, releasing a new Mac in late 2016.
Apple's crowning glory in this quarter was services, where Apple posted revenues of $7 billion. This represents an 18% increase year over year, and CEO Tim Cook noted that Apple services were on their way to being a Fortune 100 company all on their own.
$AAPL Guidance
Apple is providing guidance for the 3rd fiscal quarter of 2017 of revenues between $43.5 billion and $45.5 billion. Gross margins are expected to be between 37.5% and 38.5%. Operating expenses are expected to be between $6.7 and $6.8 billion.
$AAPL After Hours
Shares of $AAPL traded lower in the after hour market at $144.37, down $3.14 (-2.13%).