LAS VEGAS – BACtrack introduced the BACtrack C6 at Pepcom's Technology Tailgate at CES 2018.  The company bills it as the world's smallest police-grade breathalyzer for measuring blood alcohol content. Stacey Sachs, VP of Marketing, highlighted the new features of this unit and allowed us to do a live demonstration.
While a blood test is the most accurate way to measure BAC (Blood Alcohol Content) it's an invasive procedure which can't always be performed when needed.  The next best and more convenient way to measure this value is via a breathalyzer, a device that one breathes into for several seconds, and the percentage of alcohol in their blood can be estimated.  A breathalyzer is also more convenient, and the BACtrack C6 is small enough to put on a keychain.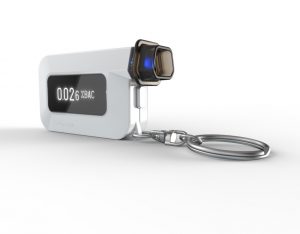 BACtrack C6
BACtrack C6 can display the measured value on its LCD display, but can also send the results to a smartphone app via Bluetooth.  The app can offer more detailed analysis, store the data for future retrieval, share the results with others, and even estimate when, if one stops consuming alcohol, when their BAC will return to 0.00%, and can even contact an Uber if you can't wait long enough for your level to return to zero.
The BACtrack C6 will be available in January 2018 and be priced at US$49.99.